Former state qualifier guides Flyers squad
Lindbergh golf coach predicts '10 to be great year for team.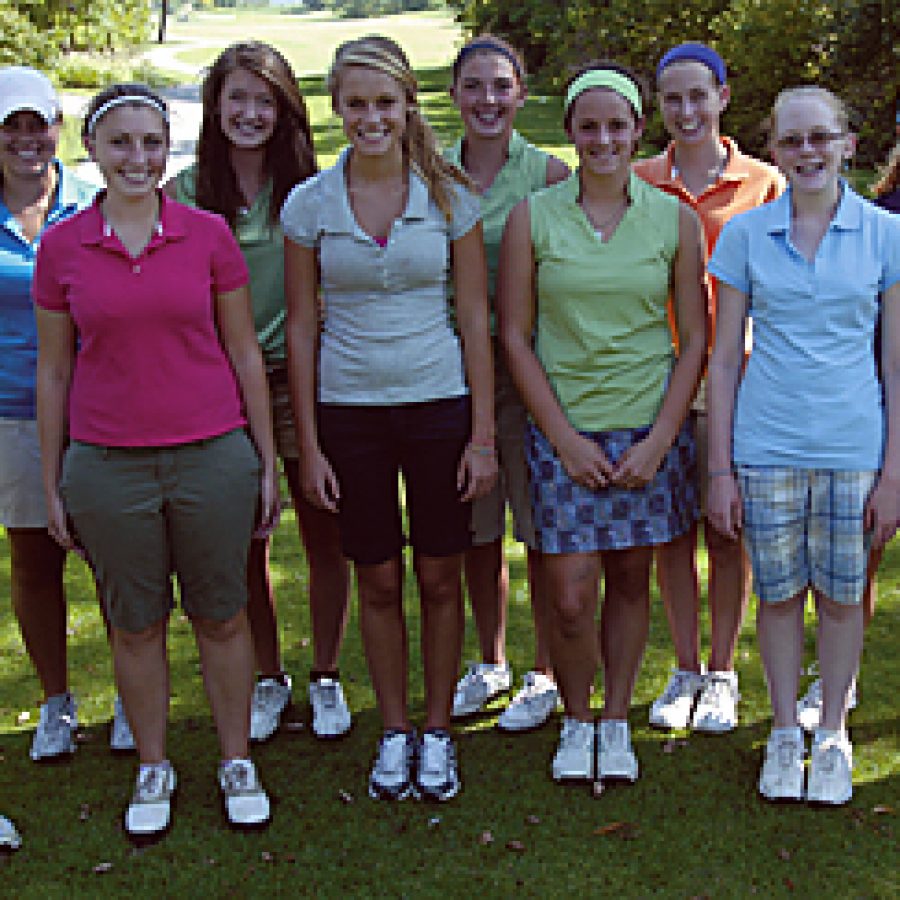 Lindbergh High School girls' golf coach Mike Tyler can't think of anyone better to lead a team to a state championship berth than a hungry former state qualifier in her senior season.
"Kayla (Luber) is doing everything she can to get herself and the team ready to qualify. If we can get four low scores, we qualify as a team," said Tyler.
Luber qualified to the state championships as a sophomore, and narrowly missed qualifying as a junior.
Tyler asked Luber to carry a lot of weight on her shoulders this season, and the lone senior accepted.
"One thing I really want to change is team unity, and I talked about this with Kayla," Tyler said.
"Now, they're going to have a sleepover and they're doing other things. It doesn't have to do with golf."
On their Columbia (Ill.) Golf Club home course, the younger players are giving Tyler plenty of confidence.
"We've got a little bit of work to do, but we have some pieces in place, and we have some new girls that could be pieces," Tyler said.
Courtney Schaper surprised Tyler during her first practice.
"She came out, and on her first day she was the lowest shooter. She shot around 40, and if she does that, she'll go to state. She's probably the best freshman I've ever had," Tyler said.
Jourdan Stacer is a big key to Lindbergh surviving the district and sectional tournaments.
"She definitely has the mechanics and skill to help the team," Tyler said.
Rachel Marchi is joining the team at a perfect time.
"She's a stellar soccer player. She's very competitive and hates to lose," Tyler said. "We don't want to get ahead of ourselves, but if she works hard she'll be in position to help the team when we get down the stretch."
Tyler hopes to see consistent golf out of Kirsti Meyer, as well.
"She came to us last year. She played hockey, and pound for pound, she's the most athletic golfer I've ever had," he said.
Tyler believes the Flyers have five reliable golfers, and are one young player away from being a state contender.
"If one of those girls steps up, we can come in doing some real damage," Tyler said.
If the season finishes the way the Flyers expect, it will be because of one quality.
"While it's an individual sport, we're a team. With Kayla as captain, hopefully, it will become the rule and not the exception.
"This is going to be a great year for a lot of reasons, first and foremost is the team unity," Tyler said.
Lindbergh Girls' Golf
Sept. 1 Lafayette A 3 p.m.
Sept. 7 Fox H 3 p.m.
Sept. 8 Marquette A 3 p.m.
Sept. 14 Parkway South H 3 p.m.
Sept. 16 Eureka H 3 p.m.
Sept. 21 Lindbergh Tourney H 8 a.m.
Sept. 30 Kirkwood H 3 p.m.