Former Mehlville High soccer player picked by Sporting KC in SuperDraft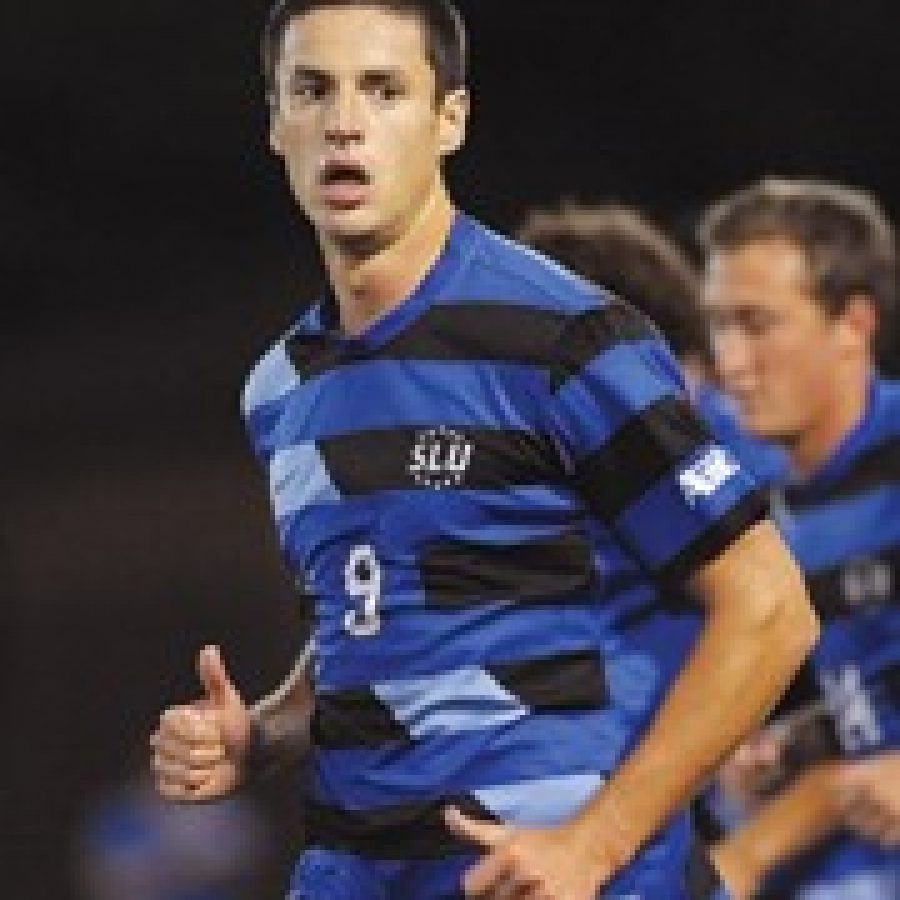 As a young boy, Adnan Gabeljic knew he wanted to play professional soccer.
That dream came true for the former Mehlville High School soccer player when he was drafted 38th overall by Sporting Kansas City in the recent MLS SuperDraft in Philadelphia.
Sporting KC used its one and only pick to draft Gabeljic, who played soccer for four years at St. Louis University.
"It feels great. It's something I've been aspiring to for so long. It feels great to finally accomplish it," Gabeljic told the Call. "We grew up and everybody wanted to play professionally …"
Noting the growth of the MLS over the past decade, Gabeljic said, "… You just want to be a part of that. I mean, I kind of always believed in myself and maybe I could make it to that level. So it feels great to achieve it."
Gabeljic moved from Germany to south county when he was 7 years old. By the time he was a teenager, he was already a skilled soccer player and further honed those skills on the Mehlville High team.
"Mehlville was almost like the perfect fit for me because it was a public school," he said. "But it was a good soccer school for a public school and it helped me develop.
"It helped me kind of become the leader of a team instead of maybe having more competition at another — like if I were to go to one of the better high schools for soccer like the MCC (Metro Catholic Conference) schools. But … it kind of helped me develop as a player and develop my style and it was a great time, and it was good playing for the coach there."
Varsity soccer head coach Tom Harper, who coached Gabeljic all four years at Mehlville, told the Call he's excited for his former player.
"It's pretty neat to watch all those things — from high school to playing at SLU, and now being drafted to the MLS," Harper said.
Highlights from his playing career at Mehlville include being named the 2009 Gatorade Player of the Year as a senior and a trip to the Final Four as a sophomore.
While no one can predict the future, Harper recalled that he noticed something special about Gabeljic.
"When I first met Adnan as a freshman, you could just tell that there was something different in a good way about him … He just saw the game differently than other kids did," he said. "He always talked about what his aspirations were and what he wanted to get from the game. And sometimes as coach you think that's all fine and good, 'We'll see, let's worry about this year,' but Adnan, he accomplished a lot in his high school career …"
With his athleticism, Gabeljic's potential was unlimited, Harper said.
"We knew when we had him that we had a Division I soccer player. But did we know he was going to make it pro? No. But just like him, we thought that maybe down the road that that was a possibility."
While Harper takes little credit for developing Gabeljic into the player he is today, there is definitely a huge pride factor.
"We are super proud and I know the school is excited about seeing somebody from our building in the MLS. But for me, it means I'll get to see him play again, and hopefully, I'll be traveling to Kansas City in March to do that," he said.
Gabeljic now is the second soccer player from Mehlville to play soccer professionally.