By Gloria Lloyd
News Editor
glorialloyd@callnewspapers.com
Sheila Sweeney, the former CEO of the St. Louis joint city-county economic development agency, was sentenced to probation and a fine Friday for helping to cover up former St. Louis County Executive Steve Stenger's pay-to-play corruption scheme that exchanged county contracts for campaign donations.
Former St. Louis Economic Development Partnership CEO Sweeney, 62, of Ladue, took a plea deal and pleaded guilty in May to "misprision of a felony," which is a felony itself and translates, the judge said, to mean that Sweeney both concealed Stenger's crimes and knew about them and didn't report them. Stenger also pleaded guilty in May to bribery, theft of honest services and mail fraud, all felonies, and was sentenced to four years in prison last week.
Standing before U.S. District Judge Catherine D. Perry — also Stenger's judge — at the Thomas F. Eagleton United States Courthouse in downtown St. Louis, Sweeney cried and asked for mercy in sentencing.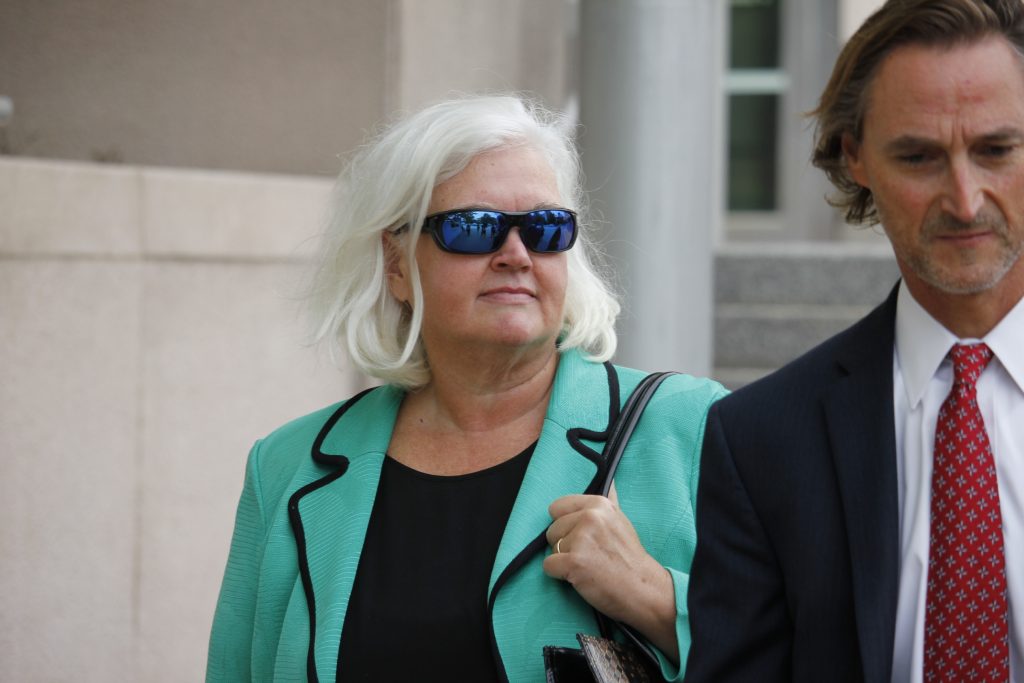 Perry sentenced her to three years of probation, the same $130,000 restitution as Stenger for a phony marketing contract she handed out on his behalf and a $20,000 fine. But Sweeney will not have to pay the restitution since Stenger already paid it.
The former CEO could have received four to 12 months in prison, but prosecutors made no recommendation for specific time behind bars — or any time at all. The maximum penalty was three years in prison and a $250,000 fine. 
"Your Honor, I am profoundly sorry for my actions and my inactions.. I blame no one but myself, and I accept full responsibility for my conduct," Sweeney said. "I stand before you with genuine and very sincere remorse…. I most certainly made a horrible mistake in judgment. I will never, ever repeat it."
She pledged a life of community service and finished, "I'll do everything I can to make this right."
Although Assistant U.S. Attorney Hal Goldsmith noted that Sweeney was guilty of covering up the corruption and "abused the public trust," he said that of all the people associated with the case, she was the one most personally abused by Stenger. In federal wiretaps, Stenger said that he would fire Sweeney, who he called a "nightmare b—-," if she didn't do what he wanted and give certain campaign donors contracts and land deals through the county-funded Economic Partnership and the Port Authority.
"She abused her position of trust to those boards and to the general public, and that contributed to the harm caused by Steve Stenger," Goldsmith said in a short statement at the sentencing. "That being said, there is no question that this defendant, more than any other individual impacted by Stenger's criminal schemes, suffered the intimidation, the bullying and the outright threats of Steve Stenger on a regular and constant basis. The name calling alone was so shocking and demeaning and really abusive that I would not include it in any of the government's public pleadings."
But even though Sweeney knew it was wrong, she "succumbed" to Stenger's intimidation and "aided and abetted" him in "concealing his criminal conduct," Goldsmith said.
Sweeney was hired in 2015 for the position as CEO of the economic development agency, soon after Stenger took office and supposedly after a nationwide search. But he actually hired her because she would do his bidding and give contracts to his donors, as Stenger and Sweeney have both admitted.
In court, Goldsmith appeared to agree with Sweeney and her three attorneys that she will never reoffend. He said that Sweeney "accepted responsibility for her conduct in a way that I would suggest that the majority of defendants who appear before this court do not."
And although Goldsmith argued last week against giving Stenger a break because he was a first-time offender, was older and was unlikely to reoffend, Sweeney made those same arguments successfully to Perry.
That was the nexus of the argument that Sweeney's attorney Justin Gelfand made on her behalf in a 10-minute statement to Perry. He said that giving her probation would be "just and merciful" and claimed that her crime was a one-time tarnish on a lifetime of good works and charitable activities that "epitomized benevolence."
He also noted that she is the primary caregiver for her husband, Bob, who is 79 and in poor health.
Under federal sentencing guidelines, Sweeney was listed as either a 9 or a 10, compared to Stenger's 21.
Her relatives and friends lined two rows of the courtroom and submitted 62 pages of letters as part of her sentencing memo.
The businessman Stenger demanded she create contracts for, John Rallo, is charged with three counts of theft of honest services bribery and awaits sentencing along with Stenger's former chief of staff, Bill Miller. They have both pleaded guilty.
Stenger recommended Sweeney as head of the Partnership in August 2015, after he took office as county executive in January 2015. She made more than $500,000 a year in the role, also serving as executive director of the St. Louis County Port Authority and as a board member on the Land Clearance Redevelopment Authority. She was forced out by the board, which Stenger said he controlled, in January after a newspaper report that he was controlling all her decisions.
Sweeney was appointed, supposedly after a nationwide search, although the federal indictments said that Stenger influenced her appointment. She had been the interim CEO after Denny Coleman left in June 2015.
"I have enjoyed working with Sheila over the past few months as interim director, and I know she will continue to bring the expertise and business acumen we need to continue to grow our local economy and help create jobs across the region," Stenger said in the announcement of her hiring.
Then-St. Louis Mayor Francis Slay also joined in, saying, "Sheila builds on a strong foundation of positioning St. Louis to compete as a region to continue the momentum of landing big projects like Ikea, Square, and Boeing. Marketing St. Louis City and County together under the Partnership has proven effective in growing our economy."
The Economic Partnership board chairman, Dee Joyner, said at the time, "We looked all over the country and realized the best candidate was right here in St. Louis."
As the head of the agency, Sweeney established projects like the 39 North agricultural tech district in Creve Coeur by Monsanto. But the whole time, she was also pursuing phony contracts to appease Stenger and his donors, prosecutors said.
"Sweeney had knowledge of Stenger's ongoing bribery scheme, whereby Stenger accepted political donations in exchange for awarding contracts through St. Louis County and the St. Louis Economic Development Partnership and its affiliated organizations," the U.S. Attorney's Office said. "Stenger's scheme deprived the citizens of St. Louis County of their right to the honest services of both Stenger and Sweeney. Knowing of Stenger's illegal bribery scheme, Sweeney failed to report the criminal conduct to law enforcement. Sweeney also took steps and engaged in conduct to conceal and cover up Stenger's illegal bribery scheme which allowed Stenger's scheme to continue undetected for several years."  
Stenger admitted that he got Sweeney, who also served as executive director of the St. Louis County Port Authority, to push a $100,000 marketing contract through the Port Authority board for Rallo and his friend Montel Williams, allegedly to help rehab the county's reputation post-Ferguson. But Rallo didn't have any marketing experience, and no work was done on that contract other than an op-ed from Williams that even misspelled Stenger's last name.
Sweeney increased that contract to $130,000 without board approval so that she could launder money through Rallo to pay $30,000 to "J.C.," a political operative friend of a politician unnamed in the indictment who had come through for Stenger with a key endorsement in the 2014 election. The description of the politician matches U.S. Rep. William "Lacy" Clay, who represents the city of St. Louis and North County, and the Post-Dispatch identified "J.C." as John Cross, a Clay associate. This particular scheme is where federal prosecutors allege mail fraud, since Rallo mailed three checks to Cross.
Rallo also wanted to buy two parcels of county-owned land in Wellston for business ventures. Stenger directed Sweeney to help Rallo buy the land through the Land Clearance Redevelopment Authority, which Sweeney was on the board of. Sweeney put the sites out to bid, proofed the bids ahead of time for Rallo and his partner, Corey Christanell, and told them how much to bid based on whether anyone else was bidding. The county had spent several million dollars clearing, grading and preparing the  properties. Rallo and his partner bought the sites for $256,000 and $275,000.
After Post-Dispatch reporter Jacob Barker submitted Sunshine Law requests last year for information on the Wellston land deal, Stenger was caught on audio — possibly Rallo wearing a wire — saying, "You can't talk to the f—ing press. I bent over f—ing backwards for you, and I asked you one simple f—ing thing, don't talk to the f—ing press. And I'm telling you, you're gonna f—ing kill yourself, all right, you're gonna kill yourself with this s—."
With federal agents again apparently listening in, Stenger outlined his philosophy on governance to his top staffers in November 2018, while discussing whether they could pressure Sweeney into approving the law firm, identified only as "Company One" in the indictment, that had previously held SLEDP's state lobbying contract again instead of a competing bid from "Company Two."
"I am a political person, I have to be, I'm in politics. That's what we do. It's not the art of f—ing over your friends," Stenger said.
He later added, "It's the art of staying in power. It's about your agenda, and your administration, and (Company Two's) not in my administration. Never got there. They're an ancillary player. And (Company One) knows our issues, can get s— done."
In the same conversation, he calls Sweeney a "nightmare b—-" and said "if she's going the wrong thing on this, I'm firing her before she makes the decision. Seriously, we can't have that."
If she chose Company Two, the board would reverse her because "we've got too many people on the board."
He added of Sweeney, "I'm about this close to just pulling the trigger and saying get the f— out of here" and "(Sweeney's) a political creature, she was appointed by a politician, and by people who were appointed by politicians to take this role. She took the role. Now you're in it. You're either going to do it or you're not. Get the f— out. You're a political person."