Famous El Camino stolen from Fenton hotel still missing
A one-of-a-kind classic car is still missing after it was stolen from a Fenton hotel earlier this week.
A lime green El Camino that technology company Phoenix Contact sends as a promotion to car shows around the country was stolen from inside a trailer at the Fairfield Inn, 1680 Fenton Business Park Court, Monday night or Tuesday morning, police said.
The car, valued at more than $200,000, was stolen sometime from 7 p.m. October 9 to 5:30 a.m. Oct. 10, when police responded to the hotel.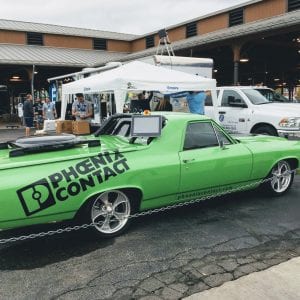 The 1970 Phoenix Contact El Camino has its own Facebook page.
The car is customized to showcase the company's industrial technology and is decked out with wireless ethernet, two industrial computers, GPS navigation, twin DVD players, satellite TV, satellite radio, a 32-inch HDTV and a Wii gaming system installed in it, according to Facebook posts.
The St. Louis County Police Department is investigating the theft and asks anyone with information to call police at (636) 529-8210 or CrimeStoppers at 1-866-371-TIPS(8477).