'Evolution' of UrbanStreet's proposal for mall now underway, mayor says
Developer says he's pleased with open-house attendance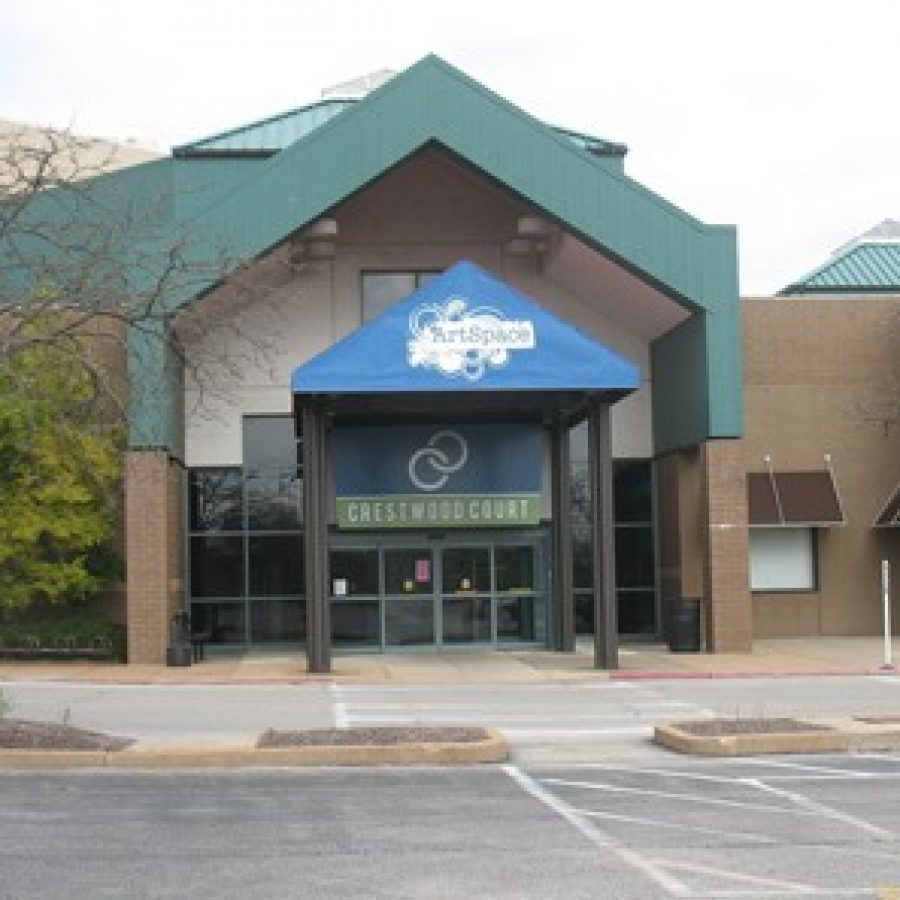 First of two parts
The "evolution" of UrbanStreet Group's proposal to redevelop the former Crest-wood Plaza began last week during an open house, according to Mayor Gregg Roby.
"What we hope to gather here tonight is obviously information from the people that attend with regards to what type of requirements, demands, interests they have in building structures that will be part of this development. So I think the evolution of this project begins tonight," Roby said shortly after the start of the July 8 open house.
More than 700 people attended the three-hour open house at the Crestwood Community Center, far surpassing the anticipated crowd, said Bob Burk, UrbanStreet Group managing partner.
"I think it's great …," Burk said of the turnout. "This is what we want. That's why we did it, and this is exactly what we were hoping for. And I think the numbers are surpassing anything that was expected."
UrbanStreet Group, which purchased the mall property last year for $2.625 million, submitted the only response to the city's request for proposals, or RFP, to redevelop the site, last known as Crestwood Court.
The mall owner is requesting nearly $28 million in tax incentives, including tax-increment financing, or TIF, for a roughly $99.5 million mixed-use project at the 48-acre site at Watson and Sappington roads.
As proposed, the project includes four components — a three-acre retail area for such services as a specialty grocery store, fuel station, pharmacy and fast-casual dining; a 20-acre entertainment and destination retail area that includes a movie theater, office space, restaurants and a town-square space; an 11-acre area with a 225-unit apartment complex with primarily one-bedroom apartments; a roughly 14-acre area of open space and community gardens, including stormwater management.
Those attending the open house were able to visit eight stations featuring various aspects of UrbanStreet's proposal for the mall site, last known as Crestwood Court.
Among those manning the stations were representatives of UrbanStreet and Peckham Guyton Albers & Viets, the city's planning consultant for the project.
Besides talking with those manning the stations, attendees of the event submitted more than 400 comment cards.
"We are all about information-gathering tonight … We want to hear from you guys. If you hate it, put it on the notepad, type it in. If you love it, we need that too," Burk told a group of residents
Lindbergh Superintendent Jim Simpson has said he believes UrbanStreet's plan to construct 225 apartments at the mall site "is the worst scenario for Lindbergh Schools," as it would exacerbate the aggressive enrollment growth that already is challenging the school district. Students from those apartments would attend Crestwood Elementary School, which is already at capacity.
In May, the Board of Education unanimously approved a resolution opposing the use of TIF for residential development.
One resident attending the open house called UrbanStreet's proposal "a balanced, sensible plan."
"We need to get rid of this eyesore," said Jacquie Bryant, who was a public school educator for 30 years.
While she supports Lindbergh "100 percent," she questioned where the school district gets "the authority to dictate to the towns and cities who should live there."
As for the apartments, Bryant said, "The people most likely to want to live there are older people who do not want to take care of houses and lawns, but want to stay in the area — people who would like to be able to walk to stores and other amenities.
"Last time, the complainers complained because there was not a residential piece. Now they are complaining because there is. We are living in an age where complainers seem to rule. Be careful what you wish — this could be all residential," she added.
But a Lindbergh parent who attended the open house said she is concerned about using tax incentives for the proposed apartments, which would likely add new students to a district that already is experiencing a massive enrollment surge, without any funding to educate them.
Rachel Koehler said she knows firsthand the overcrowding issues facing Lindbergh, as her daughter will be a fifth-grader at Long Elementary School.
"I know her orchestra class was taught in a stairwell last year. She still learned, enjoyed it and she's going to do it again, but that's just one example of the space challenges. The Special School District counselor that's assigned to Long, her office is in a stairwell …," she said.
The Board of Education recently awarded a contract for the construction of a new elementary school, Dressel, that is scheduled to open for the 2017-2018 school year.
"I realize that a lot of the overcrowding will be alleviated when Dressel opens, but I don't see growth stopping in the district once Dressel opens …," Koehler said. "Since we're not getting any tax benefit from it, I don't see a need to add a residential component and add even more housing. And I realize there's disagreement on how many children may or may not come out of it, but I don't see why we have to wait and see on that part either …"
UrbanStreet owns the Lofts at the Old Post Office Plaza in St. Louis, "one of the trendiest apartments and lofts" in the city, according to the website for the complex.
During discussions with residents, Burk cited "a fundamental shift in rental housing" over the past 10 to 20 years.
"… We deal with this all over the country. When you talk about rental housing, it immediately evokes — and I understand it — it evokes an extremely passionate response from people," he said. "The bottom line is our products all over the country, as well as the stuff that we have here in your community, are what we call renter by choice, and it sounds like a cliche, but it's an extremely important designation.
"Renting residential housing in years past — 10, 15, 20 years ago — used to be a default, can't afford it, don't have the credit to buy a house. We're seeing a fundamental shift in generations, not only because of the recession and what they saw happen to home values, but I've got people that work for me that are in their 30s, they'll never own anything …," Burk said. "It's a lifestyle choice. They don't want the maintenance, and they are willing to pay more. It becomes like a retail purchase. It becomes buying a nice purse, a pair of shoes, a nice dress, a watch. It's just a fundamental difference …"
Such housing would appeal to both young professionals and seniors.
"It's not only young people, but it's the senior that's selling their house that's not ready to go into some sort of assisted-living place …," he said.
Next week: Burk outlines the challenges his company faces in redeveloping the former Crestwood Plaza.