Down 34-0 at halftime, Mehlville Panthers refuse to quit, but fall 37-14 to Parkway South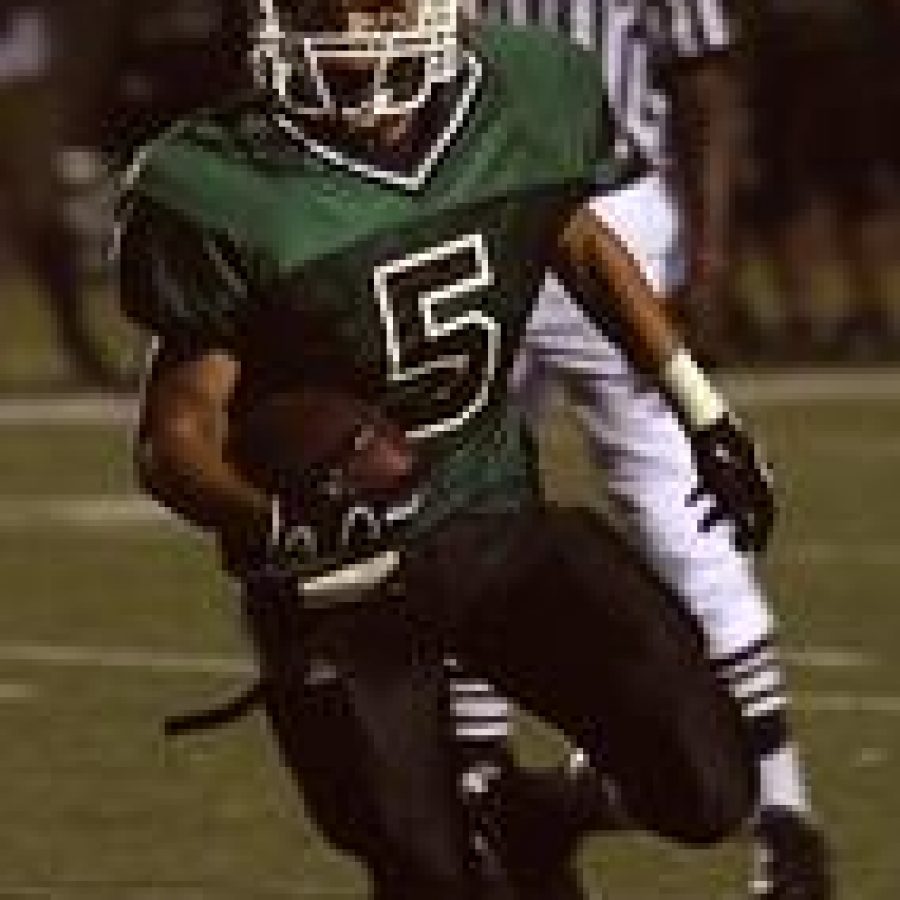 Down 34-0 at halftime, the Mehlville Senior High School football team easily could have rolled over and called it a night.
But that wasn't the case for the Panthers as they got their offense back on track with two touchdowns in the second half during a 37-14 loss Friday night at home to Park-way South.
"What we learned Friday night is that our kids are not going to quit," Mehlville head coach Eric Meyer said. "When you're down 34-0, it would have been easy to throw in the towel and give up a couple more scores."
Parkway South (3-1, 2-0 Suburban West) wasted little if any time attacking the Panthers' defense when Alphonso Scott scored on a three-yard run with 9:28 left in the first quarter for 7-0 lead.
The Patriots increased their lead to 13-0 with 6:33 left in the first quarter on an 18-yard run by Gerard Graves. The junior running back scored again with 4:13 left in the first quarter when he torched the Mehlville defense for a 68-yard punt return.
Graves racked up 173 yards rushing and two touchdowns.
"We just made way too many mistakes against them," Meyer said. "We didn't stick to our assignments and were trying to freelance it."
Parkway South increased its lead to 27-0 on a 69-yard run by quarterback Eric Laurent with 9:35 left in the first half. Laurent scored again on a two-yard run with 4:17 left in the half for 34-0 lead at halftime.
Mehlville (0-4, 0-3 Suburban West) finally responded with an impressive 70-yard fumble recovery by junior defensive end Mike Wuellner, who picked the ball off a Patriots' option play to trim Mehlville's deficit to 34-7 with 6:05 left in the third quarter. Wuellner finished the night with three tackles and the fumble recovery.
The Patriots increased their lead to 37-7 on a 22-yard field goal by Nathan Kellerman with 10:18 left in the fourth quarter.
Mehlville's final score came with 3:02 to remaining in the fourth quarter when quarterback Zach Hayes connected with wide receiver Remington Grigsby on an 11-yard pass.
"Remington's been playing hard and made a real nice catch in the end zone," Meyer said. "He's a little undersized, but he's doing a good job for us."
The Panthers return to action at 7 p.m. Friday when they travel to Kirkwood (2-1, 2-1 Suburban West), which is coming off a solid 24-17 win Friday night at Lafayette when quarterback Sam Wright completed 21 of 36 passes for 237 yards, one touchdown and three interceptions.
"We just can't have turnovers against a team like Kirkwood," Meyer said. "They like to spread it out quite a bit and we're going to need to play good, sound football."