Despotis proposes commercial development near Court Drive
Court Drive, commuter lots addressed at public hearing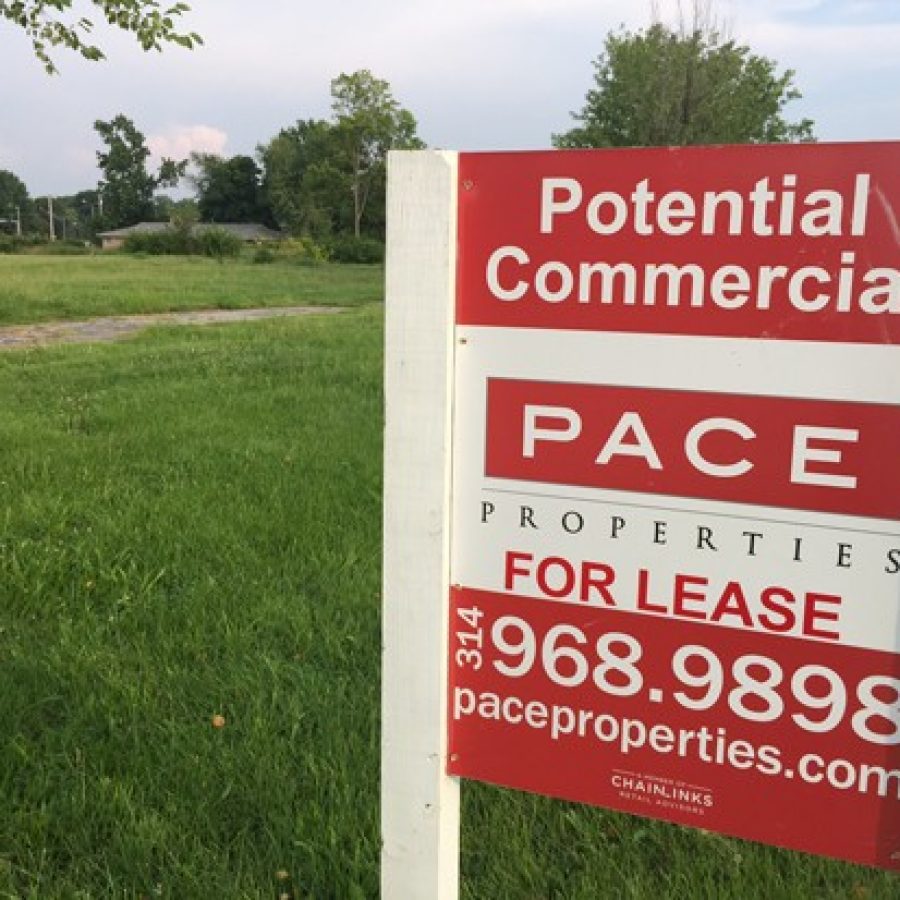 The Sunset Hills Planning and Zoning Commission is scheduled to consider a commercial development proposed near Court Drive and West Watson Road when it meets this week.
The commission will meet at 7 p.m. Wednesday, April 6, at City Hall, 3939 S. Lindbergh Blvd.
Dr. George Despotis is proposing to construct a bank/credit union with drive-up windows and an ATM on a 1.91-acre tract at the northwest corner of West Watson and Lindbergh.
Despotis is seeking a zoning change to PD-LC(B) Planned Development-Limited Commercial from R-2 Single-Family Residential at 12405, 12411 and 12417 W. Watson Road. He also has submitted a preliminary development plan.
By consensus, the Planning and Zoning Commission last month unanimously rejected Despotis' "concept plan" for the same development.
At the March 2 meeting, Despotis was represented by Richard Randall of Pace Properties, Jim Hall of Hall + Associates and zoning attorney John King.
Randall, who said he was representing the Olga Despotis Trust and seven other property owners, proposed a 4.5-acre commercial development in which the first phase would be the construction of a First Community Credit Union on a 1.91-acre tract at the northwest corner of West Watson and Lindbergh.
Five nearby residents spoke against the concept plan, including Ann McMunn of Court Drive, who said, "… This concept plan, to me, is basically a way for Pace and Dr. Despotis to get their foot in the door to spread this little development down Lindbergh, down West Watson, down Court Drive. I just — it's like a cancer. I think if it goes here, it's just going to continue down West Watson, down Court Drive …"
The current draft of the city's new comprehensive plan designates the Court Drive area as residential. Chicago-based Houseal Lavigne Associates began working on the comprehensive plan in January 2015, and presented the draft plan to city officials during a work session in October.
The Planning and Zoning Commission began its review of the draft plan in November, and has continued to discuss it at meetings in December, January, February and March.
During its review, one change the commission requested was to maintain the Court Drive area's designation as residential. The property is currently zoned R-2 residential and the city's existing comprehensive plan, drafted in 1999, calls only for residential uses at the site.
The Court Drive area, which was ravaged by a category EF3 tornado with winds near 150 mph that ripped through the city on Dec. 31, 2010, was included as an opportunity site in one of three subareas included in the original plan.
In December, commission members voiced their opposition to the commercial designation for the Court Drive area. In January, the panel voted unanimously to keep the site residential. Members Bill Hopfinger and Roger Kaiser were absent from the Jan. 6 meeting.
During a March 16 public hearing on the draft comprehensive plan, former Ward 4 Alderman Robert Mayer noted he served on the Residential Recovery Task Force convened in 2011 by then-Mayor Bill Nolan to study the residential development of Court Drive and West Watson Road.
After a series of meetings, task force members voted unanimously to recommend the Planning and Zoning Commission vote to amend the city's comprehensive master plan to allow for both single-family residences and attached housing on Court Drive and West Watson Road. In November 2011, the commission voted unanimously to accept that recommendation.
"… The thing that I talked with some members of the Planning and Zoning Commission about is the fact that the people that live there (on Court Drive) are being treated very, very badly, and part of it is by us, as members of the city of Sunset Hills, for this reason: They keep getting bombarded … one attempt after the other to change that from residential to commercial," Mayer said at the public hearing.
"The studies have been done a number of times that say it should be residential. It's been passed by the various boards to be residential and they keep getting bombarded with people coming in, wanting to make it commercial. I do not believe the city is spending enough effort to let people know that they just can't keep doing that time after time …," he said.
McMunn also spoke during the public hearing, saying, "… I'm a resident of Court Drive and I suffered through the tornado, like a lot of my neighbors, and we have been fighting with different, various developers and city officials about keeping our area residential. And we have some really nice homes going in. We have a residential builder who has expressed interest personally to me and has mentioned that he could build there if other people would allow him to do that …"
Other speakers took exception with the draft comprehensive plan's designation of the commuter lots at Kennerly and Weber Hill roads as an "opportunity site" for possible redevelopment. In January, commission members voted 7-1 to leave unchanged Houseal Lavigne's designation of the commuter lots as an opportunity site. Chairman Pat Otto was opposed.
At the public hearing, resident Marty Schmidt said, "… I love the general scope of the comprehensive plan and I love living in Sunset Hills. However, in the last mayoral election, I was a single-issue voter and I am a single-issue commenter on the general plan …"
Citing the plan's designation of the commuter lots as an opportunity site for "auto-oriented commercial or retail uses," he asked, "Would the auto-oriented commercial or retail uses include something such as a QuikTrip? That's my question. And if so, I think the voters spoke pretty vehemently at the last election how we feel about this. I'm already impacted by the traffic at the Weber Hill/Gravois intersection. Sometimes I can't make a left turn out of my drive except for the benevolence of those who allow me to come in. I can't imagine it would get any better.
"Regardless of my personal situation, there's a safety issue and definitely a traffic issue at that point. I would contend that a high-volume commercial development should not be developed on that commuter-lot location …"
Friendship Village Sunset Hills Executive Director Brian Cooper said, " … Our residents are chiefly concerned about what will happen to the commuter parking lots located at Weber Hill and Old Gravois Road. Our residents are very concerned about a convenience store and/or a gas station being placed at that location.
"Should the state decide to sell that property, then our residents would be very much opposed to any type of development along those lines of those commuter parking lots at that property."