Defense to be the key to Panthers' success
Mehlville High school team boasts some scoring punch.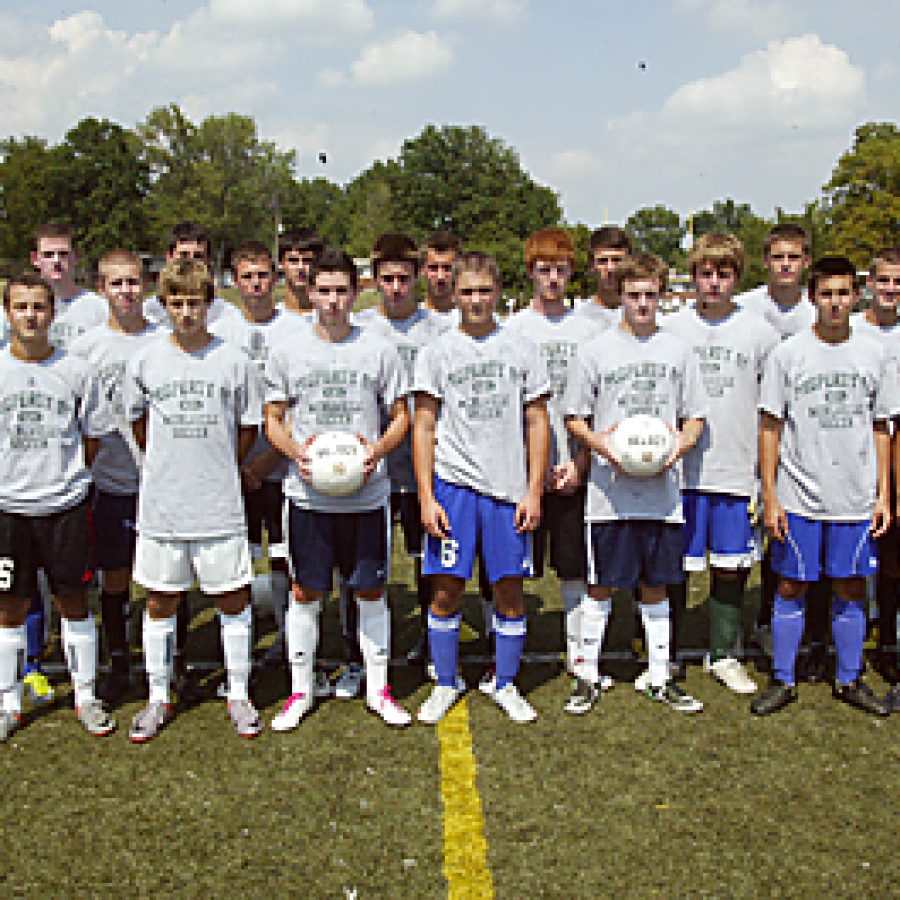 Much of the Mehlville Senior High School soccer team's offense left with graduation, and that was just one player.
But more than anything, the Panthers need to repeat their defensive effort of a year ago to win the Suburban West Conference and a Class 3 district title.
Mehlville conceded more than one goal only six times in its 20-5 season that ended with the district championship.
"We graduated a pretty special group," Panthers head coach Tom Harper said. "You'd like to say that every year, but they were a special group. We don't have any star players like we did, (2009 Gatorade Missouri Boys Soccer Player of the Year Adnan) Gabeljic kind of did it all for us, but we have a bunch of guys that will have to spread it out."
Mehlville isn't without star power ability, though. Junior midfielder Aris Nukic started as a freshman and sophomore, and flourished.
"Aris kind of has that potential to be that guy. He scored 23 goals last year. The rest of the guys look to him. He's very accomplished as a junior," Harper said.
Nukic will play alongside another junior who will be in his third varsity season.
Faik Hajderovic had two goals and seven assists as a sophomore.
Senior Kevin Frederick will run the midfield for a speedy Mehlville squad.
"It's the fastest group all-around that I've ever coached," Harper said before beginning his fifth year as head coach.
The Panthers hope their speed gives senior goalkeeper Blake Westerman slow nights in the net in his third year.
"We have goalkeepers, and we have some scoring punch," Harper said.
Much of that comes in the form of Nukic, Hajderovic, Frederick and Westerman, who have big expectations this season, and are making it clear to their teammates.
"Those guys will make sure everyone is going well. They know what we expect, and what we need them to do. They've been the vocal leaders so far," the Mehlville coach said.
But question marks are sprinkled throughout the Panthers' raw talent.
"With a lot less experience, we get to do more coaching, and get them to do some new things," Harper said.
Mehlville Boys' Soccer
Sept. 1-3 Mehlville Cup H TBA
Sept. 7 Kirkwood H 6 p.m.
Sept. 9 Northwest A 6 p.m.
Sept. 11 Rock Bridge H 1 p.m.
Sept. 13 Lindbergh A 6 p.m.
Sept. 14 Fox H 7 p.m.
Sept. 16 Parkway North A 5:30 p.m.
Sept. 20-22, 24-25 CYC Tourney A TBA
Sept. 27 Vianney A 6 p.m.
Sept. 28 Parkway South H 6 p.m.
Sept. 30 De Smet A 6 p.m.
Oct. 2 St. Mary's H 11:30 a.m
Oct. 4 Jackson A 6:30 p.m.
Oct. 12 Oakville H 7 p.m.
Oct. 13 Affton H 7:15 p.m.
Oct. 19 Marquette A 6 p.m.
Oct. 21 Lafayette H 6 p.m.
Oct. 25 Eureka A 6 p.m.
Oct. 27 Webster Groves A 4 p.m.