Crestwood will get a new website and host with same company as Sunset Hills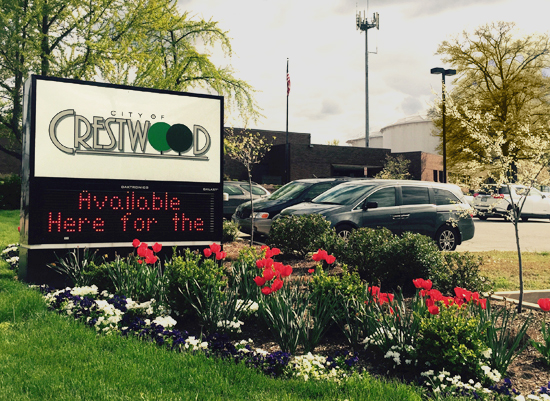 The city of Crestwood will be getting another new website upgrade after city staff decided to pursue a contract with CivicPlus for website redesign and hosting purposes this month.
A request for proposals, or RFP, was issued in October for the new website and hosting.
Crestwood received eight proposals, which were evaluated and ranked by a Website Selection Committee in November.
The committee re-evaluated proposals from four finalists and decided that Manhattan, Kansas-based CivicPlus was the best option based on price and usability, City Administrator Kris Simpson and Assistant City Administrator Sarah Belcher told the Board of Aldermen Jan. 14.
After a 2018 change in the city's purchasing policy that raised the threshold for seeking bids to $20,000, the new website bid doesn't need aldermanic approval, Belcher said.
"It does not need to come to the board for approval, but staff did want to give the board an update about what was transpiring," she said.
The board made a new website a priority at its strategic planning session last summer. Crestwood currently uses eGov Strategies LLC, which developed a new website for the city in 2013.
CivicPlus received a committee score of 34, the highest of the four final firms. Of the other finalists, Granicus scored 32, Municode scored 29 and Weblinx scored 27.
CivicPlus will cost $16,480 for the first year and $3,500 for each subsequent year. Because the proposal is under $20,000, it does not need board approval, per the city's purchasing policy, which changed in 2018 so that bids are only required above $20,000.
Turnaround time on the new website would be 16 to 18 weeks.
"Very easy to use. If you can use Facebook, you can use the website; Never hard to get ahold of this company," the memo said of CivicPlus. "Were very responsive to our requests in the design process and allowed us to change as they went."
CivicPlus oversees websites for three or four municipalities in St. Louis County, Belcher said, although she did not specify which ones. One of those is neighboring Sunset Hills. CivicPlus also oversees the websites for the city of St. Charles and Springfield.
"Have they provided any type of mockup or demo that we might be able to see what the new website structure will look like?" asked Ward 3 Alderman Scott Shipley.
"(Deputy City Clerk) Jeff Faust and myself did an actual demo of the website, and then they (CivicPlus) provided a full proposal that included examples of other cities that they've used," said Belcher. "I think that more of that type will come during the actual design process… I'm going to have an initial meeting with the project manager once the agreement is finalized, so I'll have more information at that time."
"There'll be opportunities for board input throughout the process so we can make sure the end product is what the board is envisioning when they set this as a goal," added Mayor Grant Mabie.
Staff will continue collaborating with the working group as the agreement is finalized and the design process begins.
"One of the things we've done in updating websites when you have a lot of people is to provide like a secured site where we can log in and just check in and see what it looks like at our leisure," suggested Ward 4 Alderman Tony Kennedy. "That might be some way to do it and gain board feedback that way."
The city has received a redlined version of an agreement between CivicPlus and Crestwood from City Attorney Lisa Stump, Simpson said. The next step will be reviewing the agreement and working with CivicPlus to get it finalized.