Crestwood TIF Commission to meet this week to consider mall proposal
Owner requests $28 million in assistance for mall project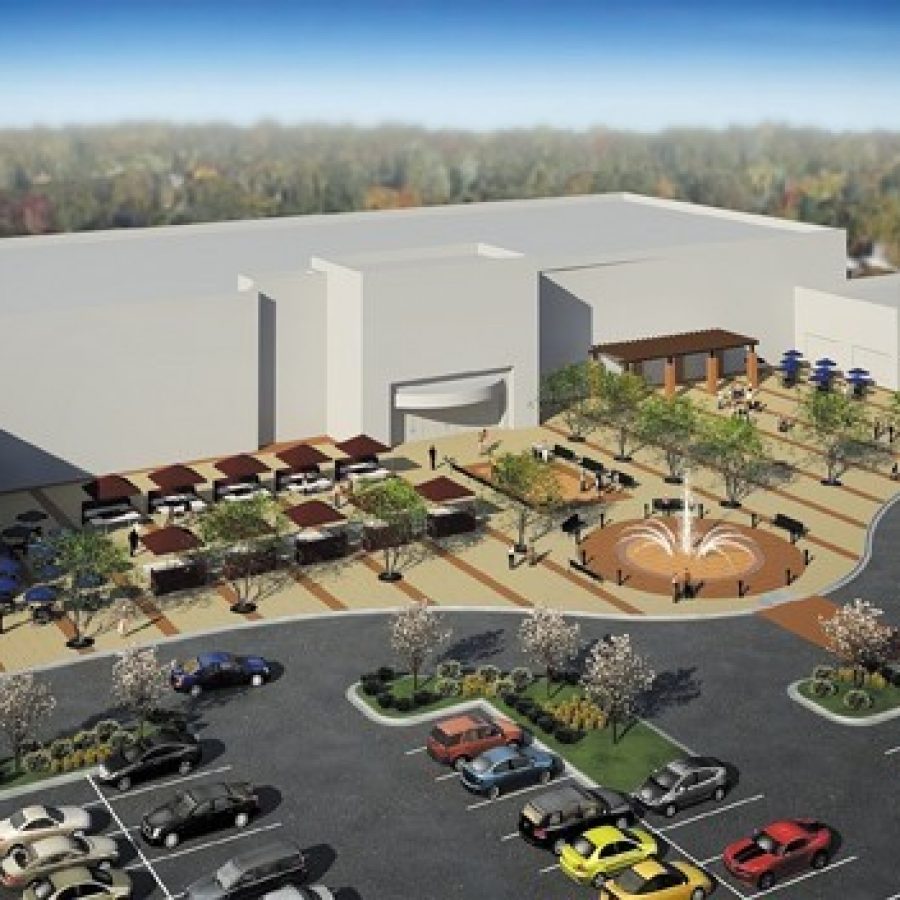 The commission charged with making a recommendation on a proposal by UrbanStreet Group of Chicago to redevelop the former Crestwood Plaza will meet for the first time this week.
The Crestwood Tax-Increment Financing, or TIF, Commission will meet at 7 p.m. Wednesday, Dec. 16, at the Government Center, 1 Detjen Drive.
UrbanStreet, which purchased the mall property last year for $2.625 million, submitted the only response to the city's request for proposals, or RFP, to redevelop the 48-acre site at Watson and Sappington roads.
The mall owner has proposed a mixed-use development for the mall property that includes four components — a three-acre retail area for such services as a specialty grocery store, fuel station, pharmacy and fast-casual dining; a 20-acre entertainment and destination retail area that includes a movie theater, office space, restaurants and a town-square space; an 11-acre area with a 225-unit apartment complex with primarily one-bedroom apartments; and a roughly 14-acre area of open space and community gardens, including stormwater management.
The mall owner is requesting nearly $28 million in tax incentives, including TIF, for the roughly $99.5 million project.
In a TIF district, tax receipts for school districts, fire districts and other taxing entities are frozen at existing levels for the length of the TIF — up to 23 years. As land within the TIF district increases in value, the incremental tax revenue — 100 percent of property taxes and 50 percent of sales and utility taxes — is used to retire the TIF obligations. The incremental property tax revenue, also called payments in lieu of taxes, or PILOTs, is deposited into a special allocation fund that is used to retire the TIF obligations.
The total project cost of $99,510,922 includes: land basis, $6 million; environmental, demolition and site work, $21,465,434; buildings, $64,035,890; financing costs, $2,057,926; and contingency, $5,951,672.
In its RFP response, UrbanStreet wrote, "The method of financing will be a combination of private equity, debt financing and the financial incentives that are available. Typically, a project like the one proposed here would require between 25 (percent to) 35 percent equity and 65 (percent to) 75 percent debt, depending upon specific various lender criteria and how much of the project is pre-leased or pre-sold.
"In this case, it depends further on the financial incentives. Due to the demolition requirements, topographical challenges and stormwater requirements, it is unlikely that the project, or any other plan for the redevelopment of the property, can be completed without substantial financial incentive assistance."
UrbanStreet is requesting financial incentives totaling $27,863,058 — a combination of TIF, Transportation Development District, or TDD, funds and Community Improvement District, or CID, funds.
"This represents 28 percent of the total estimated project costs," UrbanStreet wrote in its response to the city's RFP. "It should be noted that the developer's redevelopment plan includes not only the redevelopment of the four RPAs (redevelopment project areas) as described herein, but it also includes a substantial redevelopment of the municipal infrastructure that will benefit the entire Crestwood Plaza Redevelopment Area. These areawide projects would be (1) the demolition of all remaining improvements on the site and (2) the design and construction of a stormwater detention system to meet the requirements set by the Metropolitan St. Louis Sewer District.
"Based upon the estimated project costs of nearly $100 million, and in order to provide a reasonable return to the developer so that the project can even begin, the developer believes that TIF incentives are necessary. The developer also anticipates that a certain amount of the TIF can be repaid from proceeds derived from a CID and possibly an additional amount will be repaid from proceeds from a TDD. The CID would levy a sales tax of up to 1 cent per dollar, and the TDD would likewise levy a sales tax of up to 1 cent per dollar …," UrbanStreet wrote.
The mall owner anticipates the project will be done in four phases: environmental remediation; demolition of existing structures, estimated to take 10 months; site work and installation of on-site utilities and stormwater-management systems; and construction, which could be phased, "depending upon the market response and coordination with the installation of the site infrastructure improvements."
Lindbergh Superintendent Jim Simpson has said he believes UrbanStreet's plan to construct 225 apartments at the mall site "is the worst scenario for Lindbergh Schools," as it would exacerbate the aggressive enrollment growth that already is challenging the district.
District officials support the redevelopment of the mall as a retail and entertainment center, without any residential property that is funded by a TIF. In May, the school board unanimously approved a resolution opposing the use of TIF for residential development.
Eleven sit on TIF panel
Crestwood's TIF Commission is an advisory board charged with reviewing UrbanStreet's redevelopment proposal, including its request for TIF assistance.
After conducting a public hearing, the commission is charged with making a recommendation to the Board of Aldermen regarding the mall owner's proposal.
TIF Commission members include:
• Thomas Curran — senior policy adviser to County Executive Steve Stenger.
• Glenn Henninger — St. Louis County Transportation Department.
• Glenn Powers — St. Louis County Department of Planning director.
• Margaret Hart-Mahon — St. Louis County Counselor's Office.
• Thomas Malecek — special assistant to Stenger.
• Pam Reitz — St. Louis County Department of Administration.
• Charles Triplett — assistant superintendent of finance for Lindbergh Schools.
• Kara Horton — Lindbergh Schools Board of Education member.
• Tim Trueblood — a Crestwood resident and former Ward 2 alderman.
• Mike Balles — a Crestwood resident who serves on the Public Works Board and Board of Zoning Adjustment.
• Greg Hall — a Crestwood resident who serves on the Economic Development Commission.
In July, over 700 people attended an open house at the city's Community Center that was designed to obtain public input on UrbanStreet's proposal for the mall site, last known as Crestwood Court. In addition, the developer received more than 500 comment cards about the proposal.
The input gathered from the open house has yet to be released by UrbanStreet.