Crestwood mall property a 'blighted area' under state law, planner says
First of two parts: Public hearing on UrbanStreet's plan set Wednesday at Community Center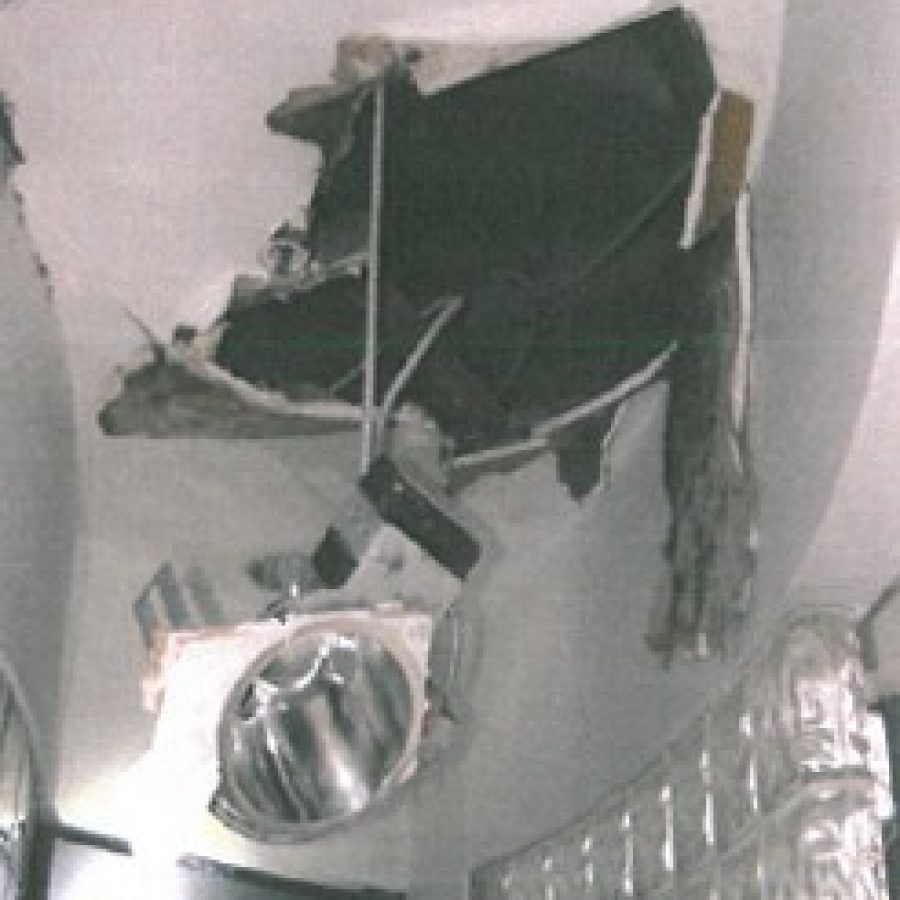 The former Crestwood Plaza is a "blighted area" under state law and poses an economic and social liability to Crestwood, according to the city's planner for the proposed redevelopment of the mall.
Peckham Guyton Albers & Viets Vice President John Brancaglione told the city's Tax-Increment Financing Commission last week, "… In our mind, this is a blighted property and fits every description of probably every redevelopment statute on the books in Missouri. It's quite appalling and if, like me, you were someone who shopped in there on a regular basis, it's very sad. It's just really sad."
UrbanStreet Group of Chicago purchased the 48-acre mall property at Sappington and Watson roads at auction in 2014 for $2.625 million from Chicago-based Centrum Partners and New York-based Angelo, Gordon & Co.
UrbanStreet is requesting about $25 million in economic assistance for a $104.3 million mixed-use project. The developer is seeking $15 million in tax-increment financing, or TIF, funds; $5 million in Community Improvement District, or CID, funds; and $5 million in Transportation Development District, or TDD, funds for the project.
UrbanStreet's proposed mixed-use development for the mall site, most recently called Crestwood Court, includes one large retail facility, a multi-screen movie theater, a fitness center, two dine-in restaurants, an office building, a 225-unit apartment complex currently envisioned as senior housing and 11 to 13 acres of open space and community gardens, including stormwater management.
Bob Burk, UrbanStreet managing partner, told the TIF Commission last month that no commitments from potential retail tenants for the proposed redevelopment can be secured until economic assistance is granted for the project. He also said the project will not proceed without the requested economic assistance.
To obtain economic assistance, the property must qualify as a "blighted area" under the state's TIF statute, which it does, Brancaglione told the TIF Commission Jan. 20 during a presentation of the redevelopment proposal.
Regarding the mall's current condition, he said, "I've seen some fairly awful buildings and properties in my career. This is one of the worst, and its conditions were largely, I think, the result of lack of maintenance that goes back quite some time and the fact that there was virtually no maintenance during Centrum's ownership and then the period of time that it in essence sat vacant.
"So there is significant water damage in the Sears building, for example. It infiltrated the roof and went down all three floors, and that has continued unabated. There's leaking that has occurred consistently around the skylighting. There was a major water main break, where one of the main water lines came in at the lower end of the Macy's building. That flooded a significant part of the mall area and the Macy's ground floor …," Brancaglione said.
Other problems include mold as a result of the water damage and flooding, and all of the utilities — electric, gas and water — have been shut off, he said, later adding that during his most recent visit to the mall about a month ago, "There's all sorts of indications that they're breaking into that building and getting in there and doing further damage and who knows exactly what else is going on? So the building is clearly, in our opinion, a safety hazard …"
The planner also noted the topographical challenges of redeveloping the site.
"… Part of the challenge to redeveloping this, particularly if you were talking about developing it totally as a commercial use from one end to the other, is that it was built to a single purpose, if you will," Brancaglione said. "And because the site is long and narrow and because you have a hundred feet of drop from one end to the other, when you start tearing things down and try to live with this as it originally existed, it's very tough because the property's so long and narrow and is an irregular shape.
"We know that at one point, Centrum had talked to some large commercial users, who concluded that they couldn't use the property or didn't want the site because it meant that they were going to have to completely reconfigure their building to make it work on that property …"
The mall property qualifies under any number of criteria in the state's TIF statute as a "blighted area," he said.
"… We've now seen physically and been in all three of the major malls in St. Louis that have been closed — Jamestown, Northwest and now Crestwood," Brancaglione said. "I have personally been in them. I've been on the roof of those buildings. I've been in every nook and cranny, along with members of our staff, I can only assure you that this is the worst of the three."
In a TIF district, real-estate taxes for school districts, fire districts and other taxing entities are frozen at existing levels for the length of the TIF — up to 23 years. As land within the TIF district increases in value, the incremental tax revenue — 100 percent of property taxes and 50 percent of sales and utility taxes — is used to retire the TIF obligations.
Brancaglione noted that the mall property "has continued to drop in value and went down in value again just recently based on the last assessment, well, which is not yet finalized. We've used the number that's been put forth by the assessor as a likely number at this point …"
PGAV's analysis assumes the equalized assessed valuation of the mall property will be $1,120,000. UrbanStreet currently is appealing the mall site's 2015 assessed value of $3,151,360. The developer successfully appealed the 2014 $3,151,680 assessed value of the mall property.
Based on a Jan. 14 stipulation agreement, the 2014 assessed value of the site was placed at $1,120,000, a reduction of $2,031,680 from the original assessment.
"… This area, unlike what you sometimes find when you look at criteria under the tax-increment (financing) statute, it's not only an economic liability, but it's a social liability because there are so many issues that are unhealthy (and) unsafe associated with this property that by virtue of that definition in the statute that it qualifies as a social liability, as well as an economic liability," Brancaglione said.
Unlike UrbanStreet's original proposal, the revised plan includes the addition of two outparcels — Calvert's Express Auto Service & Tire at 9415 Watson Road and City Music at 9299 Watson Road. The proposed redevelopment may or may not include those two outparcels, according to Brancaglione.
The TIF Commission will conduct a public hearing on UrbanStreet's proposal at 7 p.m. Wednesday, Feb. 3, at the Community Center, 9245 Whitecliff Park Lane.
Next week: Brancaglione presents a cost/benefit analysis of the project to the TIF Commission.