Crestwood aldermen table flatwork ordinance, continue to address stormwater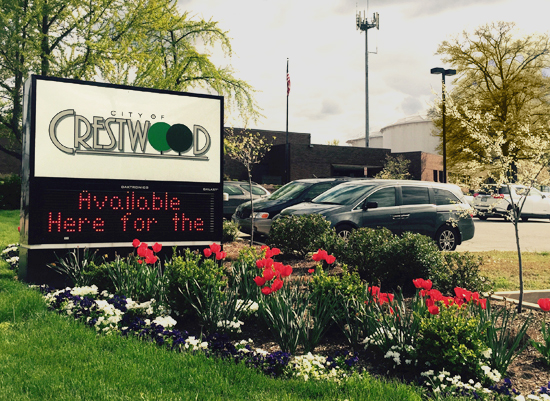 Crestwood has made an effort recently to address stormwater management in the city, introducing separate ordinances on flatwork and other impervious structures through different committees.
The flatwork ordinance and related fee were tabled by the Board of Aldermen Oct. 26 to add clarifications for some rare, but possible situations.
The ordinance would add a permit process for the addition of flatwork (patios, sidewalks, driveways or retaining walls) on a property. The proposed wording would not require additions of 50 square feet or less to get a permit and disallowed pavers for driveways.
The board felt the ordinance needed to be more specific on which types of materials are allowed, more strict on retaining walls and an increase on the 50 square foot proposed limit.
"There's not an explicit list of approved or disapproved materials, I think that would be beneficial for the city to (add)," Mayor Grant Mabie said. "There's a way to do a paver driveway that is the upper echelon of construction from a longevity, aesthetics and property value perspective and there's a way to do a paver driveway that would be a terrible eyesore and would look ridiculous on the street."
Mabie said he would like to see staff add some wording to allow high caliber paver driveways in the city. 
The mayor and several aldermen felt the 50 square foot limit was too small for unpermitted flatwork. The consensus was to look at increasing the amount to around 80 square feet while researching what neighboring cities have for that limit. 
The ordinance identified retaining walls as a specific project that requires a permit over the square feet limit, but aldermen pointed out all of the factors that accompany retaining walls that don't accompany driveways or patios. The height factor of retaining walls was called into question by Mabie, who said he would like to see what rules other cities have in place. 
Jim Gillam, director of public services, said the current wording addressed only the flat area on top of a retaining wall, as opposed to any height it might create. 
Ward 1 Alderman Jesse Morrison said in his experience retaining walls aid with stormwater management, and the city should assist in building those types of structures instead of preventing them.