Crestwood's Zellers shines on and off the field
Originally Published: 8/26/2003
By STEPHEN GLOVER
For the Call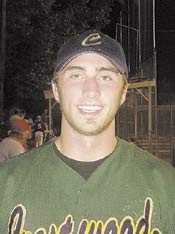 Chris Zellers knows what it means to be a leader.
He may not be one of the more vocal leaders on the Crestwood American Legion baseball team, but his actions speak louder than any spoken words.
"Chris was definitely one of our leaders this season," Crestwood Head Coach Roy Tippett told the Call. "He led by example by working hard every day."
Zellers' hard work in the offseason paid outstanding dividends as he led the team in batting average with a .358 mark. He also led Crestwood in runs (29), hits (38), doubles (12), home runs (4) runs batted in (20) and walks (12). In the field, Zellers' outfield work absolutely was flawless as he committed no errors this season.
"Last year I really didn't play up to my expectations," Zellers said. "All of the hard work and time I put in during the offseason has really paid off."
But Zellers' accomplishments don't begin and end with the Post 777 ball club. He represented Crestwood in the recent annual District 10 All-Star Game and was named the south squad's Most Valuable Player.
"I think that a lot of the younger guys actually looked up to Chris as an example this year," Tippett said. "He's a pretty solid player that has a good batting average, can hit for power and has good foot speed. Those are things that you just can't teach."
A recent graduate of Lindbergh High School, Zellers played ice hockey and baseball for the Flyers. But his accomplishments are not just limited to being on the field as he was a three-time member of the Student Council and was the Senior Class vice president.
Zellers will begin the fall semester at St. Louis Community College-Forest Park where Tippett again will serve as his head coach.
"I think that Chris has a lot of room to improve," Tippett said. "I think that he's going to be a great junior college player. I'm really excited about having him come to Forest Park."
Like many college freshmen, the life beyond high school can be an overwhelming experience. But Zellers is looking at his stay at Forest Park as being a time to not only learn in the classroom, but also an opportunity to study the game of baseball.
"I'm a little nervous about college ball," Zellers said. "But I know Coach Tippett from playing summer ball. I just hope to go there to better myself and see where baseball will take me."