City amends excessive noise ordinance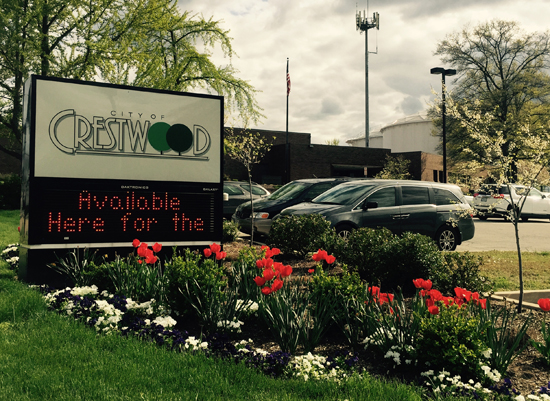 The Crestwood Board of Aldermen amended an excessive animal noise ordinance to be less forgiving to offenders at the June 22 meeting.
Changes to the ordinance were drafted by the Public Works Board for review by the Board of Aldermen. Changes include the addition of the definition of a disturbance and the addition of a more detailed reporting and logging process.
Under the proposed changes offenders would need nine reported disturbances before the matter would be taken to the Crestwood Municipal Court and disturbances would need to be for 10 consecutive minutes during the day time and five at night. Second witnesses and/or video proof are required for all disturbances.
The original proposed language stated disturbances would need to be for 15 consecutive minutes during the day. Mayor Grant Mabie gave an example of what excessive noise might look like by playing a minute straight of dogs barking for the board.
"A nuisance has been banned under Missouri law for hundreds of years and a dog barking is one of the classic examples of a nuisance," Mabie said. "I do think it's inappropriate to have a definition to allow 15 consecutive minutes of barking during the day."
Mabie said such a large limit might lead to altercations between neighbors. He also expressed concerns there were too many notices allowed before an official warning would be given. The original wording called for 12 notices before an official warning rather than nine.
Police Chief Jonathan Williams said nine is a better amount, but these cases often become an issue for police and city officials to solve and keep track of. He said he remembers one case in his six months as chief where police were called to the same place multiple times and never heard a barking dog.
"I recall one complaint where somebody said every day a dog is out there barking. I checked on it personally multiple times and never once heard a dog barking and never once saw a dog in the yard," Williams said. "There were pretty specific times we checked on and nothing was occurring, so I think some verification process should be there."
Mabie said witness and/or video proof is required for nuisance cases, and witnesses/reporters would need to be in municipal court if the case ever got to that point. He suggested something like a police referral straight to municipal court after three warnings be added for the second reading.
Ward 2 Alderman Justin Charboneau agreed with Mabie and Williams, saying both 12 warnings and 15 minutes of noise were excessive. The board unanimously amended the ordinance to 10 minutes of noise during the day in an effort to give owners leeway while respecting other residents.
The amendment to reduce the number of warnings to nine before the municipal court gets involved was also unanimously approved by the board.
Jim Gillam, director of public services, said the Public Works Board based the recommendation off of the city of Houston's plan.
"Most of the time we'd get barking dog complaints, they were off-hours and nothing we could respond to," Gillam said. "It's a nuisance situation and we're not able to respond very well because of that."
The board closed the discussion with a request that special circumstances for especially egregious cases be added.
A second reading and final approval of the bill will take place at the board's July 27 meeting.