Burk says no tenants can be secured for Crestwood mall project until TIF approved
Last of two parts: TIF Commission to hold public hearing on UrbanStreet proposal Feb. 3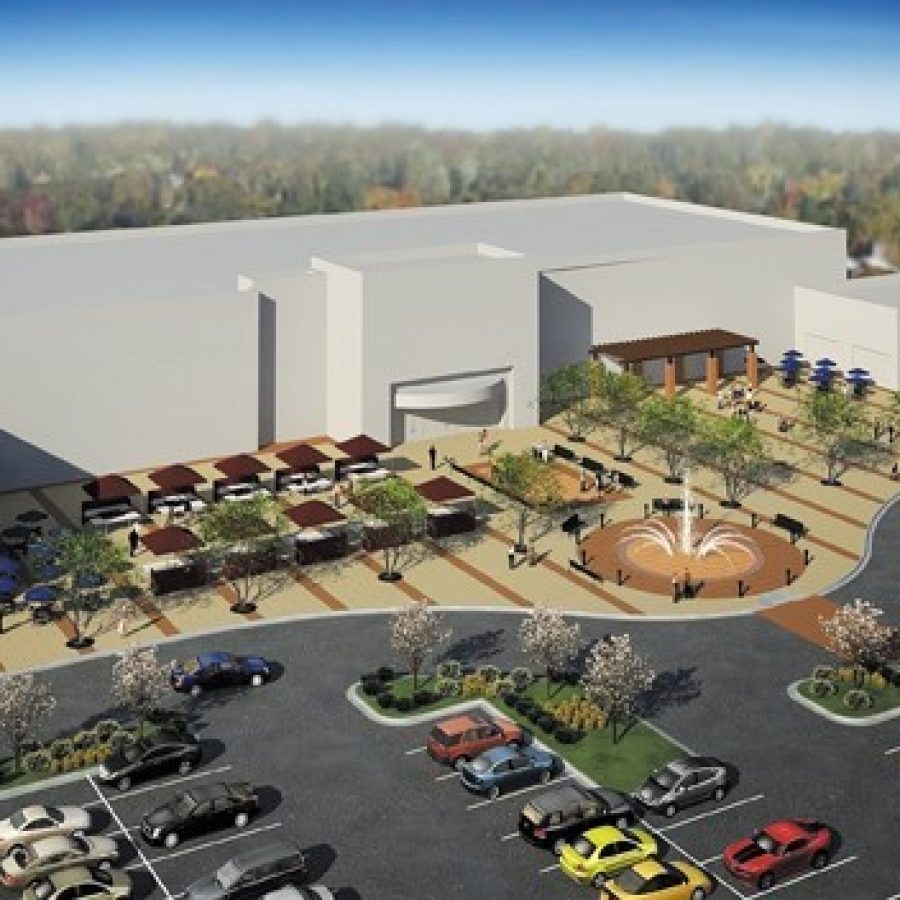 No commitments from potential tenants for the proposed redevelopment of the former Crestwood Plaza can be secured until economic assistance is granted for the project, according to a representative of the mall's owner.
Bob Burk, managing partner of Chicago-based UrbanStreet Group, presented a revised redevelopment proposal for the mall property Dec. 16 at the first meeting of the Crestwood Tax-Increment Financing Commission.
UrbanStreet Group, which purchased the mall last year for $2.625 million, submitted the only response to the city's request for proposals to redevelop the 48-acre site at Watson and Sappington roads.
The mall owner originally requested nearly $28 million in economic assistance, including tax-increment financing, or TIF, for a roughly $99.5 million mixed-use project.
UrbanStreet now is requesting about $25 million in economic assistance for a $104.3 million mixed-use project, Burk told the TIF Commission. UrbanStreet is seeking $15 million in TIF, $5 million in Community Improvement District, or CID, funds, and $5 million in Transportation Development District, or TDD, funds for the redevelopment project. As proposed, the TIF would be retired in 23 years, the maximum period allowed by state law.
UrbanStreet's proposed mixed-use development for the mall site, most recently called Crestwood Court, includes one large retail facility, a multi-screen movie theater, a fitness center, two dine-in restaurants, an office building, a 225-unit apartment complex currently envisioned as senior housing and 11 to 13 acres of open space and community gardens, including stormwater management.
During his presentation, Burk acknowledged questions have been raised about the lack of specifics regarding potential tenants, but said the site's history has made it difficult to secure agreements with users.
TIF Commission member Charles Triplett, Lindbergh Schools chief financial officer, later asked Burk, "… Why is it not possible to get contingency agreements from any of these retailers prior to a TIF being approved?"
"… We're about as far along as we think that we can go …," Burk said. "It's a great question and there's a very simple answer … It's not on their radar. You're dealing with — they make commitments based on potential delivery dates and at current, we can't provide a delivery date nor can we provide sound economics. We're not in a position to commit."
Triplett asked, "And then they won't even do a contingency commitment …?"
"We're about as far along as we can get," Burk reiterated.
Triplett said, "OK. And how will revenue estimates be calculated without specific tenants to know what type of revenue might exist?"
Burk said, "Well, we've narrowed down basically the potential uses and we've run multiple, multiple scenarios based on enormous pools of data that the consultants have and that we have at our disposal. And we base our projections off of the highest and best uses that we feel that we can put in there, and the highest level of interest that we've had from different tenants. And so that's what we base that off of, and back to your point, which was extremely valid, ultimately that exposure rests with us."
He later added, "… We wouldn't be here if we didn't think this was viable. I mean, it's an extremely risky business, don't get me wrong, but that risk is ours."
Of the total project cost of $104.3 million, nearly $27 million would be used for infrastructure costs, particularly stormwater-management requirements mandated by the Metropolitan St. Louis Sewer District, or MSD.
Lindbergh Schools has performed extensive construction over the past 10 years, Triplett noted.
"… We sympathize with you with your interactions with MSD, knowing the requirements and the costs. But why aren't those costs part of doing business?" he asked.
Burk said, "They're extraordinary there because this site has currently zero. So we're not expanding reclamation, we're not expanding detention, we're creating it raw …"
In July, over 700 people attended an open house that was designed to obtain public input on UrbanStreet's proposal for the mall site. The input gathered from the open house has yet to be released, and Triplett asked Burk if those results would be made available.
"Absolutely … We've been utilizing them internally and certainly before the public hearing, which we view as the right time for that, over the course of the next six weeks we're going to release that data in the best format that we can …," Burk said.
The TIF Commission will conduct a public hearing on UrbanStreet's proposal at 7 p.m. Wednesday, Feb. 3, at the Community Center, 9245 Whitecliff Park Lane.
TIF Commission member Kara Horton, who serves on the Lindbergh Board of Education, asked Burk about UrbanStreet's time frame for construction.
Citing UrbanStreet's proposal, Horton asked, "… Building construction will be phased over time in response to market demand. What does that mean?"
"It means, quite specifically that … it's whoever shows up to that party first, for lack of a better term," Burk replied. "Once we make the commitment to demolishing this building and once we feel comfortable that we have the potential to recapture some of these expenses, what that means is that we would put in the spine of the infrastructure.
"If the theater is first in line, that goes first. If the retail or the potential grocer or the housing — we just wanted to indicate that there would be a stagger, a potential staggering to this. If everybody shows up, we're game on. I would love that. But that was very specifically to indicate that the market is going to dictate because the first guy that inks it is the first guy in the door, and we can gear our development and our infrastructure to meet those needs …"
Horton asked, "What kind of language will be in the redevelopment agreement if … let's say you build the residential first and you're not able to find a theater or retail or restaurant. What kind of an out are you looking for in the redevelopment agreement if that's not feasible?
Burk said, "If I'm not mistaken, that exposure rests squarely on us … This idea of recapture and repayment is a very critical term, and I think it's very critical to understand that the only one getting repaid over time — we're the ones taking that exposure. And I think that's very, very important, so I'm glad you brought that up. As far as the development agreement, we're going to have benchmarks in there that are going to set targets … If we don't meet certain standards, of course, of if there are changes, then there's going to have to be revisiting to it …"
The TIF Commission will meet again at 7 p.m. Wednesday, Jan. 20, at the Government Center, 1 Detjen Drive.