2020 Home for the Holidays Contest Holiday Hams: Pineapple and Rosemary Glazed Ham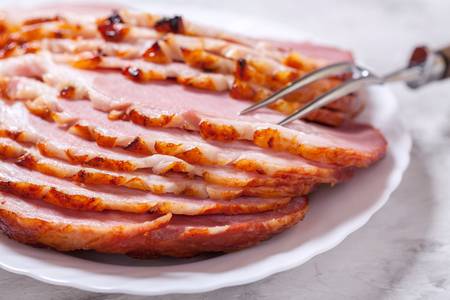 The combination of sweet pineapple and the subtle piney rosemary herb makes this ham a winner. If you use canned pineapple for the glaze, reserve the canned juices for ½ cup pineapple juice.
Pineapple and Rosemary Glazed Ham
One 8 to 10 pound cooked bone-in or one 4-6 pound cooked boneless ham
1¼ cup packed dark brown sugar, divided
3 tbsp dijon mustard
2 tbsp fresh rosemary or 2 tsp dried rosemary, crushed
½ cup pineapple juice
¼ cup dijon mustard
1 medium pineapple, peeled, cored and coarsely chopped or three 20-ounce cans pineapple tidbits, drained (reserve ½  cup juice)
Preheat oven to 325 degrees. Place ham in shallow roasting pan. Score ham by making diagonal cuts, ¼ inch deep in a diamond pattern. Roast for 1¾ hours if using bone-in ham or 1 hour for boneless ham.
Meanwhile, in a bowl combine 3 tbsp of brown sugar, the 3 tbsp mustard, and rosemary. Brush mixture over the ham. Roast 15 minutes more. For the glaze, in a 2-quart saucepan combine the remaining brown sugar, the pineapple juice, and ¼  cup mustard. Bring to boiling over medium heat, stirring frequently. Remove ½ cup glaze to brush over ham. Set aside.
Bake ham 30 minutes more or until thermometer reaches 140 degrees, generously brushing with the ½ cup glaze several times during baking.
Add pineapple to the remaining glaze in saucepan. Bring to a boil, reduce heat. Simmer, uncovered, for 20 minutes. Transfer ham to serving platter. Slice ham and serve with pineapple sauce.
David White
Sunset Hills