Zufall presented Courageous Heart Medal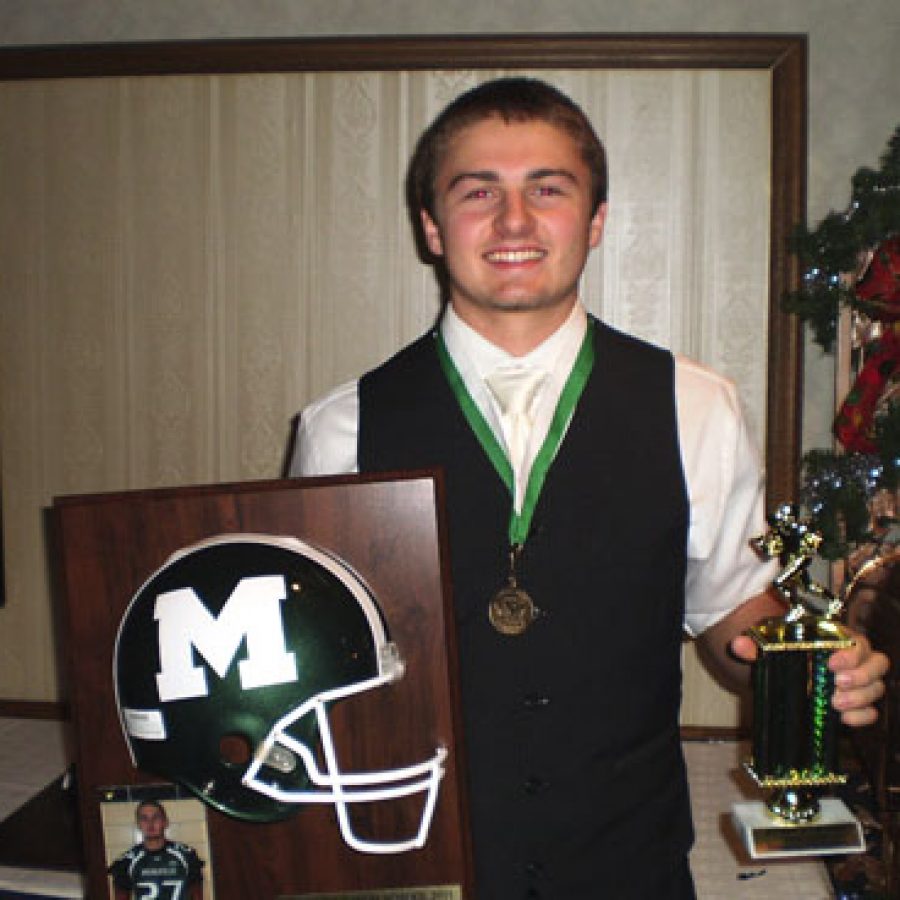 By ROBERT CHALUPNY
For the Call
Mehlville Senior High School running back and linebacker Brandon Zufall is the 2011 winner of the Mark DeWalle Courageous Heart Medal Award.
Zufall was presented the award at the Mehlville Senior High School football team's banquet earlier this month.
The award is presented to the player who best "gives of himself," according to Mehlville football head coach Eric Meyer.
The award was established by the DeWalle family after their son Mark lost his battle to cancer in 2007. Mark was a member of Mehlville's 1999 state championship football team, a team captain and a recipient of the Fellowship of Christian Athletes' Courageous Heart Award.
"Mark in our program was a kid that gave of himself," Meyer said. "He moved positions when he was a freshman. He was a running back, quarterback, linebacker and as a sophomore, we needed an offensive lineman. So he moved to guard and he played guard the next three years."
Recipients of the annual award have demonstrated that they "are willing to give of themselves and work hard and show leadership and show they really love the game because football meant an awful lot to Mark," the coach explained.
Recipients are selected by Mehlville coaches and teachers.
Zufall started as Mehlville's varsity kicker when he was a sophomore, then played running back and outside linebacker as a junior. This year, he transitioned to inside linebacker and represents the spirit of the award, Meyer said.
"We kind of come together and talk about that and decide who's representative of that and Brandon is a great representative," he said. "He's a kid that played running back last year and this year. Also, he was an outside linebacker, so we knew that we needed some help there. So we went to him and said: Hey look, we need to move you and he was just fine. 'Sure, whatever you need coach.'
"And he played hard. He was our punter. He was our kicker. He was our running back. He was our inside linebacker. You saw him all over the field. He played his heart out and played quite a bit."
Zufall told the Call he was surprised about being chosen, but was honored to receive the award.
"I think it just kind of sums up four years of playing for Mehlville. I really wasn't expecting to win it," he said. "Just listening to how coach was explaining it, I figured it might have been a couple other players that could have been picked. So I really wasn't expecting to get it, but it really shows how much hard work we've put in together the last four years."
"Fun" was one word Zufall use to describe his experience as a Panther and the camaraderie he had with his teammates.
"I just want to look back on it and don't regret any of it," Zufall said. "We've been out there all four summers, all four years and we haven't come in with too many wins, but we had a group of us that didn't quit and kept on it for four years.
"And it kind of shows we got a little better each year and still had fun. I don't regret any of it."