Woman attacks employees at arcade who asked her to wear a mask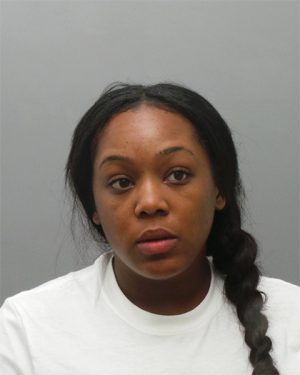 A woman attacked three employees Sunday at America's Incredible Pizza Company in South County, pushing, shoving and pepper-spraying them after she was asked to wear a mask, as required by St. Louis County mandate due to the COVID-19 pandemic.
Police said the woman was part of a group that was asked to wear masks by employees of the entertainment complex at 5254 S. Lindbergh Blvd. in the Sappington area of South County, but they objected and an altercation broke out as the group was escorted out. Officers from the Affton Southwest Precinct were called to the scene of the disturbance at roughly 4:39 p.m. Sunday. The pizza restaurant is a popular arcade and site for birthday parties.
Surveillance video from multiple angles obtained by KMOV shows a woman pushing, shoving and reaching her arm out to aim something at multiple employees on her way out the door.
The woman who allegedly was caught on video pepper spraying the employees was identified as Antoinette Windon, 27, of the 6300 block of Isabella Avenue in Pagedale, 63133.
Windon has been issued a summons for assault in the incident. Police said that is comparable to a ticket or a citation.
The mandate to wear a mask in public spaces in St. Louis County has been in effect since July 3, but a spokeswoman for the St. Louis County Police Department said as far as the department is aware, there have been no other incidents in the county that turned violent over objections to wearing masks.
The woman was one of at least three adults in the large group, which from the video appears to include at least seven people, including several children and a baby. Children under the age of 9 are exempt from the mask mandate.
Manager April Gamache told KMOV that "punches were thrown, I was shoved, my cashier was shoved, we were ridiculed" during the incident: "I'm still kind of shocked a little bit and a little traumatized by the incident that happened because it could have been worse. It could have been a gun that somebody pulled out."
Gamache, of Imperial, was profiled in The Call after she and America's Incredible Pizza were named the "New Members of the Year" at the Crestwood-Sunset Hills Area Chamber of Commerce's gala in February.
Employee Laura Hackworth told KMOV that she was "really disturbed that someone would take it to that level" and said that her tongue was still burning from the pepper spray a day later, with blisters.
"Once I was sprayed I knew instantly what happened and it was the worst pain I have ever felt in my life, just excruciating, burning obviously in my nose and my mouth," Hackworth said. "It was pretty intense, it was pretty scary, how physical and fast it all went down. They got in my face without masks one and just tried to spit and were promoting the coronavirus, calling me names."
Customers at the arcade who don't have their own masks can buy one for $1.