Visioning workshop attendees focus on long-range outlook for Crestwood
Tentative schedule calls for Sept. 7 hearing on final plan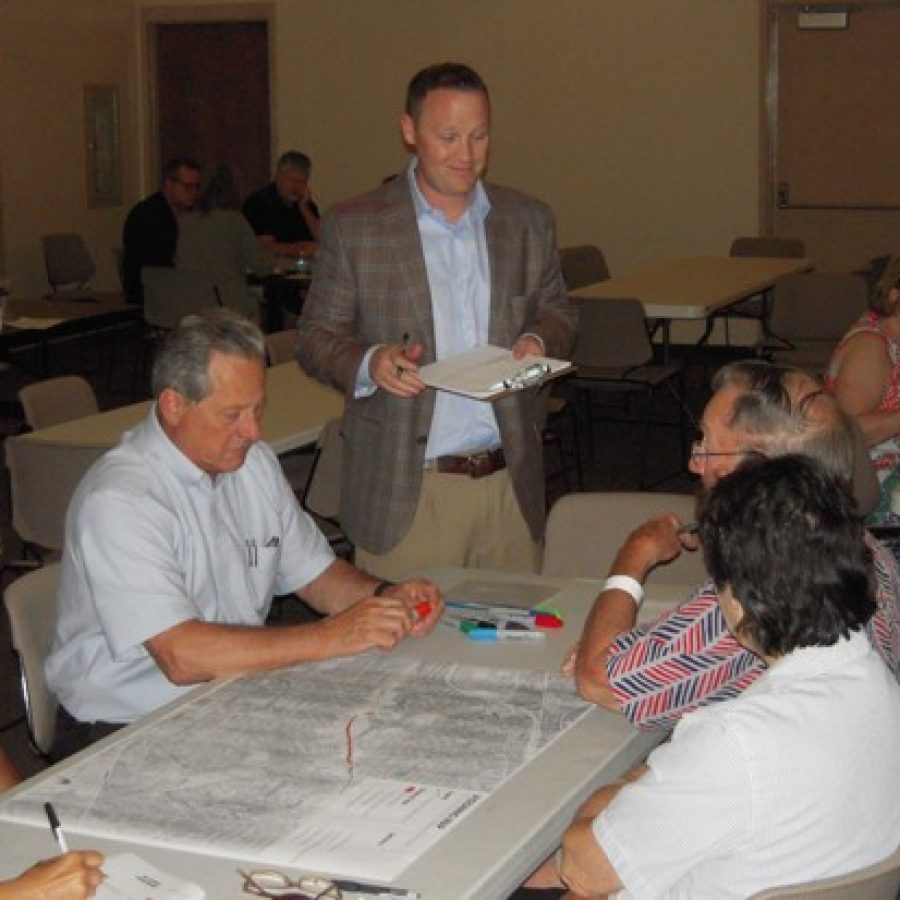 Residents participating in a workshop last week for Crestwood's first-ever comprehensive plan focused on a long-term vision for the community that could include the city's rich history, particularly the "historic character" of Watson Road.
Roughly 25 Crestwood residents attended the June 7 visioning workshop and outlined the types of development, projects and improvements they wish to see over the next 15 to 20 years.
In the past, the city has been known as the home of Crestwood Plaza. With the mall being demolished and redeveloped by current owner UrbanStreet Group of Chicago, Crestwood has a unique opportunity to rebrand itself, according to some of the workshop participants.
Besides highlighting the city's rich history, participants said they would like to see entrances to the city marked so visitors know they are arriving in Crestwood, easier access to Grant's Trail and some type of town square or central gathering place for the community.
The Board of Aldermen voted last July to adopt an ordinance hiring Chicago-based Houseal Lavigne Associates to formulate the comprehensive plan at a cost of $89,500.
City Planner Adam Jones told participants that the visioning workshop was the second step in the comprehensive plan process. The first step was the creation of an existing conditions report, which was designed to answer the following questions:
• What is the state of Crestwood today?
• What do residents like and dislike about the community?
• What are the community's biggest assets and challenges?
"… The consultants' first step when they're creating a comprehensive plan is to come in and measure existing conditions. They've done that to a certain degree now, I think we could say, and now we want to gather your input in terms of crafting a vision for the city of Crestwood over the next 10 to 20 years, and engaging you all is going to be very important in the step," Jones said. "And we're talking about things tonight such as transportation, economic development — development which I know is a hot topic in the city of Crestwood. We're also going to be talking about transportation and infrastructure, which is pretty important."
Drew Awsumb of Houseal Lavigne outlined the importance of a city's comprehensive plan.
"… The comprehensive plan is what really is the vision and the guiding document for the community … This is what governs land-use planning, transportation planning, parks, open space, environmental management, and it helps drive zoning. It helps drive the capital improvements project budget. It drives a lot of how cities make decisions, and it really starts from there," he said.
"So it's comprehensive because it literally touches everything. It touches land use, development patterns, urban design, transportation, community facilities — whether that's things owned by the city or other things like the school districts or other taxing entities, utilities, stormwater infrastructure, environmental management, parks and open space, recreation facilities. When it says comprehensive, it means comprehensive. It's literally anything that makes up the community of Crestwood …"
Besides being comprehensive, the plan also takes a long-range view of the city's future.
"We sort of look 20 years into the future. What's (the) 20-year big vision? What does Crestwood look like over the next generation? And as we start to get into the plan-making process, we look more at sort of 10-year recommendations, kind of operationalized by five-year action items or objectives, and then we build out that implementation from there …"
At the workshop, participants broke off into small groups to discuss their vision of Crestwood, completing a worksheet and highlighting a map with their suggestions.
Ward 1 Alderman Richard Breeding said participants at his table discussed transportation, zeroing in on Watson Road "and making it more walkable, more bike-rideable — focus away from the car. I know Route 66, you think of cars, but we're thinking how do we get away from that and make it a more walkable and appreciate Watson Road for what it is? But somehow highlight the other neighborhoods and stuff around it."
In terms of long-range vision, he said those at his table would like to see buildings on Watson Road brought closer to the road "because a lot of those buildings are so far back. Put the parking behind it …"
Residents at his table also discussed signage at entrances to the city, citing welcome signs in the Grove neighborhood in St. Louis — "a big sign that somehow said 'Welcome to Crestwood,' and someone said, 'Put a bow around it.' That's a pretty cool idea. I liked it."
Mayor Gregg Roby reported that participants at his table expressed serious concerns with the medians on Watson Road "because when you go east of Sappington Road down to Grant, you basically choke off all of the business along that area, and it's obvious when you see those vacancies to the east of the plaza and to the west of the plaza that the businesses are pretty well full. So we think we need to address that."
Another proposal from his table would be to highlight the "historic character" of Watson Road, including having a visitors' center, he said.
"We take a building similar to the Fifth Third Bank, for example. Turn that into a visitors' center in Crestwood, and then all along Watson Road we would put historic markers that would identify like this was the home of the Route 66 Drive-in Theater. This was the space for the first mall in south county, where President (John F.) Kennedy visited — stuff like that, that would basically provide guests and visitors to our city with an opportunity to learn more about our city and its history," the mayor said.
A tentative time line for completion of the comprehensive plan calls for a draft to be distributed to elected and appointed officials, including the city's Comprehensive Plan Advisory Committee, in mid-July with a presentation tentatively scheduled for the July 26 Board of Aldermen meeting.
Friday, Aug. 12, is the deadline for feedback and comments from residents about the draft plan, with a presentation of the updated plan set for the Aug. 23 aldermanic meeting.
The tentative time line calls for the Planning and Zoning Commission to conduct a public hearing on the plan on Sept. 7. Under state law, the comprehensive plan is adopted by the Planning and Zoning Commission — not the Board of Aldermen.