Two seek to unseat Ward 2 alderman in Crestwood election
Alderman Kelsch faces competition from Baker, Schlink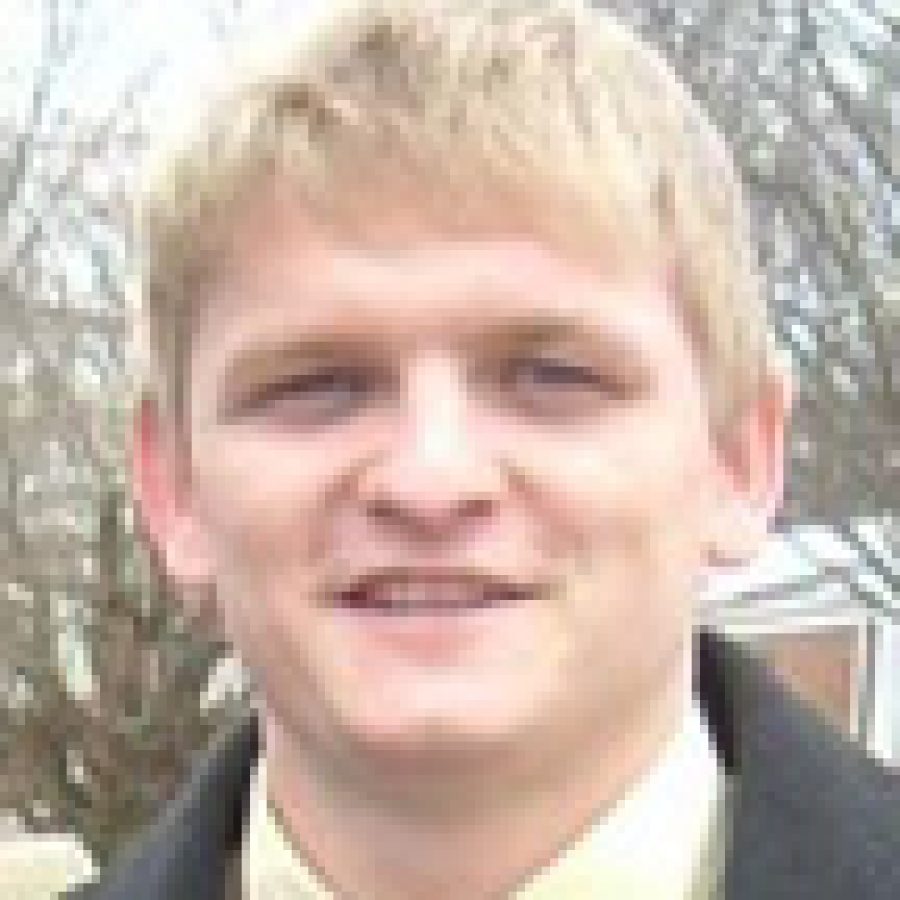 One political newcomer and a previous aldermanic candidate are trying to unseat Crestwood Ward 2 Alderman Mike Kelsch in the April 7 election.
Jeff Baker and Jeff Schlink will compete with Kelsch in a three-candidate race for a one-year seat on the Board of Aldermen.
Asked to identify the most important issue in the race, the candidates responded:
• "Business development is the most pressing need for the Crestwood community … New business development will make Crestwood more appealing to potential home buyers while also providing tax benefits to the whole community. The most important focus would be the development of Crestwood Court, but we need to focus on every other area of the city as well. I feel strongly that constant focus on helping these businesses would be huge for Crestwood's growth and prosperity," Baker said.
• "Financial viability and sustainability of the city of Crestwood to provide police, fire and community services," Kelsch said.
• "Our city is not functioning well with its current leadership. Tax revenue is dropping at an alarming rate while our expenses seem to be dropping much slower. We need better leadership and we need to start running the city like a well-managed business. We need a taxpayer watchdog for the residents of Ward 2," Schlink said.
Baker, 24, 9701 Greenview Drive, is a marketing professional for Baker Advertising.
He is seeking office because "It's possible that the city of Crestwood can benefit from a younger, more refreshing point of view. Quality solutions come from quality brainstorming. I would like to help.  I am younger than all of the other aldermen and I know I would have a different perspective on most issues. I mainly want to help the current and future businesses succeed. I also want to encourage residents to continue the heritage of Crestwood as a respectable, family oriented community."
Kelsch, 45, 9706 Twincrest Drive, is a sales manager in the industrial division for French Gerleman. He and his wife, Kimberly, have three children.
Kelsch, who was appointed in May 2008 to fill the vacancy left by former Ward 2 Alderman Steve Knarr's resignation, is seeking election to "help move Crestwood forward as a viable place to live and raise a family with a sustainable tax base and dependable services to the community."
Schlink, 40, 1228 Capri Drive, is a department leader and project leader in supervisory systems and processes in the compliance division for Edward Jones Investments. He and his wife, Kim, have four children. He previously ran for alderman in 2001, 2003 and 2004.
He is seeking office "so that I can be a taxpayer watchdog for the residents of Ward 2. Like most people, I am frustrated with our current government. I have not observed the leadership and taxpayer-watchdog mentality that I feel is necessary during these tough times. I have a strong passion for improving Crestwood's financial situation. My passion is illustrated by the fact that I have run for office in the past and not won. Since I am passionate about improving Crestwood, I am running again."
The candidates gave the following responses to a Call questionnaire:
What is your position on the use of tax-increment financing, or TIF, and other tax tools?
Baker said, "In general, I am in favor of using TIF financing and other tax incentives to help stimulate our local economy. If used properly, providing these incentives to locate in Crestwood can help attract private investors and developers to the area, thus increasing property values and creating more local jobs."
Kelsch said, "We live in a very competitive market where businesses are regularly attracted to other cities through their use of tax incentives. I think it is wise for our city to use these tools responsibly to attract new business."
Schlink said, "No one has given the residents of Crestwood any tax relief on their property taxes. These tools are the very last resort in my opinion and would be evaluated on a case-by-case basis. My bias is against them. If a developer requested a TIF, it would take quite a bit of convincing for me to give a developer a break."
Do you agree with the direction the city is moving under the leadership of Mayor Roy Robinson?
Baker said, "I have not had any dealings with the mayor — good, bad or indifferent. There will always be people who want to criticize our leaders, but it looks to me that Mayor Robinson has made some important cutbacks that have really helped Crestwood financially."
Kelsch said, "I believe that the mayor has the best interest of the city in mind when making decisions. He has communicated to the board and me that development of the mall and subsequent return to a sustainable tax base is paramount for our city, and I agree."
Schlink said, "I don't see leadership, good ideas or respect for fellow residents or some aldermen. Mayor Robinson is well known for his lack of respect when you do not support him. Aldermen need to be committed to their ward and not be intimidated by Mayor Robinson or any group. They need to speak up and vote as their residents want them to vote."
Do you support the performance of City Attorney Rob Golterman?
Baker said, "Mr. Golterman is representing the city well as our attorney. He has the best intentions for Crestwood as a former alderman himself. The fact that he helped start up Our Little Haven and is a member of St. Catherine Laboure are both positive signs as well. So I stand by him and think he is qualified for the job."
Kelsch said, "Rob Golterman does a good job and frequently saves the city money."
Schlink said, "I'm not a fan of Mr. Golterman's preference to hold meetings behind closed doors. In addition, Mr. Golterman's bills are some of the highest bills paid by the city."
In August 2008, 72 percent of voters rejected the six-year, 35-cent tax-rate in-crease Proposition 1. How did you vote on Prop 1 and why?
Baker said, "Increasing taxes is not the answer to our problems. In this case, the Crestwood citizens got it right by rejecting Prop 1. The tax proposition did not seem to provide a great deal of benefits to our community. 'Keeping services the same' is not a good reason for residents to pay more taxes. Besides that, it is a short-term fix.
"We should focus on making Crestwood more attractive to business owners. By doing this, we can increase our tax revenue in the long term."
Kelsch said, "I supported and voted for Prop 1 … Unfortunately, our city is faced with significantly declining revenues that will continue to shrink, resulting in a lower standard of living for our community. We may balance the budget in the end, but even poor people balance their budgets.
"They just have a lower standard of living. I do not support a substandard 'standard of living' for the citizens of Crestwood. Given low voter turnout and poor marketing, I also question if an accurate depiction of all of Crestwood was represented in that election. Furthermore, as our community continues to deteriorate, I am concerned that it didn't pass and that further cuts will need to be made affecting our safety and quality of life."
Schlink said, "I was very pleased that Prop 1 did not pass. I believe that more can be done to reduce or eliminate spending. Unfortunately for Crestwood residents, some current aldermen are proposing another property-tax increase. I guess 72 percent rejecting the proposal the last time is not a strong message to them. If elected, I'll listen to you."
What is your "vision" for Crestwood?
Baker said, "I see Crestwood as an established but still progressing community that's in a high-demand area of St. Louis. I envision a city with increasing property values, low crime rates and thriving businesses. I picture Crestwood Court turning around and helping out the businesses down Watson Road. Overall, I see future Crestwood as an even more successful city where the people respect each other and their respective ambitions."
Kelsch said, "I would like to see a destination spot created in the mall development that would incorporate Grant's Trail and bring people from neighboring communities to spend time in Crestwood. I would like to see the Route 66 corridor developed to help reinforce our community spirit and encourage families and business to desire Crestwood as a place to work and live. Most of all, I would like to see a forward-thinking Board of Aldermen, mayor and community that would re-establish Crestwood as a family and community destination."
Schlink said, "The days of strong tax revenue were gone before our current economic problems. Unfortunately, very little planning has taken place to prepare for this. If elected, I will push for improved planning … I'll push to manage this city like a well-managed business. If we can succeed with this, our city will improve. I plan to stay in Crestwood, invest in my home and spend money locally. Our unique location and relatively low property tax makes us a city of choice."