Twelve Lindbergh student-athletes commit to college play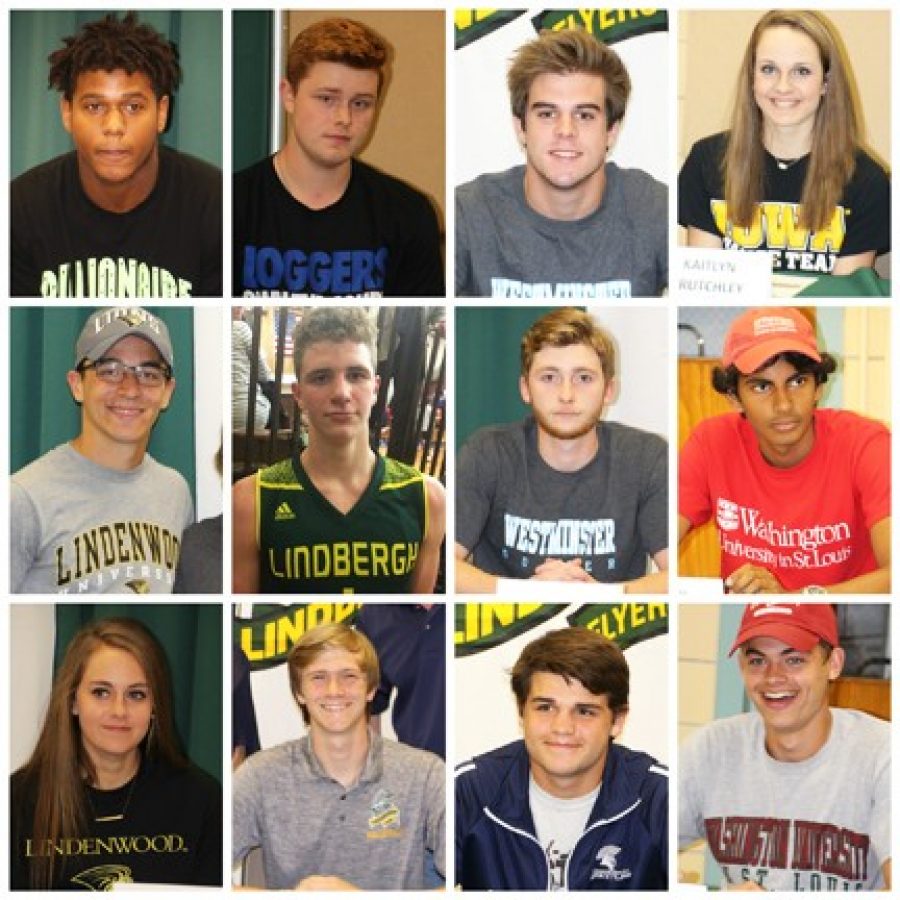 Twelve Lindbergh High School student-athletes recently committed to college teams during a signing ceremony.
LHS Athletics Director Scott Luczak congratulated the seniors, who will represent six sports at seven higher education institutions.
Luczak said all of the Lindbergh athletes signing are great students as well, and applauded them on balancing high academic standards with excellent athletic achievements. Only about 7 percent of all high school athletes go on to play collegiate sports, and only 2 percent earn scholarships.
Here are what Lindbergh's coaches had to say about their student-athletes:
• Dominic Davis, Lincoln Land Community College — "Dom has made a big impact on our team and program over the past the years. I'm very excited for him as he has reached another goal of continuing his education and playing career at the college level," said coach Jason Wolfard.
• Ryan Lacefield, Lincoln Land Community College — "It's hard to believe that Ryan will no longer be a Flyer since he has played varsity for four years. It has been great to see him grow as a player and young man. I know opponents won't miss him on the floor, but we will definitely miss him on the floor at LHS," Wolfard said.
• Spencer Levi, University of Dallas — "Spencer has worked incredibly hard to get to this point where he will continue his playing career in Dallas. Even with as good of a senior year that he had, I know that the ceiling is still very high for him. He has impacted everyone in our program and we will definitely miss him next year," Wolfard said.
• Carter Anderson, Washington University — "Carter has been a dedicated athlete and student for four years. He is the only athlete I ever asked to be a captain during his sophomore season. He is the complete Renaissance man, athlete, student, socially conscious and politically aware. Carter displays what can be accomplished if someone puts their mind to it," said coach Jim Petersen.
• Pratyay Bishnupuri, Washington University – "Pratyay has matured more than any athlete I have had over his four years. He has proven how much someone can improve if he puts his mind to it and dedicates himself. Pratyay is truly a testament of what someone can accomplish through hard work and dedication," Petersen said.
• Kyle Stevison, Lindenwood University (track) — "Kyle set a personal goal his freshman year to become a top-notch pole vaulter and I tried to talk him out of it several times. Kyle proved me wrong and climbed to the top 10 list of Lindbergh High School, and now he is going on to college to go for dreams of flying even higher," Petersen said.
• Kaitlyn Crutchley, University of Iowa — "Kaitlyn has been an integral part of the success of our team throughout her four years as a Flyerette. Her leadership and positive attitude, on and off the dance floor, are irreplaceable. Her commitment to excellence in academics and athletics is unparalleled. She is going to be an amazing asset to the University of Iowa Dance Team," said coach Maggi Geisz.
• Selma Kuduzovic, Lindenwood University — "Selma has pushed herself beyond our expectations during her three years as a Flyerette. She is incredibly dedicated to academics and has excelled as an athlete. Her hard work and positive attitude show on and off the dance floor. The Lindenwood Lionettes are gaining an incredible team member," Geisz said.
• Sean Gordon, Westminster College — "Sean has been the ideal team captain and leader. He led on the field with his example of hard work and energy and off the field with his positive attitude and drive to succeed. He is one of the strongest tacklers ever in the Lindbergh defense and his leadership will be difficult to replace," said coach Mark Giesing.
• Michael Spence, Westminster College — "Michael has been a valuable member of the Lindbergh soccer program for the past four years. His versatility, determination and passion for the game have made him one of the most coachable kids I have ever worked with. He has been an outstanding leader in our program," Giesing said.
Dustin Jones, Missouri Baptist University — "Dustin was a captain on the team this year. It has been fun to watch him grow as a person and as a wrestler at Lindbergh. Dustin loves the sport of wrestling and I think Missouri Baptist will be a great fit for him to reach his academic and athletic goals," said coach Ben Smith.
Sean Stanton, Missouri Baptist University — "Lindbergh Volleyball is extremely proud of Sean. He loves the game, and he brings a selfless, positive attitude to his team. Sean does not shy away from adversity or competition. He is passionate and charismatic. His coaches and teammates wish him the best at MBU. We are excited for the opportunity to cheer him on at a local university," said coach Kim Onder.