Swimmers 'Splash Out Cancer' at Lady Flyer invitational
Event raises roughly $1,700 for cancer research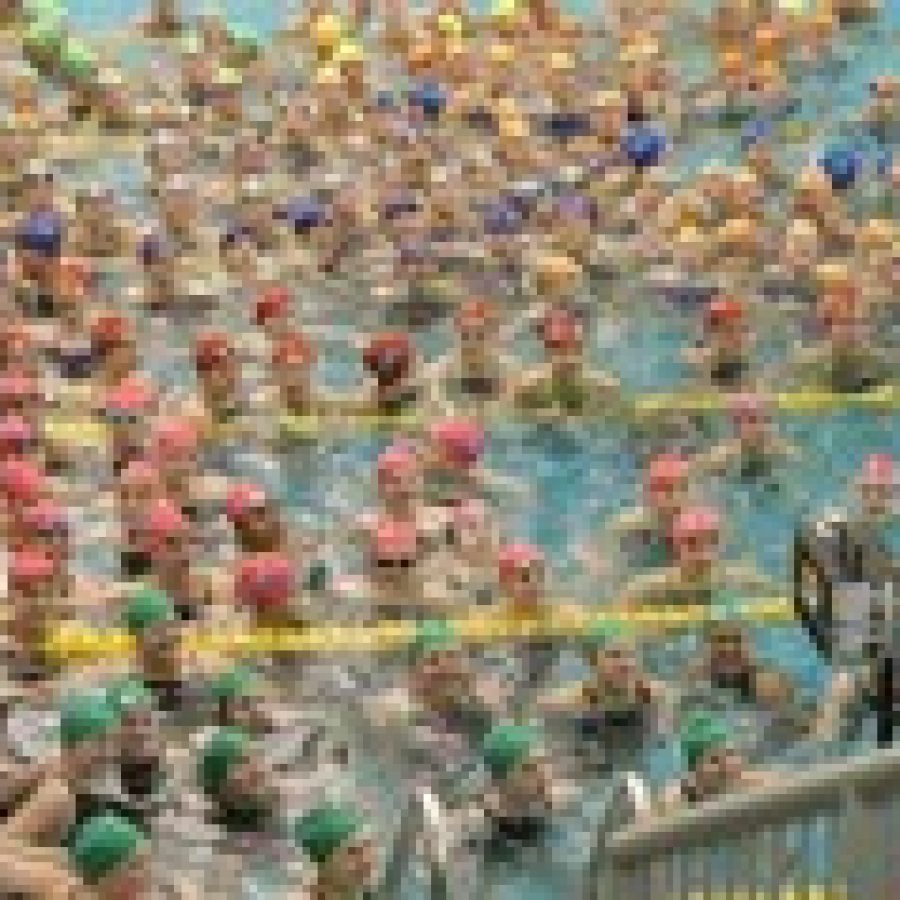 The recent 10th annual Lady Flyer Invitational did more distinguish rival high schools — the Lindbergh High School varsity girls' swimming team turned it into a fundraiser for cancer research.
The "Splash Out Cancer" event included the participation of 10 local schools and raised roughly $1,700 for the American Cancer Society.
Each team wore a different colored cap representing a specific type of cancer. Each team chose its color because of a personal connection with a certain type of cancer associated with someone in the program.
Flyers' head coach Eric Means termed the event a success, citing the turnout of almost 200 swimmers and a large crowd to watch the meet — not to mention the way that the girls took some ownership of the project.
"They were really excited from the beginning," Means told the Call. "I think just because cancer touches so many people's lives, it doesn't take too long for you to go through your family tree or your groups of acquaintances before you find somebody who is dealing with some form of it.
"And the girls were really excited to do something, and I think that speaks volume about the character and education we do have in our district … I think it's the community as a whole as well. When there is a cause like this or something, people want to get involved in it. The kids naturally want to get behind — just sometimes they a need a little direction."
Means said being involved in an event such as this, from a coaching standpoint, was a big win personally because it gives more relevance to the sport and allows for the opportunity to illustrate a life lesson.
"Whenever you can kind of align high school sports and these types of fundraisers, I think it's a win-win situation, because you're obviously given the opportunity to compete in a sporting event and at the same time you're also able to help and raise money for things that go to a good cause," Means said.
Tim Lombardo, head coach of the Lindbergh varsity boys' swimming and diving program, which hosted a similar fundraiser earlier in the year, said it was "very cool" to see the event be a success.
"It was nice to see. Both teams really kind of took some ownership in it by making the signs and just kind of passing it on to their friends and family," Lombardo said. "We had big crowds at both of the meets. The kids really loved the idea of each team getting their own color."
Lombardo, with his assistant coach Andy Butler, got things rolling on the idea and it took on a very personal meaning for him, as he lost his own mother to liver cancer last May.
"It was cool. With my mom's situation, the girls were really cool, and Eric was very thoughtful with the selection for the color of our team," Lombardo said. "My mom passed away from liver cancer, so they chose to wear that emerald green color specifically for that reason. So that was a nice touch as well. So it was really cool for me to take part in something like that in both meets."
Other teams that participated in the meet and the color of their caps included Cor Jesu, blue-colon cancer; Webster, Francis Howell and Jackson, periwinkle-stomach cancer; MICDS, Notre Dame-Cape Girardeau, Park Hill South and Parkway South, lime green-lymphoma; and Timberland, yellow-bone cancer.