Sweeney ousted as CEO of city-county economic agency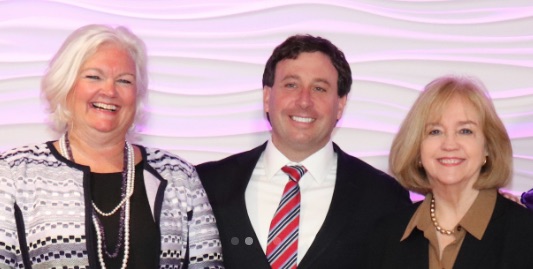 The St. Louis Economic Development Partnership board is replacing CEO Sheila Sweeney with an interim CEO, apparently effective immediately.
Sweeney was hired for the job nearly four years ago, soon after County Executive Steve Stenger took office and longtime CEO Denny Coleman retired. Coleman had been closely allied with former County Executive Charlie Dooley, and Sweeney was allied with Stenger.
A photo of Stenger and Sweeney together was still on Stenger's campaign website Friday afternoon.
In a statement, Stenger said, "The Partnership board has made their decision, and we wish Sheila well in her future endeavors."
The announcement from the Partnership's board Friday also named Rodney Crim as interim CEO. Crim, formerly the head of the economic development arm of the city of St. Louis, served as president in the combined city-county Economic Partnership.
There will be a national search for a permanent CEO, board Chairman Karlos Ramirez said in a statement.
"Our board has determined that a new direction is necessary to fulfill our mission of building this region's economic engine. We are proud that our organization is one of the first combined efforts of the city of St. Louis and St. Louis County, and are committed to ensuring it can focus on our mission in the most efficient and effective way possible," he said.
The Economic Partnership staffs the St. Louis County Port Authority, which is embroiled in the ongoing fight between the County Council and Stenger. The council's Ethics Committee is holding hearings on the Port Authority and Economic Partnership and had asked Sweeney to testify Jan. 15. Two council members had alleged in a council meeting last year that Sweeney was under federal investigation, although the St. Louis County Police Department didn't back up parts of that allegation.
The council claims that the Stenger-allied St. Louis Economic Development Partnership, which staffs the original Port Authority, is using it as a vehicle to award contracts to Stenger donors and allies.
Since the economic-development organization combined the separate city and county economic organizations in 2013, SLEDP has played a critical role in expansion and growth of the St. Louis region while supporting efforts to attract and retain businesses in an effective way, the SLEDP said in the news release. From 2015 to 2018, more than $4.5 billion has been directly invested in projects in the city of St. Louis and St. Louis County.
"As current president, Crim is an able leader with broad perspective on economic development issues and has been a key part of the SLEDP team. Crim is committed to making St. Louis a better region, and our board looks forward to working with him for a smooth transition," said Ramirez.
As interim CEO, Crim will help the board to conduct a thorough review of the organization's operations and structure to determine the structure and leadership to most effectively fulfill the mission of the organization.
"Our board is committed to building this region. We are all volunteers who care about these issues. This is an opportunity to determine the best way to structure our organization moving forward to build on the momentum in our region. We look forward to this opportunity," added Ramirez. 
In 2013, SLEDP unified the economic development efforts of the city of St. Louis and St. Louis County. The organization said in the announcement that it has been an "effective example in cooperative efforts to strengthen the St. Louis region."