Stegman re-elected to MFPD board; district's 'bright future' to be her focus
Polizzi congratulates Stegman on win, vows to attend his first board meeting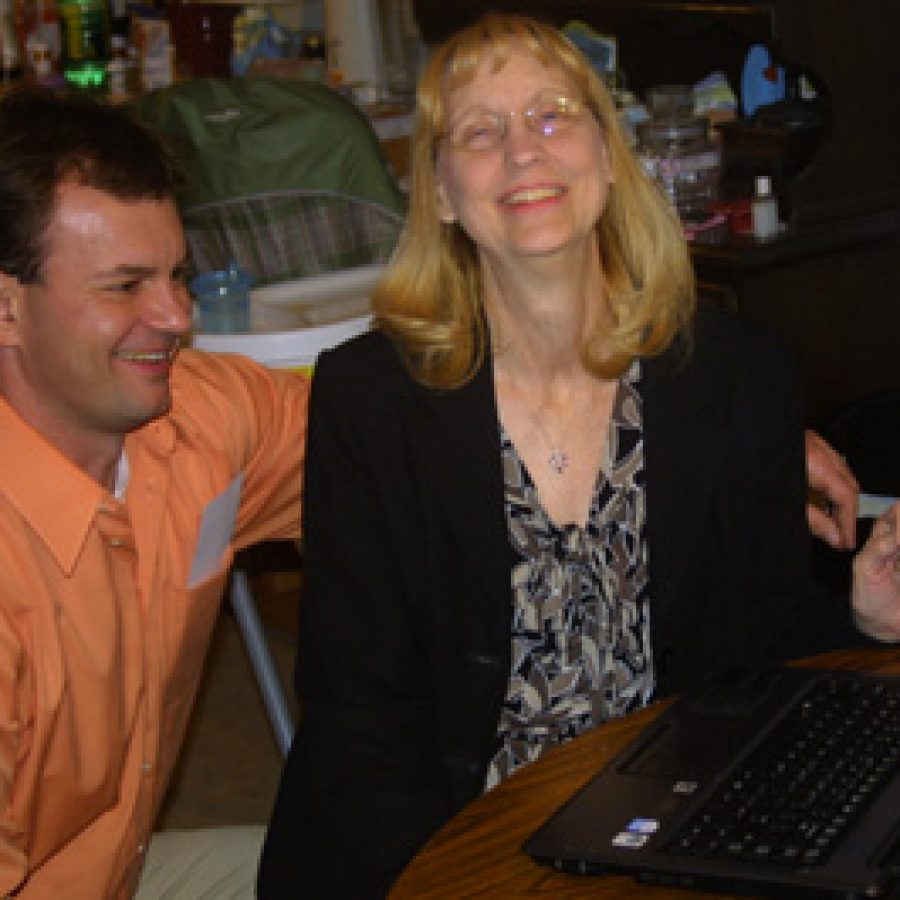 With six more years on the Mehlville Fire Protection District Board of Directors, Treasurer Bonnie Stegman said she's done looking back and ready to focus on a "bright future" for the district.
Mehlville Fire Protection District voters last week re-elected Stegman to a six-year term. She first was elected in 2005 to a four-year term.
Stegman received 7,871 votes, or 56.83 percent, according to unofficial final April 7 election results. Challenger Peter "P.J." Polizzi, whose campaign was supported by Mehlville Local 1889 of the International Association of Fire Fighters, received 5,971 votes, or 43.12 percent.
Besides her re-election, Stegman said she is pleased with voters' approval of two tax-rate-decrease measures, Proposition 1 and Proposition 2.
Voter approval of Proposition 1 means that the district's general-fund tax-rate ceiling is permanently reduced by 36 cents per $100 of assessed valuation while Proposition 2 authorized the district's pension-fund tax-rate ceiling to be permanently reduced by 4 cents per $100.
Proposition 1 received 10,921 "yes" votes, or 79.36 percent, and 2,840 "no" votes, or 20.64 percent, according to unofficial results. Proposition 2 received 10,473 "yes" votes, or 76.26 percent, and 3,260 "no" votes, or 23.74 percent.
"This validated that what we're doing is the right direction," Stegman said. "Prop 1 and Prop 2 passing by such a big margin, that was really encouraging. I'm just really looking forward to continuing to make the district the best it can be. And I know we have some good men and women there that are willing and wanting to move forward, too. I think we can do some great things. I'm just looking to a bright future."
Polizzi said he extends congratulations to Stegman, but believes that some voters ultimately will not be happy with Prop 1 and Prop 2.
"When I was at my poll, there were very determined people who told me they were going to vote for Bonnie because of the tax thing," Polizzi said. "I explained to them that they weren't really saving any money, that the money was over here and never taxed. I bet a man $100 to his $10 when the tax bill comes out and they didn't save you any money, three people told me they're coming to the board meeting … They were angry, angry people. But that's fine. I'll just be sitting in the audience watching …
"There were 10,800 people that voted for the tax measure. But only 7,800 voted for Bonnie, which means that 3,000 people gave me their vote. I can make that assumption. I used to be an accountant. St. Louis University class of '74, school of accounting. It's easy to look up."
While she is ready to move forward in the district, Stegman added that she would retain the same practice with Local 1889 that she has always employed — talk in open session only.
"I've always said we'll listen to anything in open session," Stegman said. "I'm not one for hiding behind closed doors and working some deal out and pulling that off on the citizens. If they have something they want to say in open session, that's fine. We've always said we'd listen to their suggestions. But they never go with any other than lawsuits. So I think I'm just going to continue in that vein. If they want to help move the district forward, we're there to listen."
The Eastern District of the Missouri Court of Appeals last December upheld an August 2007 St. Louis County Circuit Court ruling that the district's Board of Directors has the authority to change the district's pension plan.
Local 1889 originally filed suit against the board for wanting to change the pension plan from a defined-benefit plan to a defined-contribution plan.
Despite these past legal troubles and the firefighters union's support of Polizzi, Stegman said she is confident that a good core of employees want to work with the board. If not, she said, they can leave the district.
"There's a good group there that's wanting to move forward," Stegman said. "But frankly, if others are not and they want to leave, that's fine with me. We'll get people in there that are wanting to work for the citizens and want to make a good district and want to move forward. If anybody wants to look back and stay in that old way, then I would suggest that they do leave. We're moving forward. We're not looking back. We're going to make this a good district. And if they don't want to contribute to what we're doing, then maybe they need to move on. It's not always a bad thing for people to leave.
"… To me, if you're not willing to do your best for your district or for your residents and for your profession, frankly, then you may be in the wrong profession. We only want positive people. I think they try to make that a negative. And that's not always a good thing. We had four people that we had to fire in there … Do you really want those kind of people in your district? I don't think so. And I don't think co-workers do either. This is my message. If you're willing to be positive and to move forward and to bring the best to the residents here, then I want to. If you don't, then move on."
Stegman added that the district still has much work to do in areas of infrastructure and training.
"I think we're going to continue to assess the infrastructure as far as buildings and equipment," Stegman said. "You always have to maintain that and move forward with that. So we'll continue in those venues, looking at repair or replacement. As far as training, we're going to go full-steam forward with that. That's been an issue for awhile. People just aren't cooperating with that. We've got Dr. (Christopher) Bosche (the district's medical director of emergency services), who's an invaluable resource for our medics.
"We have staff at the firefighting end that are very knowledgeable and are fire instructors. We're going to continue training in that area. We're trying to build services and trying to make sure that we get enough medics so that we're always covered. We'll have them even in the stations that don't have ambulances. We'll have the equipment and the personnel on the fire truck.
"That's where I'm looking. I want to continue to build those services and to build a better environment for staff, frankly. I mean, this harassment to the new people has been unrelenting. And that's going to stop. That's part of the reason some (employees) left, too. We need to make a better work environment for our staff so they feel happy and they're positive. And we're going to continue to bring that culture to the district and increase our services and really be cognizant of the money we're spending. We're going to maintain the fiscal responsibility to our taxpayers. We need to do that."
As for Polizzi, he vowed to soon attend his first Board of Directors meeting, an event that he plans to frequent during the next two years — when board Chairman Aaron Hilmer is up for re-election.
"I'd like to congratulate Mrs. Stegman on her win," Polizzi said. "It was an amazing win. I would never believe that anyone without a single poll worker handing out a single piece of literature could have won …
"I want to thank the Call and I want to thank Bonnie and I want to thank the South County Truth Spot (blog site) for pointing out that I had never attended a fire-board meeting. We're going to alleviate that problem. Whenever the board meeting is for the next 24 months, we will take that issue away."