Southside Dirtbags win SLABA 18U title
Oliver tosses complete game against Capitals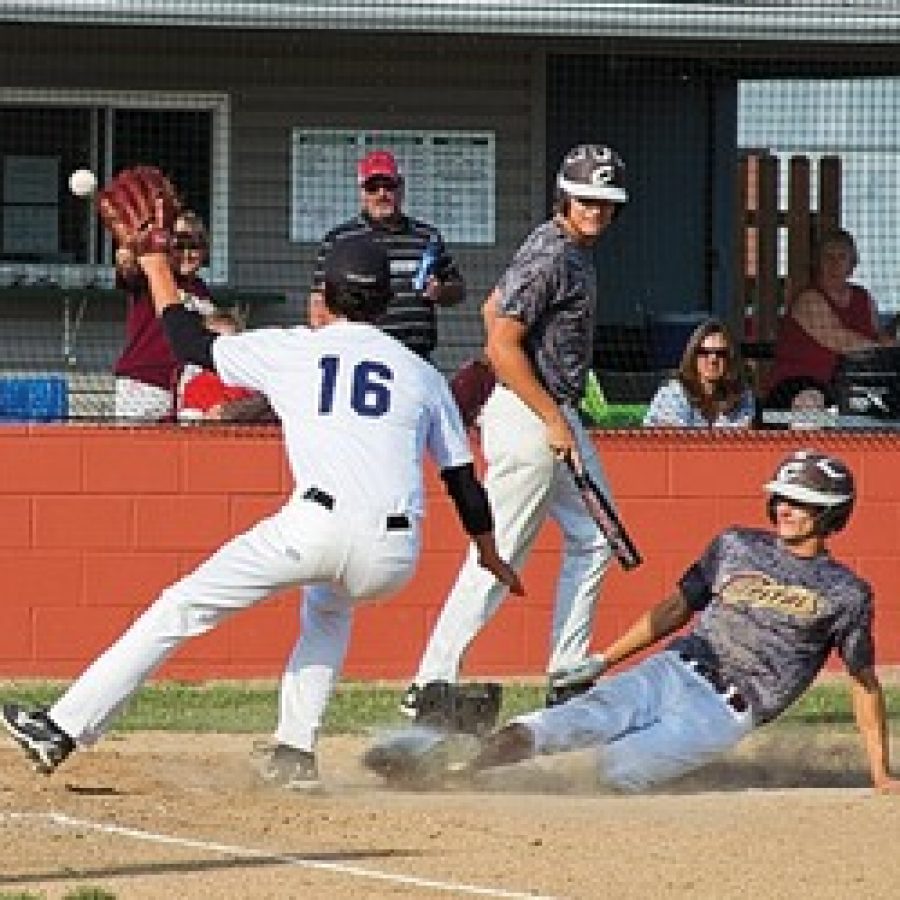 Southside Dirtbags pitcher and recent Oakville High graduate Andy Oliver tossed a complete game to help his team finish the sweep in a best-of-three series over the St. Charles Capitals for the St. Louis Amateur Baseball Association 18U title Saturday in Hazelwood.
The Dirtbags beat the Capitals 7-2 Saturday and 9-4 on Friday, closing their season with a 15-game winning streak. That streak included sweeping the Wentzville Stallions in the semifinal round of the SLABA Tournament.
As the visiting team Saturday, the Dirtbags came out swinging and made their presence known early, scoring two runs in the top of the first after getting RBIs from Oliver and Deon Corley.
The Dirtbags added a run in the second and the fourth and two more in the fifth before tacking on an insurance run in the seventh.
The Capitals threatened in the bottom of the second with bases loaded and no one out, but Oliver managed to work his way out of the jam, giving up just one run.
"I just wanted to keep throwing strikes out there and let them just hit it and put it in play because my defense was going to make the plays behind me. I didn't want to get behind and put guys on we didn't need to," Oliver told the Call.
As the Dirtbags began to really put everything together late in the season, something changed in the clubhouse, according to Oliver.
"It feels awesome," he said about winning the championship. "It's nice we finally hit our stride and playing how we know we are capable of playing.
"Baseball has been a lot more fun once we started winning (and) everybody started playing well. It's a lot better atmosphere now."
Assistant coach Ryan Knese told the Call it was an all-around effort from everyone all season.
It was just a great team effort by everybody," he said. "I mean the boys showed up. They hit. They played defense. They pitched well, obviously.
"I mean, 15 in a row to close out the season. They started out hot, then they hit a slump (and) then they found a way to put it all back together."
While his playing days are over for the Dirtbags, Oliver said his time with the squad was valuable to him regardless of whether he plays ball in college.
"It teaches you really to just keep going … We had a bit of a rough patch, but it just teaches you to get through things and never give up because things are always better on the other side," he said.
Head coach Mike St. Cin, who could not be present for the series against Capitals, told the Call he was "more than proud" of his team.
"They deserve this honor to be SLABA league champs," he said. "The past two seasons have been a lot of fun. Our goals have never been about winning anything, just get better and work on things.
"That's what summer ball is for, to work on our weaknesses and try to make it fun in the process. Winning certainly makes it more fun. We're talented, competitive, tough team to play and I wouldn't have us be any other way then what we are and who we are."