Power outage spills 250,000 gallons of sewage in Sunset Hills; MSD cleaning up
After a power outage at a wastewater pumping station spilled hundreds of thousands of gallons of untreated sewage near the Meramec River in Sunset Hills, the station is up and running again and the spill has been cut off.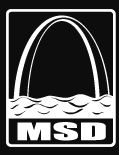 Crews with the Metropolitan St. Louis Sewer District are conducting a cleanup after the sewage overflow occurred at a wastewater pumping station in Sunset Hills.  The overflow occurred in a wooded area between Forest Path Drive and the Meramec River.
MSD discovered the overflow Thursday afternoon after the pump station lost power Wednesday night in storms that passed through the St. Louis area.
Approximately 250,000 gallons of sewage overflowed into a tributary that ties into the Meramec River, the utility said in a news release.
But as of Friday, the pump station is back in operation and no sewage is overflowing.  Sewer service was not interrupted and won't be affected by the cleanup.
MSD has placed warning signs in the area of the pump station and along the tributary advising the public of the overflow. While there is no immediate threat to public health or safety, everyone is asked to pay attention to the signs and avoid the affected areas. 
Anyone who comes in contact with sewage should immediately and thoroughly wash with soap and water. 
Pump stations are necessary when gravity alone is not enough to move wastewater through flat areas or over hills to a wastewater treatment plant. 
MSD has reported the overflow to the Missouri Department of Natural Resources, it said in the release.