Passage of Proposition R Call's No. 1 story of 2015
News analysis: Past year one of 'newsiest' since newspaper's inception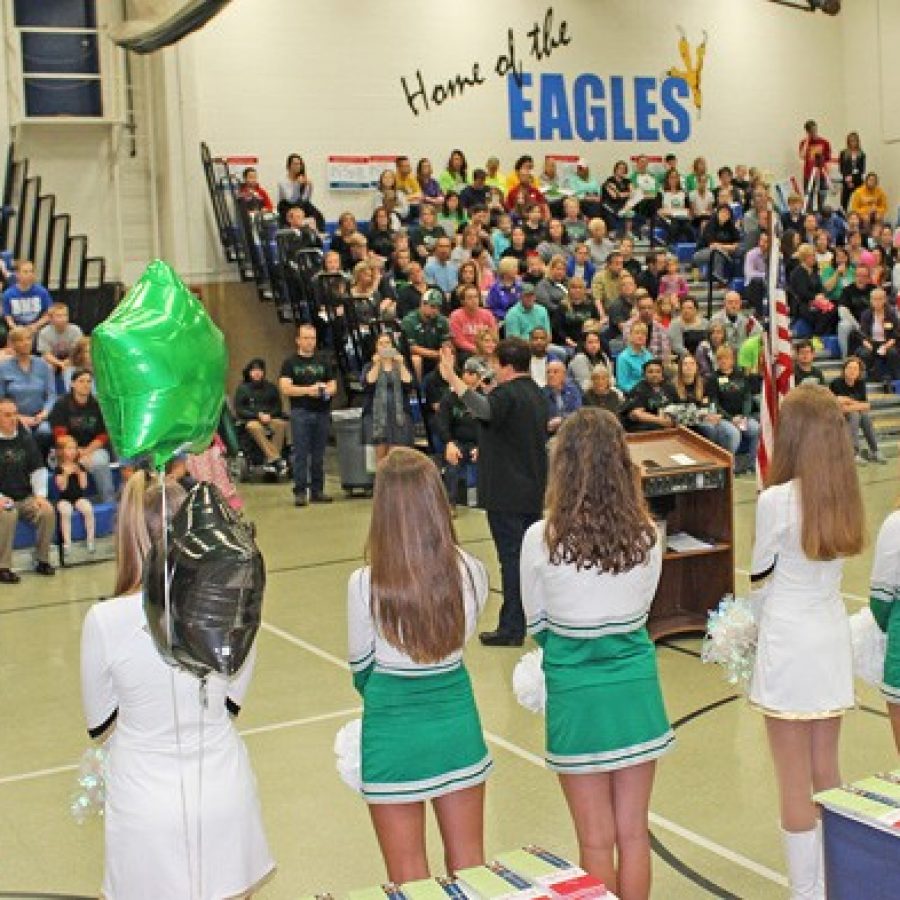 Without a doubt, 2015 was one of the "newsiest" years on record since the Call's inception in 1989.
During 2015, south county residents observed a remarkable election in the Mehlville School District, endured a historic flood in the final days of the year and saw a mistrial declared in Sunset Hills Mayor Mark Furrer's jury trial for allegedly intentionally hitting a bicyclist with his car.
And those events occurred during the last two months of the year.
In a historic victory that shocked even those who expected it to pass, Mehlville School District voters approved Proposition R Nov. 3 with nearly 73 percent of the vote.
With record turnout on the way to a landslide victory, Prop R carried all four townships and every precinct across the district. The 49-cent tax-rate increase was approved with 17,905 "yes" votes — 72.53 percent — and 6,783 "no" votes — 27.47 percent.
The shocking, stunning victory of Prop R is unquestionably the No. 1 story of 2015, as the measure's passage defied so-called experts who claimed Mehlville couldn't win at the polls.
Residents and businesses are beginning the recovery effort from the historic flooding that swamped south county and the region during the final week of 2015.
County Executive Steve Stenger declared a state of emergency for the county and Gov. Jay Nixon declared a state of emergency in Missouri in response to the record rainfall that led to flooding and flash flooding. More than 24 people died in Missouri and Illinois as a result of the flooding, but in south county, damage was limited to property.
Student enrollment growth in Lindbergh Schools continues to fill classrooms and outpace projections, with more than 200 new students enrolling for the current school year. To address the surging enrollment, Lindbergh officials broke ground in October on a new 650-student elementary school. Dressel Elementary School is scheduled to open in August 2017.
In addition, district officials conducted a ribbon-cutting ceremony in October for the new Lindbergh Early Childhood Education West, which is behind Truman Middle School.
The proposed redevelopment of the former Crestwood Plaza is "risky" and will not proceed without economic assistance, according to the mall owner's revised proposal for the site. Bob Burk, managing partner of Chicago-based UrbanStreet Group, presented the revised redevelopment proposal for the mall property Dec. 16 during the first meeting of the Crestwood Tax-Increment Financing Commission.
UrbanStreet now is requesting about $25 million in economic assistance for a $104.3 million mixed-use project, Burk said. He also said that no commitments from potential tenants for the proposed mall redevelopment can be secured until economic assistance is granted for the project.
A judge declared a mistrial Dec. 17 in Sunset Hills Mayor Mark Furrer's jury trial for allegedly intentionally hitting a bicyclist with his car in July 2014, but county Prosecuting Attorney Robert McCulloch said he will try Furrer again on felony charges of assault and property damage.
Furrer will be tried again on the charges at 9 a.m. Monday, Feb. 22.
Chris Gaines took the reins of the Mehlville School District as superintendent on July 1, succeeding interim Superintendent Norm Ridder. Before coming to Mehlville, Gaines helmed Wright City, a 1,500-student district in Warren County next to the Wentzville School District, for the past seven years.
During his short tenure, Gaines has been a hands-on leader who has been instrumental in moving Mehlville forward.
Stenger took the oath of office as county executive Jan. 1, 2015, echoing his key campaign themes of transparency and accountability while also acknowledging the reality that the county — and the world — will have to change because of Ferguson.
Stenger represented the 6th District on the County Council before defeating County Executive Charlie Dooley in the August 2014 Democratic primary and Republican Rick Stream in the November 2014 election for county executive.
Dooley took a great deal of heat, especially in south county, over the establishment of trash districts, which he said he considered one of his biggest accomplishments. But the creation of trash districts ultimately resulted in a $5.9 million judgment against the county. In early 2015, the county settled the suit for $5.8 million.
"What he's claiming to have as his signature accomplishment has been the subject of a multi-million dollar lawsuit, so I don't know — that's an interesting signature accomplishment," Stenger told the Call before he took office as county executive.
Yet during his first year in office, Stenger's administration has been the target of lawsuits and threatened litigation over Ferguson, new county police standards, the sale of part of Sylvan Springs Park and new rental-license legislation.
Green Park elected officials, city staff and residents were joined by county and state elected officials in July for a celebration to mark the city's 20th anniversary of incorporation.
Despite some early growing pains, Green Park today is one of the most financially sound cities in the state.
St. Louis County Library officials closed the book on the Tesson Ferry Library in November to make way for their new Grant's View Branch.
The library closed Nov. 14 exactly how it had existed since it opened in 1958 — filled with children and busy to the end.
Some of the last patrons of the library — which was one of the busiest in the county library system — left with tears in their eyes, some smiled as they recalled childhood memories at the library and some shook their heads at the way library officials had made the decision to move it.
In a special election last spring, Democratic candidate and former Sunset Hills bar owner O'Leary defeated Republican candidate Tony Pousosa, then a Green Park Ward 1 alderman, and Constitution Party candidate Cindy Redburn to win election to the County Council seat vacated by Stenger after he was elected county executive.
O'Leary was heavily supported by Stenger and other Democratic county officials, including McCulloch.