Panthers' playoff ride hits the brakes; Mehlville falls 56-28 in state sectional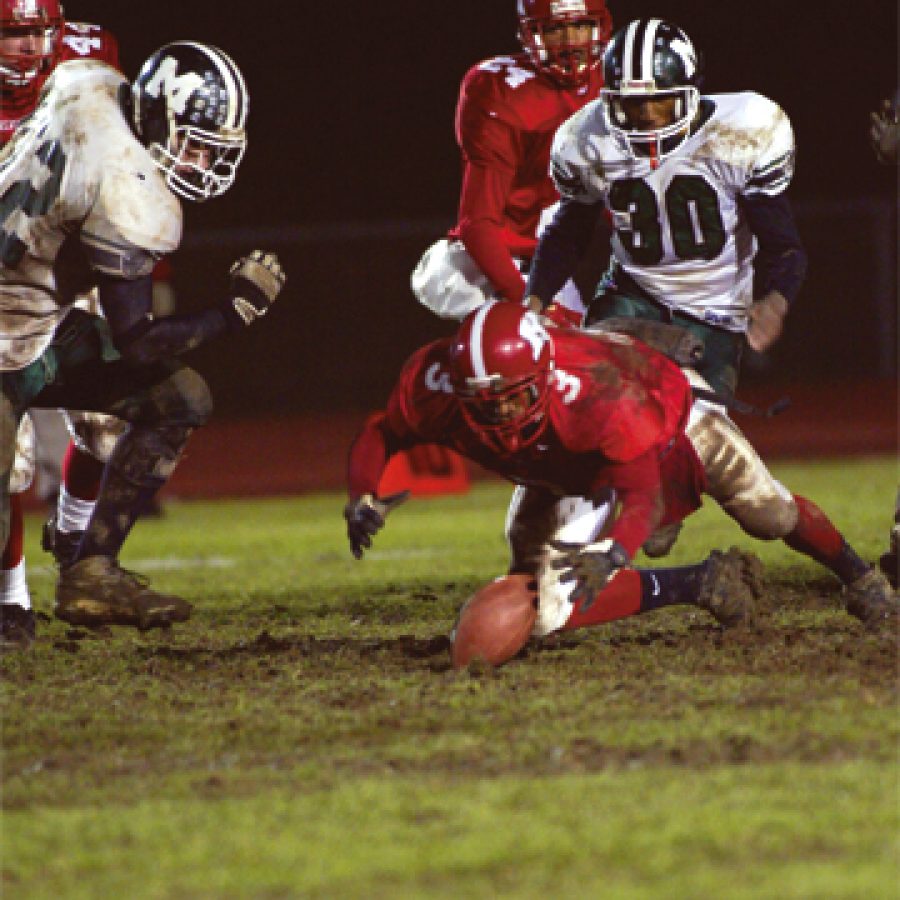 By STEPHEN GLOVER
For the Call
Mehlville Senior High head football coach Gary Heyde knew that to win Friday's state sectional championship against Kirkwood, his Panthers needed to play solid defense.
Unfortunately, that was not the case for Mehlville (7-4, 5-2 Suburban West) as they dropped a 56-28 decision to the Pioneers.
"We knew that we had to keep our mistakes down in order to have a chance to beat them," Heyde said. "It wound up being an offensive show again."
The Panthers grabbed a 7-0 lead with 9:11 left in the first quarter when junior tight end T. J. Brown hammered out a 40-yard touchdown run.
"We ran a reverse on that play," Heyde explained. "It was the first time that we had ran it this year. It was good to get up on them right away."
But Brown's touchdown appeared to ig-nite the Pioneer offense as Kirkwood scored 21 unanswered points.
Mehlville trimmed the Pioneer lead to 21-14 as senior running back Tommy Gayfield scored on a nine-yard run with 7:35 left in the second quarter.
"That was an option play that we pitched to Tommy," Heyde said.
Gayfield score again with 3:52 left in the first half of play, this time on a 47-yard touchdown run to bring the score to 28-21. Gayfield removed himself from the game in the second half after suffering cramps in his legs.
"We're in a battle and trying to outscore them and we ended up losing Tommy," Heyde said. "It's definitely not a situation that you want."
After a pair of Kirkwood touchdowns in the third quarter, the Panthers responded with a one-yard touchdown run by senior quarterback Ronald Roberts.
"We had a nice drive that got us down to the one and we punched it in with a quarterback sneak," Heyde said. "Ronald ran the option really well and also had quite a few good passes."
Despite the loss to Kirkwood, the Panthers appear to be poised for success next season after the sophomore squad went 6-2-2 and the freshman team racked up a record of 7-1.
"We've got about six kids coming back that are pretty good quality ballplayers," Heyde said. "We also had a couple of sophomores starting for us there at the end of the year."