Oakville High softball team undefeated; looking to turn it up 'a couple notches'
Oakville High softball team to compete in IWA Tourney.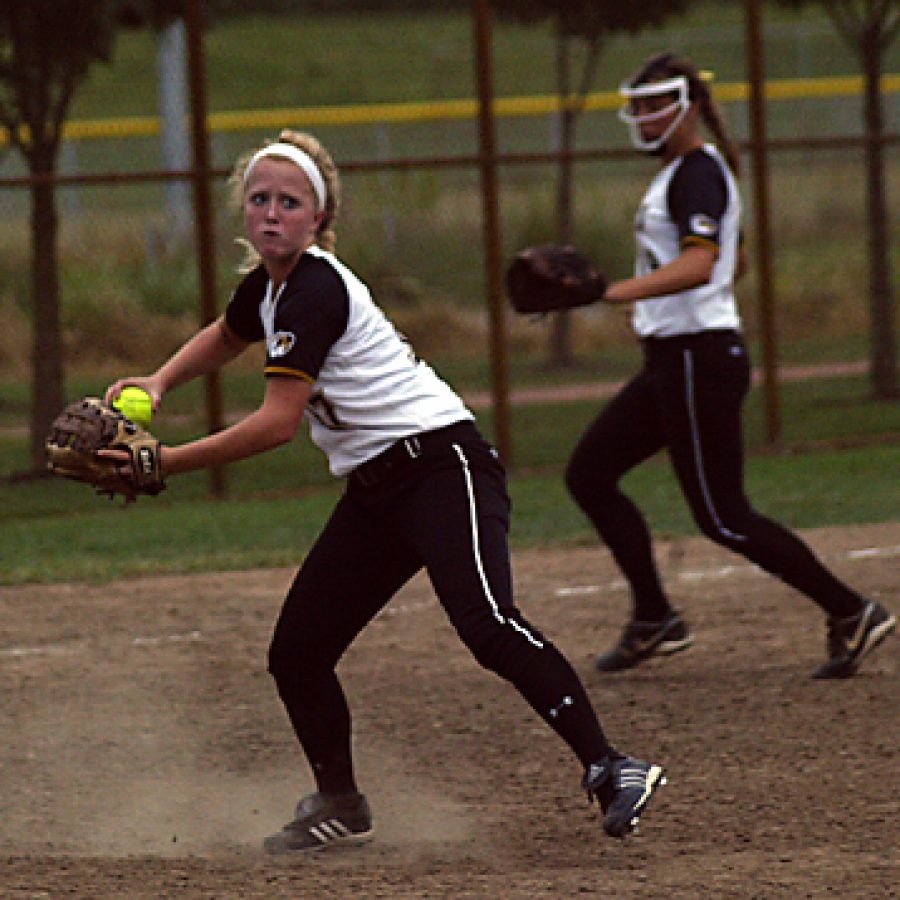 Through eight games, the Oakville Senior High School Tigers softball team is perfect, but yet far from it.
"We have done really well, but you don't want to get caught up in the record. You're only as good as what you do that day," Oakville head coach Rich Sturm said.
Oakville placed second in state at last year's Class 4 championship, and appears to be following a path to return to the state tournament this year. Sturm wants to make sure the Tigers don't veer off course.
"We have to turn it up, not just a notch, but, a couple notches. If (senior) Remy (Edwards) keeps pitching the way she is right now, we can go pretty far, but we have to help her out," Sturm said.
Edwards has yet to surrender an earned run, but opponents have scored eight runs when the All-Stater is pitching.
"There have been too many runs that have scored unearned on routine plays that we didn't make," Sturm said.
In Oakville's Suburban South/West Conference Tournament semifinal, the Tigers allowed four runs to score unearned in the seventh inning of a 9-0 game.
The damage was not enough, though, as Oakville rode Edwards' 17 strikeouts to beat Fox High School.
In the championship against Parkway South Sept. 2, South took a 2-1 lead in the top of the sixth as two unearned runs crossed the plate.
Fortunately for the Tigers, they escaped again after lightning halted the game before the inning ended, and tournament rules state that if weather does not permit both teams to bat in an inning after the completion of the fifth inning, the game reverts back to the last completed inning.
In this case, Oakville led 1-0, and was awarded the championship trophy.
"The tournament director interpreted the rule correctly. It's a bad break for Parkway South, but obviously, we'll take the win, and we'll move on," Sturm said after the win.
Edwards allowed one hit and struck out eight batters in five innings pitched. Edwards struck out 70 batters in 38 innings and allowed only 12 hits before Tuesday's game against Lafayette High School.
"She's much stronger and much better than she was last year. Her command of the strike zone and her command of her pitches are better," Sturm said.
Offensively, the Tigers outscored opponents by a combined run total of 68 to 11 in their first eight games, but still have been involved in four one-run games.
"That's how you find out what you're made of," Sturm said. "The fact that we're not playing as well as we can, but are still finding ways to win means you take that as a positive, but at the same time you have to see the big picture."
The offense is painting on a pretty canvas so far.
Starters Chloe Wolf, Emily Lansford, Julie Kernen, Danie Farnam and Baeley Reed were batting for a .400 average before the game against Lafayette.
The conference tourney was the Tigers' second tournament championship of the young year. Oakville opened its season with defeats over Bishop DuBourg, Hillsboro and (Rockwood) Summit to win the Summit Tournament Aug. 25.
They'll try for their third tournament win in the Incarnate Word Academy Tournament this weekend at ABC Park.