Oakville High prom royalty make national news
OHS seniors to graduate Sunday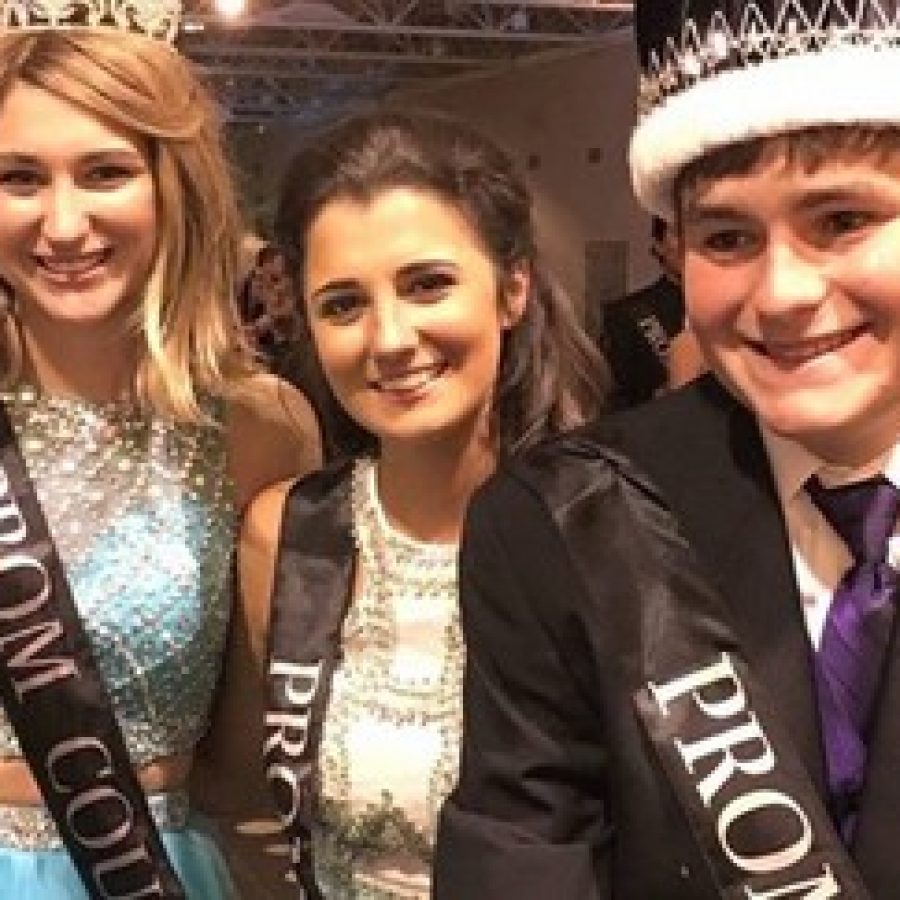 The Oakville High School Class of 2016 gets together for one final time Sunday to graduate, and of the many memories they have of high school, one of the latest is when their choice for prom king made national news last month.
Just as at proms across the country last month, OHS seniors Matt Schmitt and Breanna Colombo were crowned prom king and prom queen May 7 at the Oakville prom at America's Center, based on a vote from their fellow students.
But what made Oakville's prom royalty different than most others is that before they were prom king and queen, both seniors overcame obstacles during high school: Matt is autistic, and Breanna is now cancer-free after undergoing chemotherapy this year.
Six girls and six boys were voted onto the prom court, and some of the other members, Sophie Nelms and Nyshaun Harvey, told the Call that the choice of who should be voted king and queen was clear to most seniors from the beginning.
"I was on prom court, and people would come up and say, 'Well, who did you vote for?' And I'm like, who do you think? Who in our grade deserves it?" Sophie said. "Matt and Breanna, those are the names that people always thought to put together. Breanna's been through a lot, and Matt's a great kid, and Breanna's always got a smile — and they both just light up the room. They both deserve it."
Matt made easy friends with everyone else in the class by remembering the names of all 389 of them, along with details of their life, including their pets, their friends and what activities they like to do, said Melissa Wilson, who works out of Oakville High as area coordinator for the Special School District, or SSD.
After one senior suggested in a group message to other seniors that Matt should be elected prom king, the idea took off without Matt having to ask for any votes.
"It's kind of like everybody did that for me," Matt said.
Later, Matt was OHS seniors' overwhelming choice for prom king, but early on as everyone started voting just for prom court, Assistant Principal Ross Bullington, principal for the Class of 2016, said he could quickly tell that Matt was everyone's favorite.
"I started getting the feedback right away and started seeing Matt Schmitt, Matt Schmitt, Matt Schmitt," Bullington said. "Wow, this is working out to be something special."
To Matt, however, it still came as a surprise when he was named to prom court and, later, announced as the king.
Asked what his first feeling was after his name was called, Matt said, "Emotional — crying, happy."
He was also excited that his friend Breanna was chosen as prom queen, he added.
Everyone else on the prom court was rooting for the two winners, Sophie said, including her and her partner on the court.
"They're like, 'And the prom king is …' and we're whispering, 'Matt Schmitt, Matt Schmitt,' 'Breanna and Matt,' we were all so happy, it was awesome," she said. "They deserved it."
As part of his schoolwork with SSD and its Vocational Skills Program, or VSP, Matt worked two jobs during high school, at Shop 'n Save and Nazareth Living Center, where he served coffee to the senior residents.
"Sometimes they call me 'Coffee Man,'" he said, adding that the elderly residents enjoyed talking with him.
After graduation, Matt will start a new job at SSM St. Clare Health Center in Fenton, which if he likes it, could eventually lead to a full-time career there.
After missing much of the school year for treatments before being declared cancer-free in January, Breanna is headed to St. Charles Community College to study criminology and has signed a letter of intent to play soccer.
One of the things that helped Matt know everyone, said his mother, Lori Schmitt, is that he's attended so many of the schools in the Mehlville School District: Growing up, he attended Beasley, Trautwein, Point and Wohlwend elementary schools and Bernard Middle School. Most students of those schools go on to attend Oakville High School.
"He's a friendly guy, he likes people and he just remembers people's names," Lori Schmitt said.
And that friendliness to other students is what prompted another student to suggest he be elected prom king, said Nyshaun, Matt's prom court partner.
Matt was elected prom king "not because of what he's going through, but because he's just a great guy in general," she said. "We knew it would mean a lot to him."
"He makes our day," Sophie said.
Of his secret to remembering everyone's names, Matt said, "I have no clue — I'm good with people's names."
Besides names, Matt also has a talent for remembering everyone's interests and hobbies, Wilson noted.
"Things that people share or events or stories, especially if it's something about animals, he makes that connection because he can ask them about it," Wilson said. "And I think that's huge with a lot of kids is that he can ask them, how is so and so? Or what's going on with so and so?"
Besides remembering what animals other people have, the weekend after prom, animal lover Matt got two Sheltie puppies of his own, going "from prom king to puppy daddy," Bullington said.
"I was just overwhelmed with how good the kids at Oakville High School were — I'll start crying talking about it," Lori Schmitt said.
As Matt hugged her, Bullington said, "It's that right there that makes Matt so absolutely wonderful – he doesn't have anything in his body other than love and caring. And this group is absolutely fantastic. They go out of their way to make sure that everybody is part of and loved in our house.
"Ms. (Jan) Kellerman, the building principal, has named it 'Our House' — Oakville is our house. And we have our family here and we take care of family, and Matt exemplifies what family means, and these young ladies have done the same. What a fantastic place to have the privilege of working."
Matt's mother said she kept him on a short leash when he was younger because she didn't realize how accepting the children of the Oakville community actually were.
"I always felt like I had to protect Matt, because you just hear so many stories of bullying for kids with special needs," she said. "Looking back, I wish I would have allowed him to do more things because I didn't realize how good the kids really were. And that's not the norm to have someone that would be mean in the school. They grew up with Matt, and they're all such good kids. It was amazing."
The two leadership classes at the high school, roughly 50 students altogether, make up the "leadership team" that can set the standard for how the rest of the students act, Bullington said.
And the leadership team makes it a point to bond with their fellow students with special needs, Wilson said.
"It has been a great experience, even for the adults in the classroom," she said.
The students have a "buddies" program with SSD and eat lunch with their buddies every day "to let them know that we know them and so they have someone to go to if they need anything, just to make the school a better place and to show that leadership to the other students and the underclassmen," Nyshaun said.
Led by the students on the leadership team, OHS students would not allow any bullying to go on if they saw it happen, which makes the school a great place to work, Wilson said.
Looking at Matt, Sophie agreed that no one would be able to say anything negative to him as long as his fellow students were around.
"We got your back, man," she said.