Oakville citizens have their say about senior complex on Telegraph
Attorney for developer says work on building to continue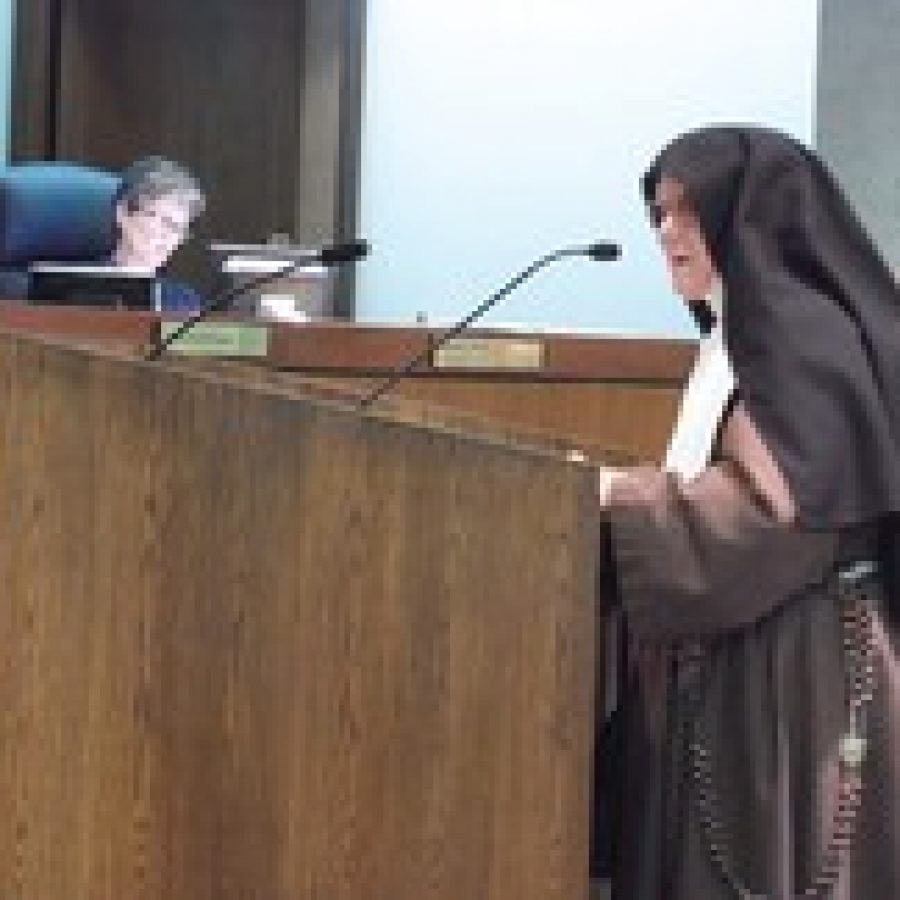 Dozens of Oakville residents got to do what they did not get to do last year: let county and National Church Residences officials hear their objections to an apartment complex for seniors now being built at 6050 Telegraph Road.
The opposition to the project crossed party lines, bringing two state legislators, Rep. Marsha Haefner, R-Oakville, and Sen. Scott Sifton, D-Affton, to the County Council chambers July 15 to oppose the complex during a county Planning Commission hearing.
The sea of speakers against the Ohio-based developer, National Church Residences, or NCR, prompted its representative, Clayton attorney John King, to call NCR the "defendant" of the hearing.
Speaker after speaker told the commission that the building is too large, on too small of a lot — 1.44 acres — and too close to the Goddard School, the preschool next door.
"Please consider this a freebie provided by the citizens of south county: we do not want this project," Haefner's son, Mark Haefner, said, noting that County Executive Charlie Dooley once spent $12,000 in tax dollars to survey north county residents to see if they wanted a casino.
Despite Dooley's opposition to reconsidering the zoning on the grounds that it could spur a lawsuit from NCR, the County Council voted 5-1, with one abstention, in June to send the issue back to the planning panel. The resolution, introduced by 6th District County Councilman Steve Stenger, D-Affton, stated the council's intention is to initiate "reverting, changing or amending the zoning" of the site back to its original R-2 single-family residential zoning.
If the Planning Commission makes a recommendation at its next meeting Aug. 5, the issue again heads to the County Council, where Dooley could veto it. The council could overrule Dooley with a supermajority vote.
A non-binding show of hands taken at the end of the meeting showed 250 people against the complex and 12 in support of the apartments. About 75 to 100 opponents remained outside the chambers, not allowed in due to fire codes. More than half of the people who raised their hands in support of the complex were NCR employees or consultants.
Although Dooley has called the notification process for the NCR building "flawless," several speakers told the planning panel they would have preferred to have known about a hearing conducted last year so they could have appeared then instead of now.
Sister Mary Catherine Wesley of the neighboring Monastery of St. Clare previously told the Call that, though the monastery had received a postcard about each nearby development in the past, it did not receive a postcard about this project. Department of Planning officials have said that the postcards are not legally required and are only sent as a courtesy.
In advance of the July 15 hearing, the county put up two notice signs on the property, angled so that drivers on Telegraph Road could see a sign from either direction. Last year, the notice sign was set about 80 feet back from the road, next to a small house that occupied the property until it was demolished in mid-May.
"It is not surprising that the sign was not noticed, since one would have had to trespass to read it. Had we been able to see the sign, we would have been here 16 months ago," Oakville resident Al Fanger told the commission. "One sign that I remember seeing and was always clearly visible was the 'For Sale' sign that was never removed (until construction began)."
In response to statements made by early speakers that they did not understand how anyone could be against an apartment complex for senior citizens, a speaker told the panel to look at the audience, comprised largely of senior citizens.
"This cookie-cutter design might be fine for the city where you have space limitations, nearby parks and shops, but in Oakville, we have adequate land to incorporate one-story access with patios for our seniors," Fanger said. "The proposed design might be the most energy-efficient building in Missouri, and that is nice. But being able to have a view and for everyone to see the sun is nicer."
The building will be certified LEED — Leadership in Energy and Environmental Design — platinum, NCR project manager Eric Walker previously told the Call.
After listening to nearly two hours of opposition, King did not back down on NCR's previous position that it has all legal permissions and will continue building the complex.
"We have building permits. And that's why we have built this development," King told the crowd, pounding the podium. "And we will continue to build this development until we are told to stop."
With that opening, an opponent in the audience seized his chance.
"Stop," came a single man's voice from the crowd. "Stop!" called out a few others. "Stop!" the crowd joined in.
King then corrected himself.
"Until we are told to stop by a court of legal jurisdiction," he clarified, "we're not going to stop, we're going to continue to build … By the time this process is finished we will be up one story, and we will continue to build. And we will continue to operate this facility."
King originally represented the developer during a public hearing last year, for which Oakville residents, including Goddard School owner Cindy Pyatt, say they never received notice. After no one spoke in opposition to the development in April 2012, the Planning Commission voted to recommend R-8 residential rezoning to the County Council, which approved it unanimously in May 2012.