Missouri appeals court rules for St. Louis County in indoor dining lawsuit
The Missouri Court of Appeals sided Friday with St. Louis County in a lawsuit challenging the county's indoor dining ban. The county's indoor dining protocols were designed to limit the spread of COVID-19 while still allowing restaurants to serve customers through outdoor dining, carryout, curbside or delivery services.
Almost all restaurants in the county are following the protocols to protect their customers and the public from COVID-19, the county said in a news release. Several restaurant families out of the county's nearly 5,000 restaurants, led by Bartolino's South in Green Park, filed a lawsuit challenging the indoor dining ban.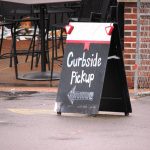 County Executive Sam Page issued the indoor dining ban as part of a stay-at-home advisory and broader mask mandate that runs at least through Dec. 15, with all the orders issued through the county Department of Public Health.
Associate Circuit Judge John R. Lasater, an appointee of former Republican Gov. Eric Greitens of the St. Louis County Circuit Court in Clayton ruled for the county, leaving the protocols in place. On Friday, the Missouri Court of Appeals agreed and allowed the county to continue enforcing its indoor dining protocols moving forward.
"St. Louis County's indoor dining protocols are based on the latest scientific research and expert advice from the (St. Louis Metropolitan) Pandemic Task Force and public health professionals. And they are holding back the spread of COVID-19 throughout the county," said Page in a statement. "We will continue working to limit the pandemic's spread so we can get back to normal as quickly as possible. We will continue our open and respectful conversations with the restaurant community so that indoor dining can reopen when it is safe."
This is the sixth court to rule in favor of the county's public health orders since the beginning of the pandemic. Page's power to issue restrictions through the health department is based on state statute, but three South County state legislators threatened to take away that power last week when they each filed bills to give that power to state legislators instead. Led by Sen. Andrew Koenig, R-Manchester, in the Missouri Senate, House legislators Rep. Jim Murphy, R-Oakville, and Rep. David Gregory, R-Sunset Hills, also filed bills to restrict the county's power.