Middle school students use risk-taking, creativity skills to develop skits for contest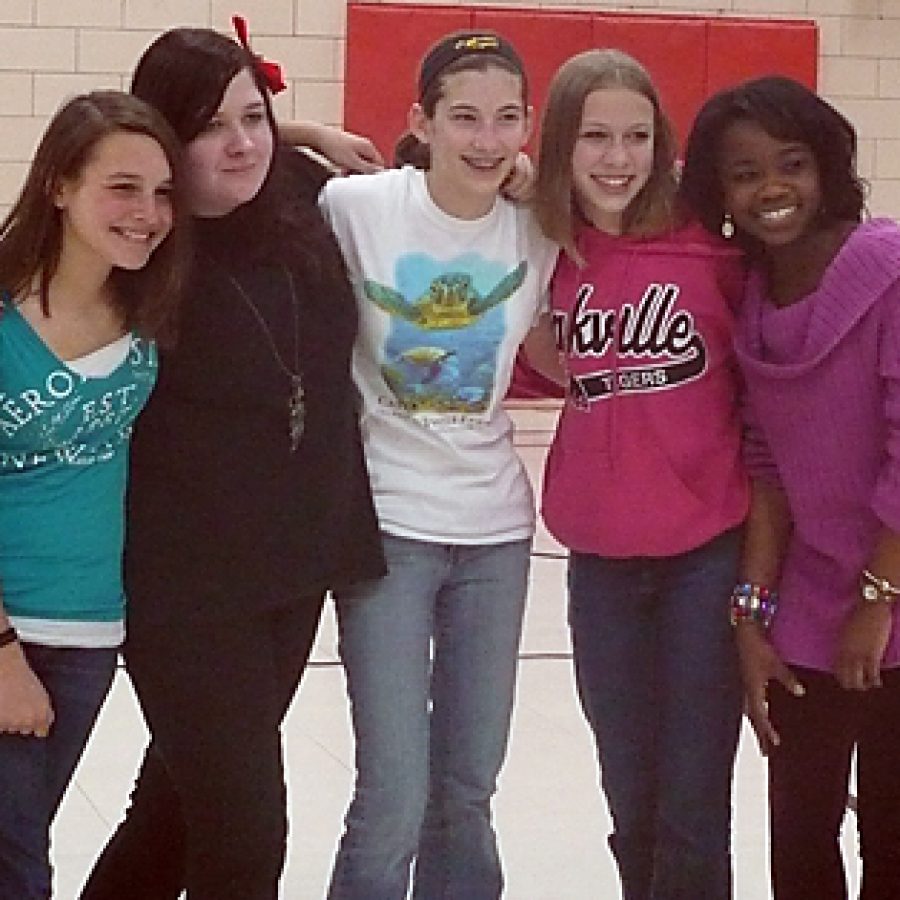 The seventh and eighth grade students in the Mehlville School District's STRETCH gifted program used their risk-taking, creativity, communication and teamwork skills when they participated in the program's Extemporé competition on Thursday, March 24.
Given the task of creating skits based on a specific challenge, the students spent several weeks preparing their skits prior to the competition, and during the 20-minute preparation period before the skit performances, students used their quick-thinking skills to incorporate a surprise element into their skits, according to a district news release.
"The mission of Extemporé is to combine risk-taking, creativity, communication and teamwork to solve extemporaneous challenges in a competitive setting. Students began working in January to prepare these skits," Oakville Middle School STRETCH teacher Heather Muessig stated in the release.
The teams of STRETCH students competed in one of four challenges during the competition: the Showtime Challenge, Engineering Feats Challenge, Fine Tuning Challenge or the Perspective Challenge.
With each skit category, students were given several components to incorporate into their skits, in addition to the last-minute addition of the surprise task.
The winning teams at this year's Extemporé competition:
• Arena 1: The Showtime Challenge, The Quest for the Golden Feather
"Special" Winners: Nathan Haskenhoff, Molly Duffey, Samantha Robert, and Zachary Remelius; Bernard Middle
"Best" Winners: Tricia Williams, Vi-Vi Phan, Maddie Reinagel, Melinda Grigg and Camille Durr; Oakville Middle
• Arena 2: The Engineering Feats Challenge, The Trojan Horse
"Special" Winners: Sara Johnson, Allison Frisella and Marissa Gassner; Oakville Middle
"Best" Winners: Emma Sona, Rachel Hensel, Trevor Leach and Jenny Roeger; Oakville Middle
• Arena 3: The Fine Tuning Challenge, Tell Me Muse….
"Special" Winners: Tori Alstat, Rose Schmitt, Todd Martin, Jack Reynolds and Sanela Dulic; Washington Middle
"Best" Winners: Erin O'Neill, Brooklyn Bass, Amie Lanzendorf, Rachel Murvihill and Becca Haegele; Oakville Middle
• Arena 4: The Perspective Challenge, Toga Party
"Special" Winners: Kenzie Giorgi, Lexie Davis, Ellen Gieselman, R.J. Hutson and Joseph Schulte; Washington Middle
"Best" award: Emily Chlanda, Ashlyn Dimmick, Luke Hemenway, Brianna King and Mitchell Walden; Washington Middle