Mehlville voters will elect two to school board in April
Candidates address issues facing district, school board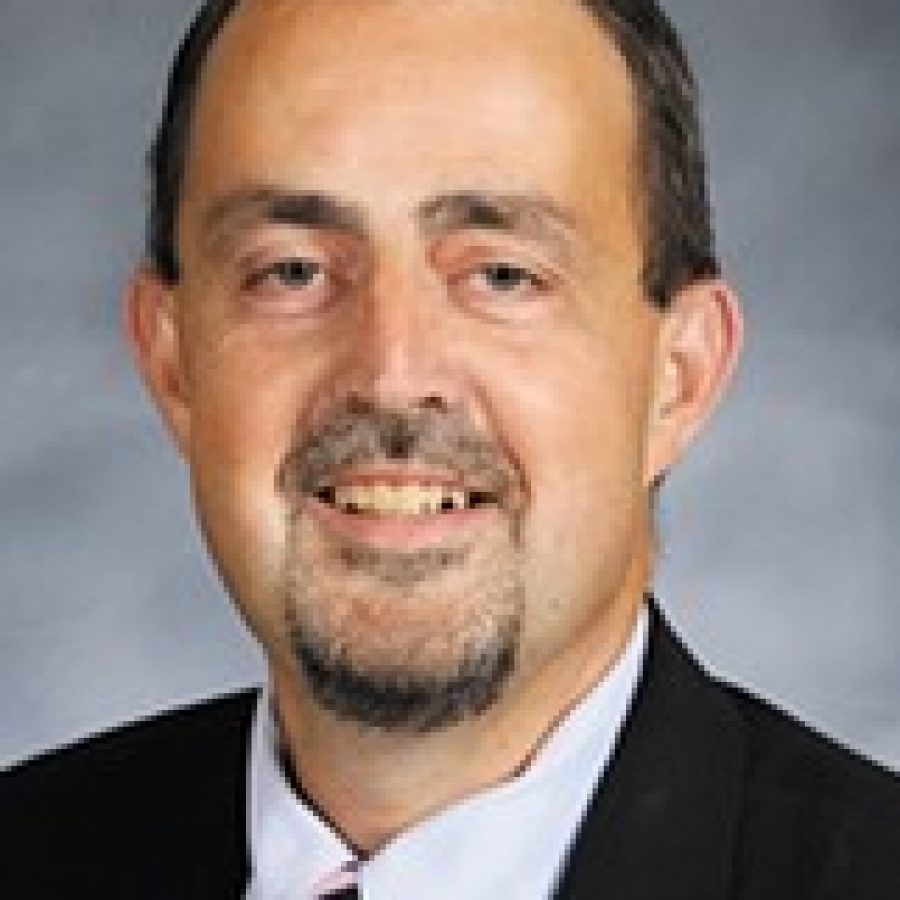 Two seats up for election April 7 on the Mehlville Board of Education are being sought by four candidates, including one incumbent.
Seats held by Katy Eardley and board President Ron Fedorchak are up for election. Fedorchak, James "Jamey" Murphy, Lisa Dorsey and Kyle Haubrich are vying for the seats, which carry three-year terms. This article will focus on Fedorchak and Murphy, who is Eardley's brother.
Dorsey and Haubrich were profiled last week.
• "Long-term financial plan. We as a community are at a crossroads. We must decide if we want to support our children with proven, successful programs or if we want to do the bare minimum. (Interim Superintendent) Dr. (Norm) Ridder and (incoming Superintendent) Dr. (Chris) Gaines have provided us a pathway to become a high-performing district. Do we want to take that pathway?" Fedorchak said.
• "After years of the current board's irresponsible leadership, the financial shape of the district is in shambles. This board has not respected the will of the community. They build large capital projects, even after being voted down by the people, while critical needs were not addressed. They used the district reserve funds to give raises to district employees, a reoccurring expense, with no funding plans for the future. They constantly put wants of the school board, such as a million-dollar tennis court, over the needs of teachers and children. Simply put, this board is very out of touch and lacks the leadership skills required to effectively run the district," Murphy said.
Fedorchak, 48, 3715 Woodbrook Court, 63129, is technical sales representative at PJ Cobert Associates. He and his wife, Michelle, have one child who graduated from Oakville High School and two other children who attend Mehlville schools.
Fedorchak was appointed to the school board in 2011 and elected in 2012. He said he is seeking re-election because "as a parent of children in Mehlville schools, I saw several opportunities to improve the educational experience for all children. My parents were both public school educators and believed in the mission of public education. I believe we have started to change the culture inside the school district and have initiated a plan that will transform Mehlville into one of the top-performing districts in the state. I would like to continue that work.
"The community commented frequently on the lack of consistency with board decisions. Retaining incumbents who understand and work at the job would correct this problem. I view my re-election as a referendum on this question."
Murphy, 26, 6851 Bear Creek Drive, 63129, is a clock craftsman at AmeriClock Inc. He and his wife, Kayla, have two children — 2 years old and 1 month old.
Murphy, who has not held elective office, said he is seeking election because "I believe the current school board lacks leadership and direction. I promise to have a student-centered focus when making decisions. I pledge to be a good steward of the taxpayers' money and put the needs of the district before the wants of an out-of-touch board."
Fedorchak said, "I voted for it, but I believed it was too large and attempted to do too much. I sat through COMPASS meetings and heard the proponents say ask for everything. Knowing today that the district's revenues have been flat or declining since and non-salary expenses have been growing, I would support a new levy increase to maintain current services.
"The size of the levy/bond issue should be determined by the public."
Murphy said, "I feel the school board, past and current, has failed to build the trust required to pass a tax increase. The board has spent a lot of money on board members' wants and not district needs. Though some of the language in Proposition C would have benefited the district, it went too far in many areas. Sixty-two percent of the district did not support this measure and neither did I."
Fedorchak said, "Yes. Missouri in general and Mehlville in particular does a disservice to its children by sticking to the 174-day minimum. You can't ignore the fact that our children are competing for college and career opportunities with children from around the world. We need to modernize the process and utilize a balanced calendar approaching 200 days. This would make us more competitive.
"Again, the Legislature needs to take the lead on this as well as DESE (Department of Elementary and Secondary Education).  Our children and educators aren't working farms anymore and the school calendar should reflect this. Families should also be able to have time together beyond June, July and early August. The data is clear — more contact time means better performance. The shorter the summer break, the retention in math and reading is better."
Murphy said, "Currently, our district cannot afford to extend the school year. Additional days added to our calendar would not receive funds from the state. Each additional day we add to our calendar adds additional burden to our currently strained budget. Without additional funds from the state, and our current $8 million deficit, this is currently not a realistic move for our district."
Fedorchak said, "Based on feedback from the community, we would ask for a levy increase or add tuition-paying students. Looking at the model of the Mehlville fire board, they balanced their budget with charged services. We could do the same. Budget cuts will, however, come first."
Murphy said, "I think the board owes it to the community to cut every wasted penny. Then we have to prove the board can be trusted with additional revenue before the district can pursue obtaining new revenue.
"Ultimately, it is up to the community as it is their hard-earned money we are talking about."
Fedorchak said, "It was fantastic. We heard the community's expectations and MSBA (Missouri School Boards' Association) brought us great candidates to choose from … Our decision was difficult because we had a great mix to choose from. After narrowing the field, we put the finalists through the ringer and they graded out very close as they were extremely talented. Despite a split vote, we selected another great educational leader who is committed to the long-term success of Mehlville. How do I know? He is putting his son in our schools and living inside the district, so he will feel the impact of decisions we make. He is invested and he will do great things for us."
Murphy said, "I believe the board was presented with qualified candidates and I look forward to working with Chris Gaines."
Fedorchak said, "Yes. Dr. Ridder and the current board rarely meet in closed session. As board president, I have been accessible to the Call and other media outlets as have both superintendents. I have also encouraged debate in open session. No board member should be allowed to cast a vote without explaining their position. Decisions should be made at the table and not in the corridors. Certified Board Member training sessions teach board members the law and how to handle violations. I would encourage each new member to focus on that and complete their training as soon as possible."
Murphy said, "I believe transparency is key when doing the people's business. The current board posts meetings and agendas at the absolute last minute and at times, their notices are difficult to find. It is important to give the public as much notice as possible of the board's agenda. In order to provide more community involvement and transparency I would try to post more detailed notices at an earlier date."
Fedorchak said, "Yes, but with parental review and the option to withdraw their children if it conflicts with personal beliefs."
Murphy said, "I believe that these conversations are best when held at home between a parent and child. Many district parents have a specific value set that they wish to pass onto their children and that should be respected. On the other hand, some parents may feel uncomfortable with this topic. The school should offer classes but they should require parental consent."
Fedorchak said, "Our libraries should have a movie-like rating system. LGBT lifestyle information is likely PG-13 or R rated and is not appropriate below high school level as are discussions about some heterosexual lifestyle choices — i.e '50 Shades of Grey,' 'Sex and the City,' 'Masters and Johnson,' et cetera. But we should not censor literature written by or about LGBT authors or historical figures."
Murphy said, "Schools should reflect the values of the community while respecting and protecting the rights of all."
Fedorchak said, "I fully support a shift in the salary schedule channels to reward professional development time and not advanced degree/education alone. For example, the current schedule rewards a math teacher who gets a master's degree in English literature. That degree does not make for a better teacher. Rewarding a teacher who learns more about their craft does and the work is left to the individual teacher to choose."
Murphy said, "I think merit pay, when implemented correctly, can be a tool that rewards innovation, challenges teachers and encourages them to push the limits of the current education systems. I think the negotiated terms between the teachers and the district should be pursued."
Fedorchak said, "We as a board, have learned to focus on data and are making data-driven decisions. We focused on the voice of the community and should continue the practice. We have driven blame and guilt from the system and we are defining systems down to the classroom level that will work regardless of who is leading the district. Dr. Gaines is a believer and will continue the work started this year. We have a long-term plans with goals and measurements. New members should learn the principles, listen to the community and move to meet their needs."
Murphy said, "After years of the current board's irresponsible leadership, the financial shape of the district is in shambles. I will root-out the wasteful spending and direct more money to the classroom. I promise to have a student-centered focus when making decisions. I will bridge communication gaps between the district and the school board and be a good steward of the taxpayers' money."
Fedorchak said, "Marshall Crutcher, the current CFO (chief financial officer) of the district, has recommended three months' reserve or 25 percent. This would improve the district's credit rating and stop the need for short-term borrowing. Under the current financial conditions, we should get the budget balanced and maintain balances near the 18-percent ceiling. Once settled, I would favor adopting Mr. Crutcher's recommendation."
Murphy said, "The fund balance is there to ensure the district can function on years of economic downturns. On the other hand, if the level keeps growing, we are taxing the public too much. I believe the 13-percent to 18-percent range is appropriate."
Fedorchak said, "No."
Murphy said, "No."
Fedorchak said, "Republican/Libertarian."
Murphy said, "I believe this is a nonpartisan race because leaving politics out of it leads to better governance of the district."
Fedorchak said, "Surveying and focus groups have provided an abundance of feedback to guide our decisions. Keeping that information coming will keep politics away from decision-making."
Murphy said, "By focusing on the challenge of providing quality education and common sense answers to the problems facing this district."
Fedorchak said, "No. I have not heard a good rationale to do so. The sensitivity of personnel issues and student discipline makes me hesitate. The Sunshine Law limits things nicely. As long as board members are properly trained to recognize violations and respond accordingly, there is no need. Minutes and votes are all recorded by the board recorder if there ever is question."
Murphy said, "I believe there are certain instances that recording closed meetings would be appropriate. I also believe there are certain instances that recording a closed meeting would not be appropriate. When talking about sensitive issues such as employee hiring or firing or student discipline issues, I do not believe any recording is appropriate. When you record something, sealed or not, there could be a risk of information leaking. Judgment should be used on individual topics."
Fedorchak said, "No."
Murphy said, "My sister Katy Eardley is currently elected to the board. She is not seeking re-election and therefore we would not serve together."
Fedorchak said, "I think they offer an opportunity to try new things and address problem areas. Charters should be part of any change in the transfer law."
Murphy said, "I believe charter schools create an environment of competition which is good for our education system. I also realize they create another school that requires funding in an already financially strained system."
Fedorchak said, "I don't like taxpayer dollars going to organizations that are not responsible to answer to taxpayer oversight. I also don't think most private institutions would want to deal with the bureaucracy that comes with tax dollars either. For instance, I don't think Catholic schools want to teach birth-control methods. The state could require this or block church teachings to voucher students. Making our public schools better should be the goal."
Murphy said, "I think our children should be able to get the best education we can possibly offer them."
Fedorchak said, "Both men are outstanding in terms of educational leadership. Both have great passion for kids. However, they each have their own approaches. Dr. Ridder, as mentioned, has introduced a systems approach that has changed the way we make decisions and the way we will move forward in the future.
"Dr. Knost is a great communicator and excited the community with his vision. He had big plans for improving the district and would have accomplished great things had he stayed here. Dr. Knost also has a great eye for talent and left us with superior administrators in every corner of the district. I appreciated what both men have brought to the table. Dr. Gaines has big shoes to fill."
Murphy said, "The district was lucky to have Norm Ridder as an interim superintendent. His leadership brought a much-needed, long-term strategic plan to the district. I believe Eric Knost was very good at promoting the great qualities of our district. However, I do feel he was misguided on some of the financial matters. Our district currently has an $8 million deficit and he must take some of the responsibility for this."
Fedorchak said, "Yes. My sister-in-law is a reading specialist at Blades Elementary. Her employment preceded my appointment to the board in July 2011. Based on Missouri ethics law, I have never voted on any motion that would pay her or promote her. I would recuse myself and would not participate in any discussion involving her work in the district."
Murphy said, "No."
Fedorchak said, "Yes. I can't speak on details, but we have made investments in a few key areas and the administration checks on these procedures."
Murphy said, "I think that providing a secure environment for teachers to teach and students to learn is important. It is important to constantly work to improve security efforts in our schools."
Fedorchak said, "Yes. However, this is an issue for the Missouri Legislature to address. I would like to see the program make allowances for school districts to keep some of our best employees working, rather than making it worthwhile for them to stay at home or work somewhere else."
Murphy said, "The state auditor audited the education employee retirement system and released a 139-page report on this matter including best practices used in retirement systems across the state. I feel that it is important to have a sound retirement system so people can retire as agreed upon when they started paying into the system."
Fedorchak said, "Yes.  We are currently considering ways to balance the budget and it will happen. My preference is that we get there in next year's budget. This is one example of governance versus management of the district. Dr. Ridder and Mr. Crutcher are crunching the numbers and presenting options to the board. The community will also have a chance to comment.
"My personal philosophy has two conditions: Keep cuts as far away from the classroom as possible and share the pain. No one group should bear the brunt of the cuts. Parents and students will be included whether it is busing, extracurricular activities or scheduling.  Teachers, administrators and classified staff will also be impacted. The important thing is that everyone sees the process and has a say in how the decisions are made."
Murphy said, "If budget cuts are needed, we need cuts that don't hurt classroom performance. One area I would not like to see cut is school busing. In doing so, we would put a burden on the working families in our district. We can and will find a better way to reduce spending."
Fedorchak said, "No. We always have talented pools of potential employees available to draw from and should not need to ever hire relatives of administrators or board members."
Murphy said, "The policy should allow for the best people to advance based on their merit not based on bias."
Fedorchak said, "Yes. The law is very clear and we all swore an oath to obey the laws of the United States and of Missouri. EdPlus orchestrated a class-size policy plan to skirt the law. I opposed the quick passage of that policy. We were also able to avoid a budget shortfall because of the tuition we received for doing what we already did best — teach kids. Had we accepted all students who wanted to come to Mehlville, we would have earned close to $3 million in extra tuition dollars."
Murphy said, "Mehlville has to follow the law and the law states those students have a right to transfer to an accredited school. I do not believe that the state guidelines to student transfers were consistent with what the law said. I think students who were transferring, not school boards, should have been able to pick the district that best matched their needs. I am happy to open up our classrooms to those who were looking for a better education. I'm pleased we were able to do it in a way that did not overcrowd our classrooms or take away from educating other students."
Fedorchak said, "We should consider increasing the number because it will help us balance the budget, but survey the community before making that decision."
Murphy said, "So long as our district can balance classroom size and student-to-teacher ratios, we should continue accepting voluntary transfer students. I believe it is all about balance."
Fedorchak said, "Close down poor-performing districts. Transfer assets to better-managed districts until we have mega-districts — 15,000-plus students, five-six high schools minimum — and allow school choice within a district. Charter schools would work better in these large districts because they could sustain. The state would also save millions in eliminating duplicate positions and salaries. The transfer law works because it allows disadvantaged children a chance to get a quality education but the bureaucracy fights it because it allows bad districts to stay in business. Education is an investment in our future. We can't let our schools fail because it destroys all of our communities."
Murphy said, "I think students, no matter where they live, should be able to receive a good education. I also believe that communities are built around schools. I agree with some proposals to accredit each school on an individual basis. That allows student transfer out of failing schools into succeeding schools in the same district. This way kids are able to receive a good education and the school district has the financial resources to try and recover the failing buildings."