Mehlville school board members offer differing views on Prop R for students
Prop R dividing community, Trakas tells student leaders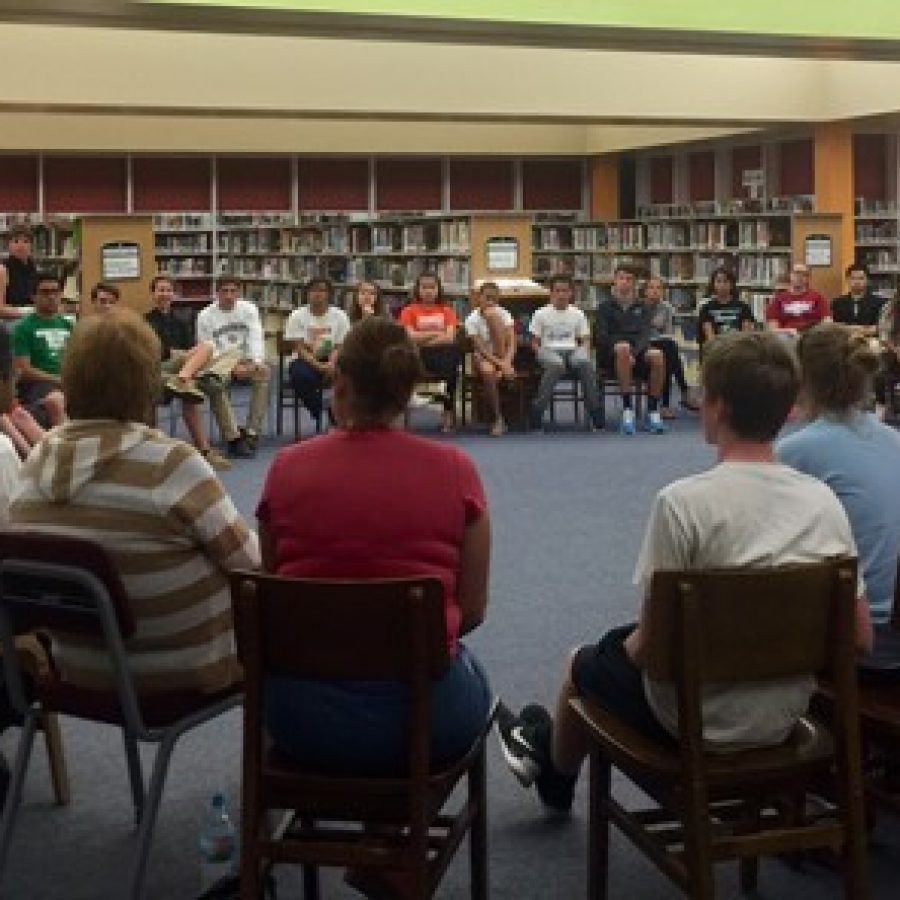 When the Mehlville High School Student Council met with Board of Education members last week, they heard two vastly different perspectives on the district depending on which board member was talking.
Five of the seven school board members took the student council members up on their invitation to discuss the district's Proposition R — President Venki Palamand, Vice President Larry Felton, Secretary Samantha Stormer, Jean Pretto and Lori Trakas.
Proposition R for Restore is a 49-cent tax-rate increase that voters will consider Tuesday, Nov. 3.
Before Trakas arrived late from a work commitment, board members agreed that they voted for Prop R because without more tax revenue, millions more will be cut from Mehlville's budget next year, impacting the quality of education.
"Mehlville School District gets by with lower revenue than just about any other school district in St. Louis County — we've all heard those stories of textbooks that are falling apart," Palamand said. "We're not a wealthy, wealthy district like Clayton or Ladue, and we're not a really rural district that gets most of its revenues from the state."
"We don't have any other method to improve the situation at this time without an increase in our taxes," Pretto added.
The roughly 100 students who attended appeared to overwhelmingly support Prop R. When Trakas arrived, Student Council President Devonn Thomas quickly asked her why she was the sole vote against it.
In response, Trakas told the students her backstory: When she first married her husband, Ernie, who is an attorney for school districts, they argued about whether public or private education is better.
As a graduate of Oakville High School — or "Mehlville South," as she referred to OHS to be "politically correct" on MHS territory — she always sided with public education. But she grew to share her husband's concerns when her stepdaughter began attending the Clayton and Ladue districts.
"I'm a business gal … I thought, has the district done enough to build a relationship with the community to get it passed?" Trakas said. "And obviously the other part of my feeling is I'm tired of the community being divided, I want a community to be united. Even if this does pass at this time, it's still a divided community, and until the community is united, nobody's going to win.
"It's still going to be limping along, trying to get one step forward, two steps back," she added. "I don't think the timing is right for it: There just hasn't been enough trust built. That doesn't mean it will pass, won't pass, I don't know. The ballot will say that. But no matter what happens, my hope is that this community and this district can figure out how to become united and not divided."
But the other board members emphasized that since most of them are following the strategic plan, they are not making decisions anymore — the community is.
"We have to listen to what the community says, and our votes need to go that way," Stormer said. "This is no longer what I think is best or what Venki may think is best: This is what we're being told by our community that they think is best for the district, and we need to vote accordingly."
But in Trakas' view, the district ignored the will of the community against a tax-rate hike by placing Prop R before voters.
"Why not listen to the community for a change, instead of it becoming a battle?" she said. "It's always been a battle."
Some of the MHS student leaders disagreed with Trakas' belief that the district is more divided because of Prop R. Instead, they said they feel a newfound districtwide unity due to Prop R and the district's auditorium, which they believe bridges the historic rivalry between the high schools and brings all Mehlville students together.
"You're really advocating for us being united," MHS senior Alexis Clemmons told Trakas. "I feel like I've seen our community come together more now than ever, and I've been going to this school district since fifth grade."
Sophomore Lauren Hawkins noted that classes she needs to get into college could be cut and asked Trakas, "Ma'am, without the tax increase, how do you propose to get out of the deficit? What is your plan for getting our programs back?"
"There are some people who have proposed a plan," Trakas said, referencing resident Jane Conder's proposal to pass a temporary 49-cent tax-rate increase that would pay off the district's capital debt in three years. "Until you deal with that debt, you're putting a noose around your neck.
"You have to make some hard choices … There is a 50/50 chance it will not pass, so I'm here to tell you be prepared either way."
Mehlville's $59 million debt from building new schools runs through 2029, and the other board members fought back against Trakas's comparison of the debt to a noose, noting that Mehlville's debt is not high compared to other districts.
"We don't have a debt problem, we have a cash-flow problem," Felton said. "It's real simple. If I have a cash-flow problem at home, I'm not going to starve my family so I can make two extra house payments."
"It's just a straw-man argument," Palamand said. "It sounds like a terrible number, but the district has assets over $220 million. If you had a $220,000 house and you had a $58,000 mortgage, that's not that bad. As long as there's a tax base, as long as there are homes in Mehlville, that debt will get paid."
Lauren's next question for Trakas was one that Stormer later echoed and said many other families in the district are also weighing if Prop R fails.
"Do I need to go to another district?" Lauren asked. "Do I need to find a different way to get the classes that I need?"
Stormer said she wonders the same thing with her own son, an OHS sophomore.
"For his next couple years, am I going to have to move him?" she asked.
"It goes back to scare tactics," Trakas said. "I won't use that word here, but you guys all deserve an education, and you should be getting educated. There is money in the system."
"I don't agree with that," Felton said.
"I think Venki will even admit — the leadership turnover that we have had in this district has had an effect on where we are today," Trakas continued.
With the board members growing more vehement in their disagreement with each other and the conversation already extended past its time limit, Devonn interjected.
"This conversation is flowing and I love that it's flowing, but I need it to not be an argument," she said. "I need us all to be positive and friendly, because we're still at school and it's still student council. I don't want it to be a battle. I don't want it to be an argument, and it sounds argument-y."