Mehlville school board hopefuls attack issues and each other at forum
Two incumbents challenged by three candidates for two board seats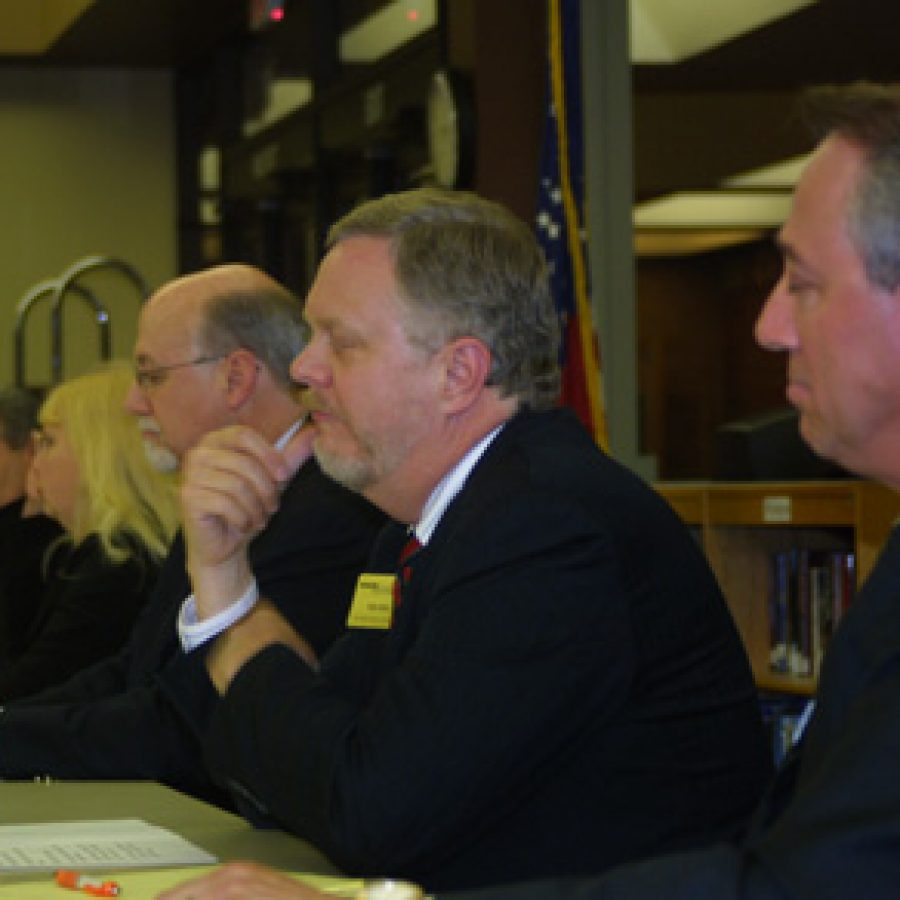 Five Mehlville Board of Education candidates attacked a variety of issues — and some attacked each other — during a forum last week sponsored by the Mehlville Legislative Network.
Two incumbents seeking re-election are being challenged by three candidates in the April 7 election for two seats on the school board.
William Klemm, Linda Mooy and Gary "Brit" Rose will square off against current board President Tom Diehl and board Vice President Micheal Ocello for the two seats that carry three-year terms. Diehl and Ocello first were elected in 2006.
Some closing remarks made by the candidates at the March 23 forum follow:
Rose said, "… It is a joy to run for the first time, especially against two incumbents. They are very hard and they are very challenging. I understand that. And I know what I was going into. A thing was mentioned to me previous about 'You don't really know what the school policy is. Well, and I don't think you're ready.' You know what? The school policy, you know how thick that is? It's pretty big.
"Am I going to have all that memorized? No. Do I have the resources to get to it? There is a thing called online, and I can go on there and I can look it up and I can get the answers. It's real simple. It's not that hard. And you know, if I get elected, I'm here to work for you. I'm here to make very hard and necessary decisions to put forth the right directions for the students and their education …"
Mooy said, "… The thing I'm most interested in is taxpayer accountability. I have no issues with anyone involved with the school district other than the school board. I think the teachers are great … I like Mr. (Superintendent Terry) Noble. I think he has a very likable personality and I've liked all my dealings with him. But I think it's time to have two new school-board members. I don't care who they are. But I think it should not be the two (Diehl and Ocello) at that end. I think the kids in the school district need to have role models. And I don't see anybody that manages numerous strip clubs — and by strip clubs, I mean facilities that have nude dancing. And I've seen that drugs are sold in restrooms. I don't know if that's true.
"But I just think and I've heard that Mr. Ocello is using this (school-board seat) as a stepping stone to become a state representative so that he can try to get strip clubs in the state of Missouri. I don't like hearing things like that. And I don't appreciate Tom Diehl for supporting him. So you know, if that's what you guys want. But I disagree with it … Our kids should not have that type of individual as a board member. And frankly, I was surprised that the Mehlville NEA (National Education Association) endorsed him. I don't think that's a good idea. I don't care if somebody promises you a raise. That is not grounds to endorse someone … I hope that somebody is a Christian in this room and they can see some wrong with that individual."
Klemm said, "… I am very proud of being part of the Mehlville School District. I've put many hours into it myself through the Finance Committee, through (the district's public-engagement program) COMPASS and several other things throughout the years. I don't look at that as work. It's one of the things I like to do and things I want to do. I want to make sure my daughter gets the best experience that she can. I'm extremely excited at the changes that have happened in the district the last couple years. I want to make sure they keep going. I want to be part of that … Once again, I'm a finance person … I want to use that to make the district better and continue forward into the future. I want to make sure that the students get the best education they can. I want our student achievement to be higher. I want to keep going in the right direction. I want to be considered one of the best school districts in the area and in the state for that matter …"
Diehl said, "To paraphrase Ronald Reagan, are you better off today than you were three years ago? We reorganized the administration, hiring one of the top superintendents in the state of Missouri. We've got a new chief financial officer who has experience with a Fortune 500 company. We've got a top-flight community-relations staff. We've got nine new principals and assistant principals. We've created a work environment that allows teachers to do their jobs. We purchased $3 million in textbooks. We restored free bus transportation, as promised. We've conducted business in an open and transparent manner, as promised. From the standpoint of looking at academic achievement, we've begun a weighted-grade system and expanded the advanced-class offerings for our high-school students. We started an alternative high school for non-traditional learners. We renovated the historic St. John's school, reusing a facility that had been laying idle for years and years. And after a three-year drought, the state Department of Elementary and Secondary Education recognized our school district for Distinction in Performance three years in a row. Moving forward, we still have many challenges. The jobs of the 21st century will go to the communities that have an educated work force with the skills and talents that employers seek. Our school board must be engaged in educational debates taking place in Jefferson City and Washington (D.C.) and we must be advocates for equity in education funding … We have a sacred obligation to give our children the tools and knowledge they need to gain entry to the best colleges and technical schools …"
Ocello said, "Before I get into this, is there anybody here who doesn't know I work in the strip-club industry? If there is, raise your hand because you had to have been dead for the past three years. There is no doubt, folks. I'm not embarrassed about what I do. I'm proud of what I do. And this young lady (Mooy) — and I think I'm being generous when I say that — doesn't understand that we are one of the most regulated businesses in the United States. We don't sell drugs in our restrooms and we don't do anything else that's illegal, or they would promptly put us all in jail. I'm the president of a publicly traded company. And I appreciate her recognizing my success. Yes, I make $700,000 a year. I didn't start out that way … The real question here is do you like the way the district is going? I believe I bring certain skills to the table that make a difference. And you know what? Anybody that's visiting our schools, you'll notice there are no poles in our gymnasiums that some people might have thought might occur. The reality is this is about our kids and it's about the future of our kids. It's about having a board who understands what's going on and takes us in the direction that we're moving that's positive. I mean, look at what we've done the past three years. It's been a wonderful start. Are we there yet? No. Have we made mistakes? Sure, we have. But you know what? This gentleman (Diehl) and I have the experience and the understanding to continue to make us move forward…"
Asked to identify the "biggest problem" facing Mehlville:
Diehl said, "I think the biggest challenge facing the district is the misperception about how the district is managing financially. I think people have made accusations that there's a lot of waste … And anyone who knows the history of the Mehlville School District knows that we've always operated on a shoestring. We have been very transparent these past three years in explaining what our financial situation is. We've recruited a financial advisory board. And we've also hired a new chief financial officer to address those issues."
Mooy said, "There's really numerous problems, but I think fiscal accountability to the taxpayers. I think if that issue was resolved and that they were more transparent to the taxpayers and when they try to push a proposition that they tell the whole truth … They shouldn't just say that this is not a tax-rate increase when you're going to be paying taxes for 15, 18 more years. That's a very big issue."
Klemm said, "… Financial issues are probably the main thing I see as the biggest issue as we go forward. I think we've got a good administration. I think we've got great staff members here. And I think (CFO) Noel (Knobloch) is outstanding. We currently have a little bit of breathing room because of what happened with Prop T. But once again, it gives us a couple of years to get things back in order and get moving in the right direction. We need to keep moving in that same direction to make sure that we have the ability to continue to go even past this two- to three-year window that we have with Prop T."
Rose said, "I guess mine would be the school board or the board members asking questions. And what I mean by that is they need to start asking some necessary questions. And I'll give you a perfect example, and it's something that kind of bothered me some years back. I'm talking about teacher salaries … I'm glad the teachers got a raise … They passed the 6-percent raise (in 2007), but they didn't ask the right questions. And it just caused the school to be … in debt. And that really bothered me. What it boiled down to was they were just irresponsible and didn't ask the right questions."
Ocello later responded to Rose's comments by saying, "A top priority — and I appreciate Brit for bringing this up — was, has been and continues to be trying to get our people in this district paid a fair wage … We tried to give them a 6-percent raise. We did ask the right questions. And we had plenty of people who said: 'Oh my God. I can't believe you gave these folks a 6-percent raise.' And honestly, they deserve a lot more."
Rose later replied, "I'm glad Mr. Ocello rebutted about the 6-percent raise and not asking the right question. There was one board member, a former board member, who asked the right questions and knew that something was not right. And she (Cindy Christopher) opposed the 6-percent raise …"
But minutes of the board's April 19, 2007, meeting state members voted unanimously to approve the 6-percent raise.