Mehlville officials say no waste left to be cut
Dozens of teaching positions among proposed budget cuts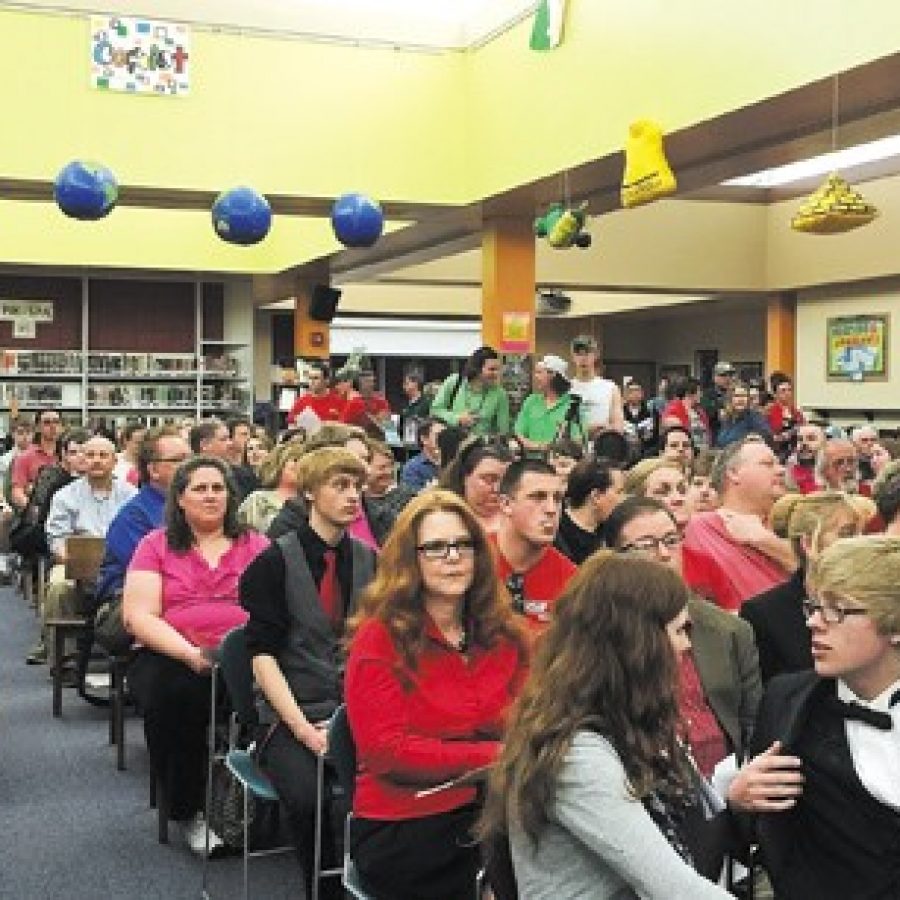 Just like any other election season, some of the candidates running for the Mehlville Board of Education are pledging to cut waste in schools — but Superintendent Norm Ridder and other Mehlville officials agree there's simply no waste left to cut.
"The discussion of anything being fat in the district or excess waste there, that has been cut long ago, and it is pretty evident when you look at the (budget-cut) proposal that Dr. Ridder's going to talk through," Charlie Fischer, chairman of the citizen-led Finance Committee, told the Board of Education last week. "Those are critical impacts to the education of the students. Everything else has been addressed. We're running a very lean, very efficient ship, running at state minimums on a lot of items already."
Although Ridder scrounged for months to find $4 million and $8 million in cuts that least impact the classroom, spending on the line in preliminary proposals he presented to the board March 11 includes dozens of teaching jobs, busing within three miles of schools, all tutoring, library books, most school clubs and, under the $8 million plan, block scheduling and the entire gifted program.
Lifelong Mehlville resident Fischer is a certified public accountant, or CPA.
The other eight residents on the Finance Committee are also financial professionals, along with district liaison Oakville High Assistant Principal Ross Bullington.
The district's reserve fund is projected to slide from roughly $17 million at the end of this school year to zero by 2017 at the current rate of deficit spending. With a ballot measure for a tax-rate increase no sure thing, the Finance Committee recently recommended a two-year plan to balance the budget even without a tax increase, including $4 million in budget cuts this year, then $8 million in cuts next year to stem the tide of the $12.7 million budget deficit projected for the 2016-2017 school year.
"This is really the community's budget — the community needs to tell us (what they want), and the community needs to own what we're doing with this," Ridder said.
The board will not vote on what to cut until May 21. For the next six weeks, the district's strategic-plan consultant Marc Maness of Opinion Research Specialists will gather feedback from randomly selected focus groups of residents while Ridder meets with his usual focus groups of students and teachers. Residents also can contact Director of Communications and Public Relations John Wolff at (314) 467-5151 or
with suggestions or feedback.
The public can also speak to the board when it meets at 7 p.m. Wednesday, March 25, at a site undetermined at press time.
With 84 percent of next year's projected $112 million budget wrapped up in salaries and benefits, 10 percent in debt service and much of the rest used for legally required expenses or necessities like $2 million in electricity every year, there are few places to look other than teachers and staff to slash spending, Chief Financial Officer Marshall Crutcher said.
Many residents have questioned how the district got to this juncture, and Fischer told that story by comparing the district's revenues to its expenses since the 2008-2009 school year. Historically, any increased spending for salaries, fuel and electricity due to inflation was matched by steadily rising assessed valuations, but as home values in the district dropped when the Great Recession hit, so did incoming tax dollars.
The average annual increase in revenue of 0.3 percent over the last seven years "does not even keep up with the rate of inflation and is simply not sustainable," Fischer said.
Those increases add up to a total increase in revenue from 2008 to 2015 of 1.7 percent, equal to the annual inflationary costs the district faces each year, which have added up to 10.7 percent overall during those seven years. In contrast, many older residents in the district live on Social Security, which automatically grants a cost-of-living increase every year to reflect inflation, Fischer noted. If the district received annual increases at the rate of inflation like Social Security recipients, Mehlville would have taken in $51 million more from taxpayers over those seven years, including $12 million this year alone — double the shortfall the district faces this year.
The district went from facing perilously low reserves in 2008 to the highest reserves it had in the district's history in 2011 with the help of tax-transfer measure Prop T in 2008, along with $4.6 million in budget cuts in 2011. Historically, Mehlville has not kept reserves high enough to meet yearly expenses without borrowing, maintain the best bond rating or cushion the district through hard times, Fischer noted. In contrast, Lindbergh underwent budget cuts in 2010 even though it had balances over 30 percent, still lower than the state average.
In December 2011, the board unanimously voted to authorize former Superintendent Eric Knost to embark on a five-year planned spend down of the reserve fund to pay for items that had long been neglected by the district, including a five-year facilities plan that installed new roofs and a five-year technology plan that brought 1:1 laptops to the high schools.
The rollout of the 1:1 laptop program will halt in its fourth year under the proposed budget cuts, saving $500,000.
As proposed, the district would cut $3.2 million, defer $930,000 in capital expenses and add $1.3 million in revenue by accepting 200 more voluntary transfer students from the Voluntary Interdistrict Choice Corp., or VICC, program.
The proposed operating cuts include 23.5 teachers and 14 assistants in health and instructional technology to save $1.54 million, busing within three miles of schools to save $500,000, at least two Central Office positions for $225,000, library books for $120,000, tutoring for $100,000, Additional Compensation Stipends, or ACS, for most clubs, teacher mentors and intramural coaches, $177,000, classroom supplies for $50,000 and computer upgrades for $50,000.
Administrators are recommending the $4 million plan to cut next year's $112 million budget to $108 million. But if the board decides to close the entire projected deficit next year, the $8 million in cuts could include all of the above cuts, the addition of transfer students, deferred capital expenses, plus slashing:
• $4.2 million in staff, including 45 teachers, 14 assistants, 20 secretaries stationed for security at each school front door and some custodians in each building. Block scheduling would end at the high schools, and all curriculum writing would stop for one year. Off-duty police officers would not patrol elementary schools in the morning.
• $446,000 to close the Witzel Elementary Gifted Center, or STRETCH, gifted program, and end all gifted services at elementary and middle schools.
• $200,000 to cut more technology.
• $90,000 to close the pool at Mehlville High School.