Mehlville citizens rally to back school district
'Failure is not an option at this time,' Fowler tells crowd at Mehlville event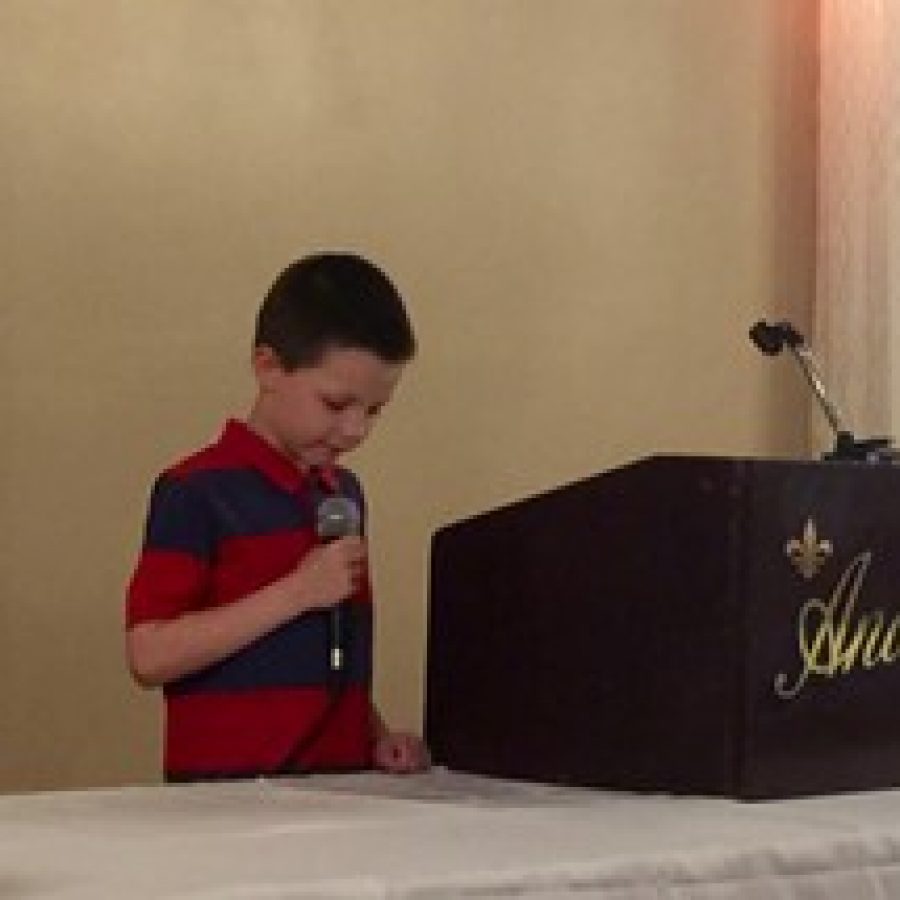 Hundreds of Mehlville School District residents turned out last week to kick off a grassroots campaign for a future ballot measure that organizers hope could pull the district out of its budget crisis and restore key academic programs likely to be cut this year.
"Tonight begins the journey to take Mehlville from being a good school district to being a great one, I truly believe that," campaign organizer and former school board President Dan Fowler said at the April 1 event at Andre's South. "Mehlville has a tendency to lurch from crisis to crisis — we've been through this a number of times over the years, and it's disheartening and destructive. This needs to stop, tonight. We need a plan to stabilize our finances and then take Mehlville from being a good school district to a school district of destination where parents want to live and raise their kids.
"I often hear from some community members that throwing money at education is not the answer. I would say throwing money at anything is the wrong thing to do, but properly funding a school district to do its job right is the right thing to do," he added.
The Board of Education is not currently considering any specific proposals for a ballot measure, but the dire state of the district's current finances points to a likely attempt for what Fowler refers to as a "reasonable" ballot measure in November. Any measure would be the first time in five years the district has asked to raise its tax rate. Mehlville voters overwhelmingly rejected the last two ballot measures they considered, 88-cent Prop C in 2010 and 97-cent Prop A in 2006. The last tax-rate increase voters granted the district was for 2000's 49-cent Prop P, which focused on facilities, including the construction of three new schools.
Oakville resident Kim Hanan-West will be heading up the organizing campaign. She is an Oakville High School graduate and a teacher in the Parkway School District whose children attend Mehlville. Fowler, who led the campaign for Prop P and was involved with the last four ballot measures that have passed in the district, said Hanan-West is "smart, energetic and tough as nails" and that he will be involved but "riding shotgun — and I do real well at shotgun," he noted.
Hanan-West said she was motivated to lead the campaign due to the severity of the district's financial situation and concern about her property values if school quality declines.
She in turn enlisted Fowler, who has been closely involved with the last four tax successful tax measures in the district.
While Fowler was board president, voters approved a bond issue in 1992 and 1998's Prop T for Teaching 33-cent tax-rate increase. After he left the board he led the campaign for 2000's Prop P for facilities, and he was involved in the campaign for the 2008 tax-transfer measure Prop T. Fowler also introduced a special guest in the audience, retired Margaret Buerkle Middle School Principal Jack Jordan, who led the campaign for a 62-cent operational tax hike in 1986.
In front of an estimated crowd of 300, campaign organizers rallied parents around the need for a change in the district's financing and Superintendent Norm Ridder, Chief Financial Officer Marshall Crutcher and Charlie Fischer, chairman of the citizen-led Finance Committee that oversees the district's finances, outlined Mehlville's budget and took questions from the crowd. The event was not sponsored by the administration, but officials attended to provide information.
Four of the seven current board members attended the event — President Ron Fedorchak, Vice President Venki Palamand, Larry Felton and Jean Pretto, along with several former board members. Fedorchak and Jamey Murphy were the only board candidates in attendance.
The event opened with speeches by current students, Mehlville High School junior Andy Dummerth and Point Elementary second-grader Dylan Lohrke. The week before, Dylan, 7, spoke to school board members about how budget cuts will affect his school. A picture of him speaking spread on social media, and Hanan-West said "his courage was so awesome" she asked him to also appear at Andre's.
"When I heard about what is going to happen to the school, I was upset," Dylan read from a letter he wrote. "I got a paper and pencil and started writing … After I wrote my first letter, I read it to Dr. Ridder and the school board. My mom and dad and teachers told me that made a difference. Everyone can make a difference. I made a difference by writing letters. Everyone can make a difference by raising money, voting and talking to people to give money to the school. In my second-grade class, we are talking about being good citizens. I'm trying to be a good citizen by writing letters to save the school. To save the school, everyone has to do their part — thank you."
Ridder walked the crowd through the district's new strategic plan, which is based on surveys of the public, parents and teachers, along with the data comparing Mehlville to six surrounding or similar districts — a road map to academic success that Ridder called the "heart of Mehlville."
Every community member should be familiar with Mehlville's data, Ridder noted, along with where the district is heading — current strategic plans include a three-year plan for a balanced budget, a five, 10-, 15- and 20-year plan for facilities and of course, the academic goals outlined in the strategic plan itself, a "very, very good vision for Mehlville" that Ridder and the board kicked off March 25.
"So when Dan said earlier that (Mehlville) is going to be good to great — no, we're going to be an excellent district," Ridder said. "Look at the vision: It talks about becoming a district of excellence engaging the students in their future. That came from you guys."
Following the strategic plan means that Mehlville residents will one day brag about their schools as much as neighboring Lindbergh Schools residents do, Ridder noted.
And while the Mehlville system as a whole has suffered from a lack of strategic thinking in the past, Ridder said Mehlville now has the road map it needs to become the envy of neighboring school districts — including Lindbergh.
"I have never really heard anybody brag about Mehlville, but you can go anywhere and you hear people talk about Lindbergh all the time," he said. "That's going to change."
Fowler expects the event to be the first of many to come, and Andre's donated the space for the event and for all subsequent events related to the organizational campaign, he announced. His son-in-law is the owner.
"Few times have I seen this much enthusiasm as I see here tonight … I believe the stars are aligned. Someday you will look back as I did and realize your legacy is not about how big your house is, how new your car is or how big your bank account is," he said. "You will be judged by your children down the road, and they will make that judgement by how well you raised them and educated them. We must not fail them or our community — failure is not an option this time."