Mehlville Board of Education elects Mark Stoner president
Trakas to serve as vice president of board; Palamand leaves board; first elected in '06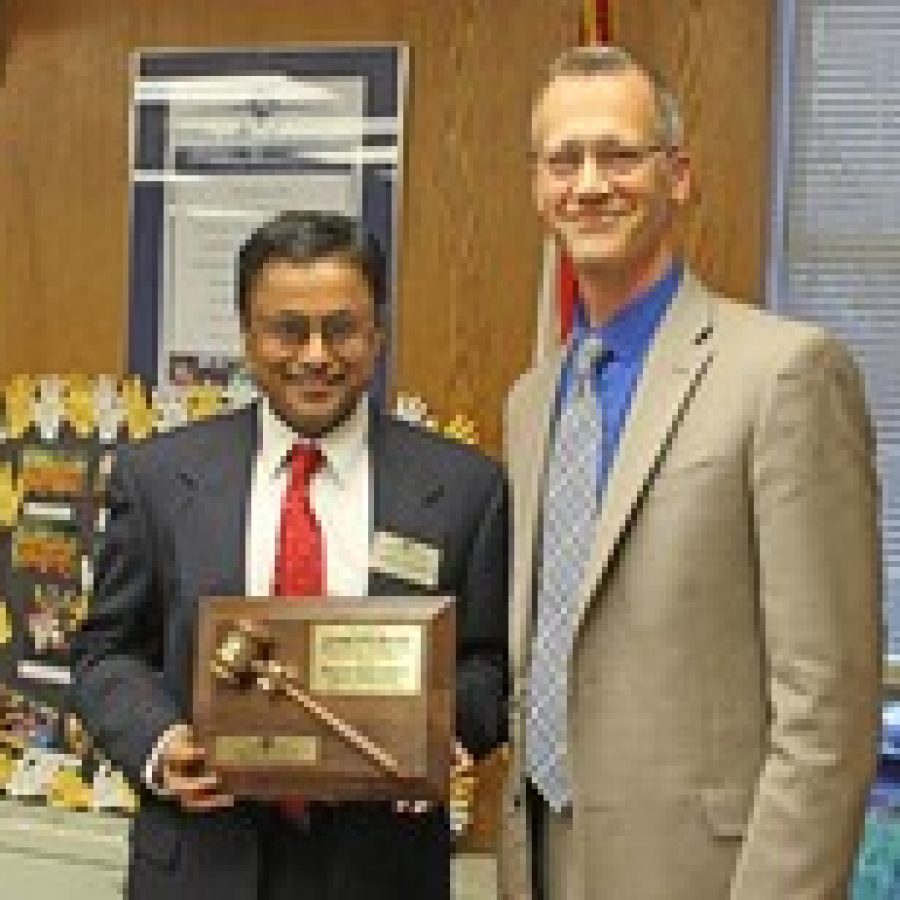 The Mehlville Board of Education elected new officers, including its newest member to serve as vice president, during its annual reorganizational meeting last week.
Officers are Mark Stoner, president; Lori Trakas, who was elected to the board April 2, vice president; and Rich Franz, secretary.
Franz nominated Stoner for board president at the April 11 meeting, and Ron Fedorchak nominated Elaine Powers for president.
Powers served as vice president last year, while Larry Felton was secretary.
Venki Palamand, who was defeated in his re-election bid by Trakas, served as board president the past two years.
Of Powers, Fedorchak said, "… She has served as secretary and vice president of the school board for the last two years, so her service has been there … I respect Mark. He would be a fantastic choice of president. Elaine has, I think, done a little more …"
Of Stoner, Franz said, "… He has an extensive background in business. He's not only owned his own business, but he's worked for large corporations here in the state of Missouri, as well as nationally. He has experience in both finance and management … I feel in the last two years, he's proven himself to be a consensus builder on this board, which is, I think, one of the important leadership qualities that he would bring …"
Before the board voted, Powers and Stoner gave a brief statement about their leadership qualities.
Powers said, "Well, my main thing if I were serving as president of the board would be to continue the forward motion, and I'm sure Mark would do that as well. I feel like those of you around this table know me well. You know my strengths, I'm not going to reiterate them.
"I do feel that I've shown a tremendous amount of leadership both here in open session as well as in closed session. My style is absolutely collaborative, and I have a lot of ideas of ways to be sure that every person around this table is heard and has opportunity to be involved as much as they want to be …"
Stoner said, "… As you all know, I sought the presidency last year, to no avail. It just didn't work out, and that's fine and I understand that. I do have extensive business experience. I think everybody on this board knows me as a consensus builder, as Rich talked about earlier. I'm somewhat of a moderate. I'm fiscally conservative, but very true to the ideals which helped get me elected in the first place.
"And those are I'm taxpayer driven and I'm student focused. And those are two core values that this school district continues to need, things that we need to continue to bring forward and things that will help grow the school district in the future …"
Voting for Stoner as board president were Stoner, Franz, Trakas and Eardley. Powers, Fedorchak and Felton voted for Powers to serve as president.
Franz nominated Trakas for the vice president's post.
"… I realize that some people may be surprised by that nomination, but I have to tell you I was really impressed with Lori's campaign," he said. "It was nonpartisan. It was not personal. She did an excellent job of laying out some issues that she sees that need to be addressed by the district.
"And though Lori and I have disagreed on some details of her agenda, I think she's done an excellent job of showing the community through her campaign that she's concerned about fiscal responsibility, she's concerned about the financial direction of the district, all of it tied back to student achievement …," Franz added.
Stoner seconded Franz's motion. Felton's nomination of Fedorchak for vice president was seconded by Powers.
Trakas said she believes she and Stoner will work well together because "one of my deep convictions about running" is concern about the Common Core State Standards, which are national education standards meant to prepare students for the work force and college.
"… Mark had brought that up just in my conversations with him," she said. "He knew early on that that is going to be a challenge. I think it's something our district hasn't really addressed, and I would really like to take that to the next step with him (Stoner) and be proactive about what that will mean to this district."
Fedorchak said, "… Having served on the board for a year-and-a-half now, I've gotten to see a little more of the operation and the requirements. I think Lori's going to do a great job. It's a lot to take in your first couple months and having the administrative position might be a little difficult as well.
"… I think most everybody here knows I'm approachable. I've had deep conversations with just about everybody on the board. You know my positions. (I've) been pretty open about it, as well as my commitment … I think I can serve with Mark, and assist him, get things done that he wants to get done …"
Voting for Trakas for vice president were Trakas, Stoner, Franz and Eardley.
Trakas nominated Franz to serve as secretary and he was elected to the post by acclamation.
Board members also lauded Palamand, who leaves the board after serving six years. Powers said Palamand is "the biggest advocate for the Mehlville School District, perhaps other than (Superintendent) Dr. (Eric) Knost."
Felton, who has served on the board with Palamand for the past six years, said though they do not always see "eye to eye," they have always had a common goal.
"That's been the district and been the kids here," he said. "It's going to seem real strange not to see him at this table when we start talking about what we're going to do for the next year …"
Palamand said though losing the election hurt, "there is a tomorrow."
"I still believe in the Mehlville School District," he said, "and I want to offer my time and my energy and whatever talents I may possess to the superintendent, to the next Board of Education to increase student achievement, improve learning opportunities and to do it in a fiscally responsible manner."