Lindbergh's Prop R focuses on security
By Gloria Lloyd
News Editor
glorialloyd@callnewspapers.com 
Lindbergh Schools' proposed no-tax-rate-increase bond issue Proposition R on the April 2 ballot would build a new Lindbergh High School, but it will also add secure entrances and systems to all schools that don't already have them.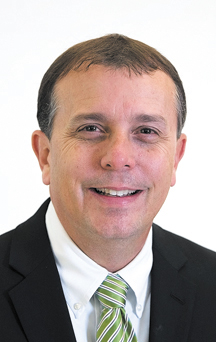 The R of the $105 million 83-cent ballot measure stands for "Safe and Ready."
And although eventually all children in Lindbergh would head to the new high school, the secure vestibules are a part of Prop R that will affect every student at the district's Truman and Sperreng middle schools.
Five of Lindbergh's 11 schools already have secure vestibules as their main entries, but Prop R would add them on to Kennerly, Long and Crestwood elementaries and both middle schools, Truman and Sperreng.
Superintendent Tony Lake calls it "safety equity," ensuring that all schools have the same safety for students.
Parents told him it was one of their top concerns in the 82 stops on his "Listening and Learning Tour" last fall.
"As we think about that in our facilities, safety has to be that priority — we've just got to increase our safety overall," Lake said. "We've got to make sure our kids are safe, and then we can start looking at what we'd like to see… We need to get all of our campuses very secure — the most secure that they can possibly be would be a first step."
That was backed by the Crestwood Board of Aldermen last week, which approved a resolution in favor of Prop R. The Crestwood Police Department has been heavily involved in promoting safety in Lindbergh schools, along with the St. Louis County Police Department.
"I think it speaks to how much this proposition impacts the entire community from a safety standpoint, from a first responders' standpoint," said Lindbergh Chief Communications Officer Beth Johnston. "It's great to have their support, but it shows how much this will impact our first responders too and the safety of our community. I think all of us want safe, strong communities, so we all share similar goals in what we're doing and how we serve our community."
Under the proposed system that would be funded by Prop R, visitors will be buzzed in at the door and enter through a vestibule that can also be locked — meaning visitors would pass through two locked doors.
The vestibule leads into the school office, where employees can more thoroughly vet why a person wants in the school.
Visitors have to be buzzed in now, but in the schools without vestibules, those visitors head right into hallways with students.
In one recent incident, a parent was buzzed into a school and headed straight to a classroom to confront a teacher.
"You're buzzed in and you have immediate access to the student population," Lake said. "They can say, 'I'm a parent,' and they may not really be a parent. You think of Truman, you've got access to upstairs and downstairs as soon as you step into the building."
To increase security, if Prop R is approved, the district will also install a visitor management system, Raptor, which was also just set up in the Mehlville School District. The system, which is common in other areas across the country but not so much in St. Louis, scans a visitor's driver's license to check them against sex-offender lists and prints out a visitor's badge with their photo on it that the person wears while in the school.
The Early Childhood Center is the first Lindbergh school to use Raptor.
A third peg of Prop R would move the district's three maintenance shops off the Lindbergh High campus. Currently, workers and delivery trucks mingle with students walking outside of school during passing periods. There's also a district warehouse in the basement of Long Elementary that would be moved.
The district will have to buy land elsewhere for the shops, and is looking into those options, Lake said.
It's a practical move since it frees up space for the newly expanded high-school building, but it's also an improvement to student safety, he said.
Editor's note: This article was updated online to reflect that Proposition R is a no-tax-rate-increase bond issue.