Lindbergh reviews SSD partnership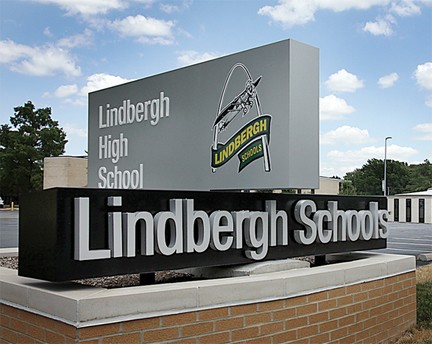 A presentation outlining Lindbergh School's Special School District partnership program was presented to the Board of Education Sept. 15. 
 The presentation was given by Joyce Doyle, director of special education, and highlighted services SSD provides and statistics about the district. The presentation also included "partner calibration assessment" scores, which board members were concerned with.
Services provided between SSD and Lindbergh include homebound instruction, the special non-public access program, court system help and early childhood special education. 
Doyle said around 17 percent of the Lindbergh population receives some form of special education, equal to 1,309 students. 
SSD and its partner districts use a collaborative model to evaluate expectations in six categories, assigning the "partner calibration assessment" scores to show where a district may need improvement. The scores range from zero to three, with a zero indicating an unimplemented program, one indicating partial implementation, two indicating full implementation and a three indicating positive outcomes for students.
Doyle would come up with the score and strengths and weaknesses with Jill Lawson, executive director of assessment and student services. 
"I wasn't so caught up with what number we scored at, but it was really about the conversation Dr. Lawson and I had about where we think we're headed and what we think we're doing well," Doyle said.
The presentation included strengths and "areas of focus" for each of the six categories — staffing; teaching, learning and accountability; collaboration of responsibilities and resources; data and technology; transportation and career and technical education.
Many strengths focused on the addition of new employees in specialized positions, implementation of new learning programs and the transitions between grade levels. Areas of focus highlighted the need to fill all positions and improving employee workload and support. Lindbergh scored between one and 2.8 on the six sections, with an average of around two.
Board Director Cathy Carlock Lorenz said she was concerned with the low scores, questioning the rubric used to calculate the scores, since some low scores had more strengths than areas of focus.
"For example, on some slides where we had below a 2.5, we had more strengths than areas of focus. I'm not sure if it's the way it was presented to us … wasn't sure if it was maybe a disconnect between you and our administration," Lorenz said. "I don't have warm and fuzzy feelings if this partner calibration score came from both groups and there's not one three on here."
Board President Jennifer Miller also questioned how the rubric worked and if the scores arose from discussion or a written baseline. 
Doyle explained the lowest score, transportation, where only one strength was written, was scored because of a lack of a written transportation agreement with SSD.
"Do I feel like a missing transportation agreement and an honest score of one is a detriment for the services we are currently providing our students who currently have IEPs? No, but that might be one of the areas," Doyle said.
Lorenz said going forward she would like to see how the scoring process is handled, from who is involved to how the scale is used.