Lindbergh Flyers tackle Fox Warriors to remain undefeated for '10 season
Lindbergh football team set to face Parkway South Friday.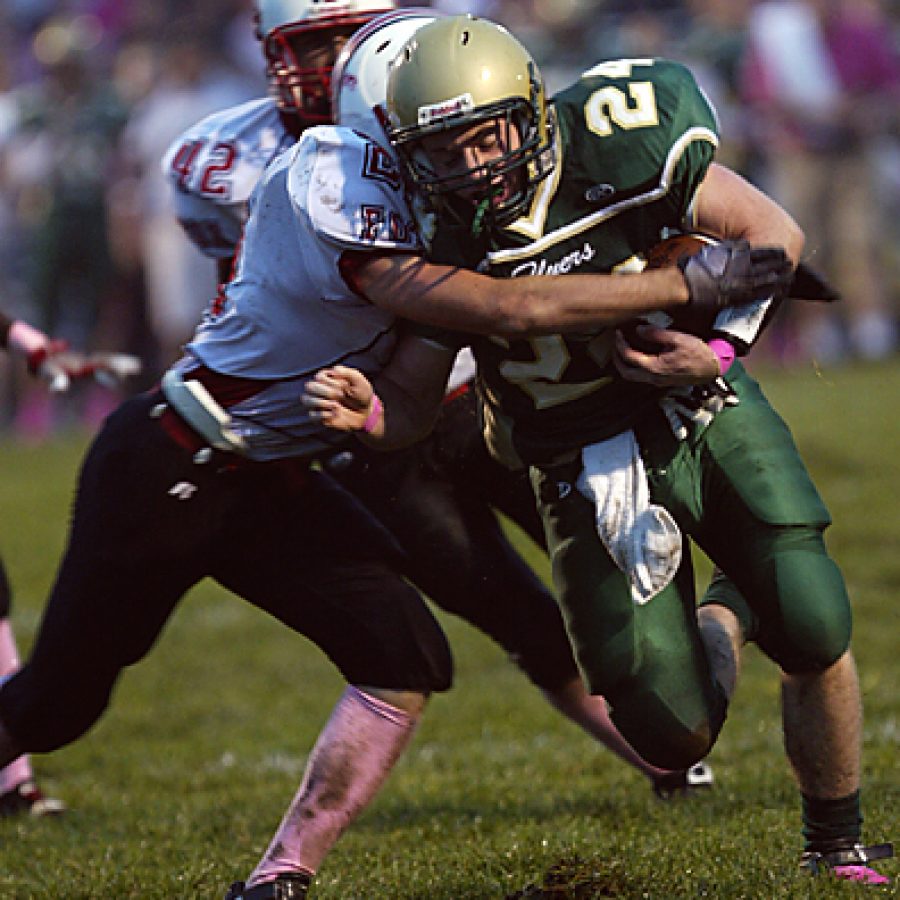 The Lindbergh High School Flyers needed to tap the brakes before zooming past the Fox High School Warriors with a 21-12 win Friday at home.
"We were so hyped up to play because of last year. And I don't get into that because last year is last year, but the kids were overly hyped," Lindbergh head coach Tom Beauchamp said. "We came in at halftime and said: 'Settle down. Play football. Quit over-thinking. Quit over-working.'"
The Flyers (3-0) fell behind 12-6 in the second quarter against the team that ended last year's undefeated season in a playoff sectional game. It was also the first time they trailed since that fateful game.
"It was in all our heads because we play with heart and passion. We wanted to get back at them, and get revenge for our school and our family," Lindbergh senior lineman Tony Robinson said.
Junior Jordan Goodman scored on a one-yard run in the opening minutes to put Lindbergh ahead early.
Fox (0-3) cut the lead in half with a 36-yard field goal by Nick Bartollota with five minutes and 32 seconds left in the second. Less than a minute later, the Warriors led 10-6 after Cameron Blanton intercepted a pass and scored from 24 yards out.
On Lindbergh's next drive, a high snap from center flew into the end zone for a safety for Fox.
"They did a great job. They capitalized on all our mistakes. There's no doubt about it," Beauchamp said of Fox.
Fox was in control at halftime with little production from its offense. The Warriors finished with only 107 yards of offense.
"It was a little adversity, and it was hard because we were in doubt. We started picking each other up and playing as a family," said Robinson, the conference's 2009 Defensive Player of the Year.
The second half belonged to Lindbergh.
"We gave our normal speech, and came together as a family. We played together," Robinson said.
Senior Adam Schremp tied the game 12-12 on a 50-yard touchdown pass from Lindbergh quarterback Peter Simpson at the 8:19 mark of the third quarter.
The game stayed tied after a missed extra-point kick, but Lindbergh's defense shut down Fox on the ensuing drive.
"It felt like we were going to win when we stopped them on the first series in the third quarter. I felt like if we didn't stop them, we would be dealing with more adversity," Robinson said.
Simpson found senior Will Spitzfaden for a 12-yard touchdown pass with 2:08 left in the quarter.
"Like the grandmother said in 'Father of the Bride,' life's like a roller coaster. There's ups and downs and there's curves and everything, but oh what a ride it is. That's what it is with high school kids. If you can keep them level out there, things work a lot better," Beauchamp said.
The only score of the fourth quarter in the wild affair was a safety that gave Lindbergh a two-score lead with seven minutes left.
Lindbergh will play host to 2-1 Parkway South at 7 p.m. Friday. The Flyers have won the last three games against the Patriots.
Click
for more photos from the game.