Inspired by travels, 'Mexican matchsticks' are Cinco de Mayo appetizers that won't catch fire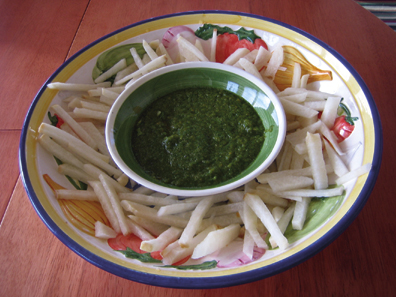 By Bill Milligan
For the Call
While I was on the bum in Mexico I became familiar with jicama. Street vendors and the Mexican equivalent of drive-thru restaurants would sell them julienned and sprinkled with hot pepper.
I used to get rides with locals who would stop at what looked like someone's house for lunch. Customers would place orders through a window on the side of the garage and slide their pesos across a little wooden sill.
The restaurant staff would hand the food, wrapped in newspaper, through the same opening when it was ready. In the Mexican countryside this was about the only type of restaurant I saw.
The cities had restaurants similar to what we're used to in the States, although many were extremely rustic and probably would not have made it in U.S. cities.
Years later, I came across the same type of restaurants when I took a job as editor of the East St. Louis News Journal. I think newspaper co-workers who took me to those places were expecting me to be repulsed at the thought of eating the food, but I had eaten at places like that years before in Mexico.
The dish below is similar to something that was handed out of a window to me one hot summer day as I was hitchhiking south of the border. The food stop didn't serve drinks, but a hand pump nearby dispensed rust-colored water. I drank it anyway.
Mexican Matchsticks
1 bunch fresh cilantro, chopped
1 green bell pepper, chopped
1 medium sized white onion, chopped
1⁄4-cup rice vinegar
2 tablespoons brown sugar
1 serrano chile, stemmed, seeded and chopped
1 large jicama, peeled, cut into thin strips
Salt to taste
Pepper to taste
Place green pepper over coals on the grill, over a gas flame on an indoor range, or under a broiler in your electric stove. Blacken on all sides. Place in a paper bag for 10 minutes.
Remove pepper from bag and remove the waxy skin by rubbing your thumb over the blackened exterior.
Puree all ingredients except jicama in food processor until smooth. Season with salt and pepper to taste. Transfer to bowl, cover and chill. Can be made a day ahead.
Dip jicama in puree to serve. Have margaritas or tequila sunrises on hand for guests.
Cinco de Mayo is May 5. Happy Cinco de Mayo from The Call!