Hotel owners in Sunset Hills looking to increase height of their buildings
Panel recommends approval of new four-story Comfort Inn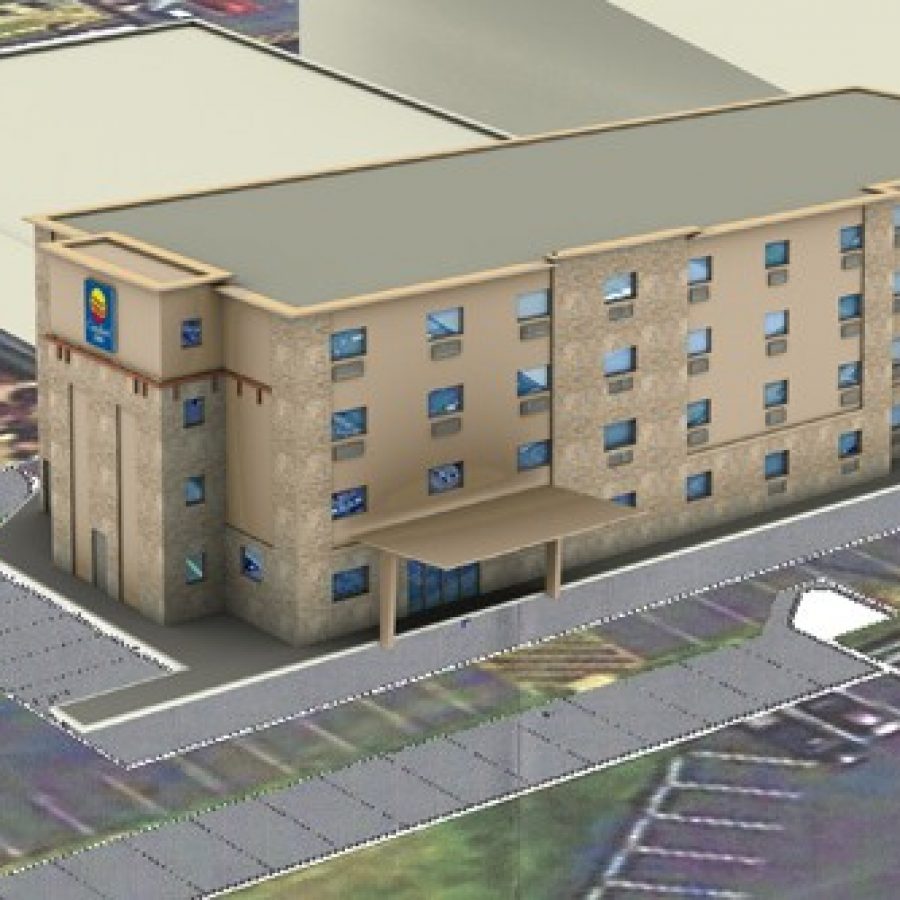 Business is booming in Sunset Hills, and although city code currently forbids buildings more than four stories tall, local hotel operators want to be able to modernize their hotels by increasing their height.
Before interim City Hall manager Robert Heacock left the city in July, he and May-or Pat Fribis met with hotel owners.
The consensus among the hoteliers is that they cannot modernize or build new hotels unless the city changes its 35-foot height limit, since unlike the sprawling low-slung motels that currently line South Lindbergh Boulevard, the trend in hotel construction is to build higher with a smaller footprint.
The city currently has four aging hotels, the Holiday Inn, Hampton Inn, Days Inn and the EconoLodge. Without a change in the height limit, the hotels could potentially lose their flags and not be able to get another one, a downward spiral that could negatively impact the quality of life of the residential areas that are next to all the hotels except the Holiday Inn, Fribis said.
"They would all like to improve their hotels, but find it very hard to put Band-Aids on things," she said during a recent work session.
In contrast, neighboring Fenton has newer, higher hotels like the Drury Inn, where many Sunset Hills-headquartered companies like Panera and New Balance send their business.
The EconoLodge has been the focus of extra police efforts and aldermanic reports since the Police Department busted a meth lab in one of its rooms three years ago.
Newer hotels open from interior hallways instead of opening up on parking lots as some of the ones in Sunset Hills do, which guests see as safer.
But some hotel owners have redevelopment plans in the works without increasing the height limit.
Days Inn owner HR Sheevam, a business owner in the city since 1991 who won the Rotary Paul Harry Fellowship Award from the Crestwood-Sunset Hills Area Chamber of Commerce last year, is proposing to build a four-story Comfort Inn where the front section of the Days Inn now stands, directly next to Helen Fitzgerald's, which leases from Sheevam.
The Planning and Zoning Commission unanimously recommended approval of the proposal Sept. 7. Under the plan, the back section of the Days Inn would continue to operate for several years even as the Comfort Inn opens at 3660 S. Lindbergh Blvd.
The first floor of the new hotel that faces Helen's will be a breakfast bar and meeting rooms, and walls facing the hangout will be soundproofed, Sheevam noted. The site currently has excess parking and still will once the developments are built. The hotel owner said he has no problem with Helen's customers using his hotel parking spots.
The back half of the property would be open for retail development, said Sheevam, noting that in the past he has been in talks with Trader Joe's and Fresh Market, along with Walgreens and CVS.
If a grocery store or other retail effort doesn't pan out by fall 2019, Sheevam will demolish the rest of the Days Inn and build a hotel under a different brand name, which he hopes will be a high-end, business-class hotel. But for that change to happen, the city's current building height restriction would have to be eased.
"In order for us to bring in a better brand, a better building, we have to go vertical," Sheevam told aldermen at an Aug. 23 work session. "That's the appeal of the current consumer, and millennials."
Once the Days Inn is demolished, Sheevam said instead of many hotel rooms that rent at a low rate, he'll have fewer rooms but rent at higher rates, to a more business-oriented customer with a higher spending capacity.
"Sunset Hills market needs a higher-end brand than a Days Inn and Econolodge and a Holiday Inn," Sheevam told aldermen. "I own a brand which — it's pathetic to have a Days Inn on it, it should really have a nicer, better product on there."
Although Ward 1 Alderman Richard Gau asked why Sheevam is not building a higher-end brand than Comfort Inn for the first phase of development, the hotel owner noted that the Sunset Hills market for new hotels is currently unproven since none have been built in recent memory. The Days Inn itself is at least 60 to 70 years old. Once the Comfort Inn proves a new hotel can be successful, banks will be more likely to offer financing for the higher-end hotel.