Freshman Buerk is Archers' court jester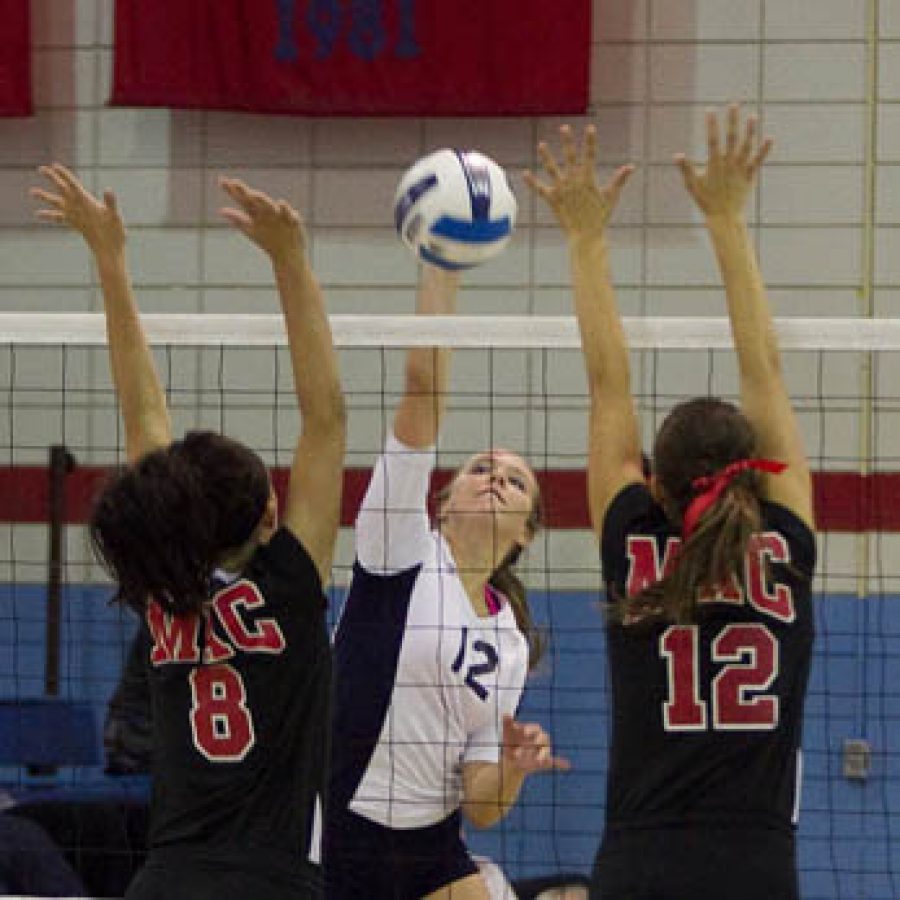 When attending a St. Louis Community College volleyball game, it doesn't take long to take notice of Meghan Buerk.
Buerk, a freshman middle hitter from Lindbergh High School, has made her presence felt both in her on-court performance and her vivacious demeanor. In her first season at STLCC, Buerk leads the Archers in kills and attack attempts, providing a needed lift to the Archers' offensive attack and impressing head coach Johnna Kinney.
"I didn't think a freshman would be the one leading in those numbers," Kinney stated in a news release issued by STLCC.  "It was kind of a surprise because she came in really hard on herself."
Kinney wasn't the only one surprised.
"No way," Buerk stated in the release, when asked if she expected to make such a large on-court contribution so early. "I didn't get a lot of playing time in high school. It's been a much better environment here."
Much of the reason for that improved environment has been directly related to Buerk, who, besides being a productive player, has served as the team leader in enthusiasm.
"She's just a goof," Kinney stated. "Everybody loves her. She's been one of our leaders during game, taking charge. It tends to bring everyone's level up, particularly when they see her not getting down."
In the midst of both practices and games, Buerk often is the one leading the way on everything from pregame chants to post-kill celebrations, and everything in between.
"We have a lot of inside jokes," Buerk states, describing scenes that leave Archers fans both puzzled and amused during games. "It's a very positive environment."
Buerk's focus on fun certainly hasn't kept her from also being able to remain focused on the task at hand. The transition from the high school game to college couldn't have been a more welcome change. Her thoughts on her new practice schedule?
"It's insane," Buerk stated. "Practice twice a day, before class, after class, leaving town for games. The practice time and dedication is probably three times what it is in high school."
The added work has certainly served Buerk well so far this year. After splitting time while at Lindbergh, Buerk rarely leaves the court in games.
"She works really hard," Kinney said." "She's a very polite girl and has fun but in the midst of competition, you can tell she's taking it seriously."
A player who combines on-court with off-court enthusiasm? That's no joke.