Football Panthers fall 54-7 to McCluer North Stars in season opener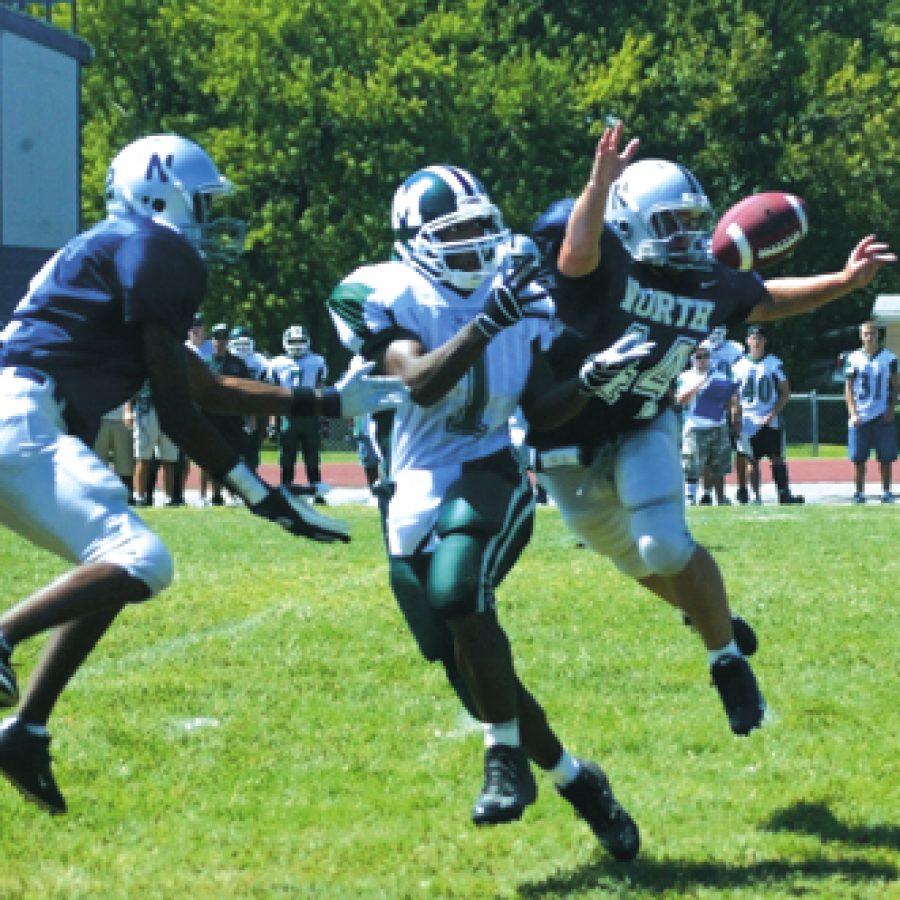 By STEPHEN GLOVER
For the Call
The Mehlville Senior High School football team's 2005 season got off to a rough start Saturday afternoon when the Panthers dropped a 54-7 decision to McCluer North.
The Panthers' loss definitely did not resemble last year's 7-6 win over the Stars.
Mehlville head coach Gary Heyde told the Call that mental mistakes on the field led to the loss.
"We gave them too many easy scores," Heyde said. "It was a blowout because of our mental mistakes. They're too good of a team to do that."
McCluer North hammered the Panthers in the first quarter as Caleb Yarbrough scored the Stars' first touchdown of the game on a three-yard run. Norris Johnson of the Stars also caught two touchdown passes from quarterback Ben Hendrix to give McCluer North a commanding 21-0 lead after the first quarter.
The Stars' Quartize Jackson brought the score to 27-0 on a 52-yard run with 8:03 left in the second quarter. Jackson's touchdown was followed by Donald Woods' 13-yard touchdown run with 6:27 left in the first half to give the Stars a 35-0 lead after Tom Latimore's extra-point kick.
Mehlville finally got on the scoreboard late in the second quarter as senior wide receiver T.J. Brown hauled in a 47-yard bomb from junior quarterback Kevin Mahler.
"T.J.'s a good football player," Heyde said. "Kevin also made some nice plays in the first half."
Johnson would finish the first half with his third touchdown of the game, which brought the score to 41-7 with 22 seconds left in the second quarter.
McCluer North's Todd Washington and Yarbrough would add to the Stars' lead with 19-yard and three-yard touchdown runs in the third quarter for the lopsided win.
Up next for the Panthers is a non-conference home game with CBC Friday.
CBC also suffered a season-opening loss last Saturday as the Cadets dropped a 36-2 decision to Hazelwood East. The Cadets were 8-3 last season and posted a 41-27 win over Mehlville during the second game of the 2004 campaign.
"We're going to have to be a lot more disciplined and worry more about us than CBC," Heyde said. "We're going to have to make them earn everything and take care of our mistakes."
The Panthers' game against CBC is slated for a 7 p.m. start.