Football Panthers edge Oakville 17-14
Panthers to face Pattonville; Oakville to meet Lindbergh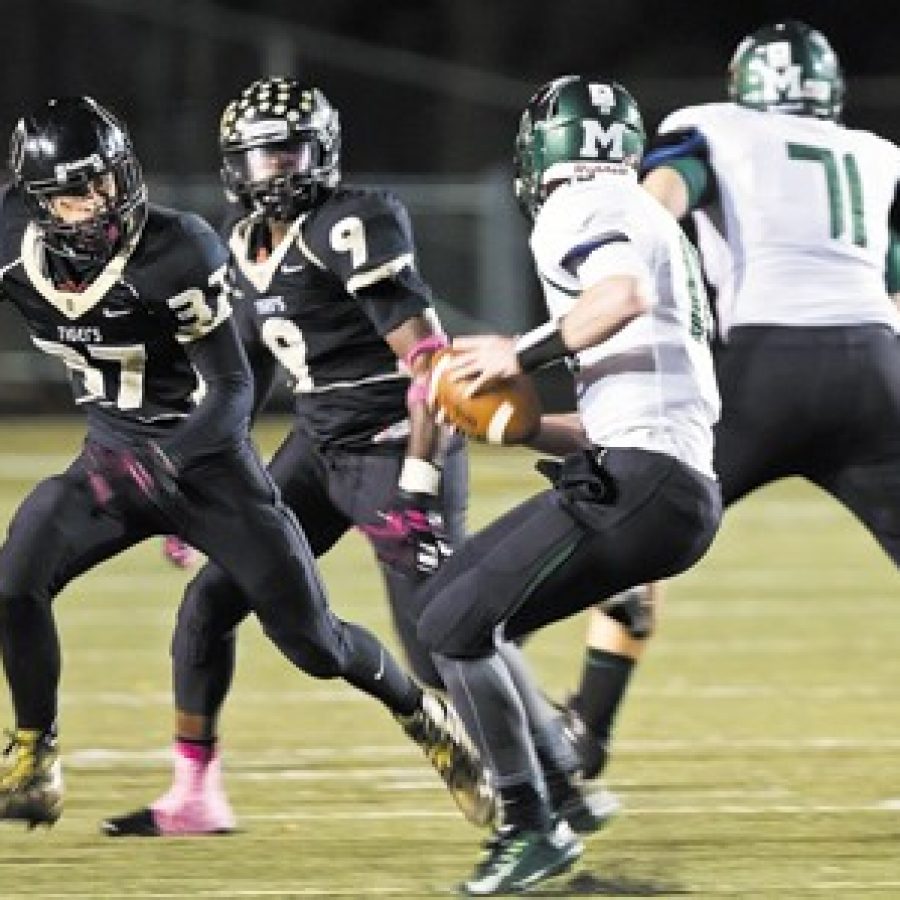 The annual high school football showdown between Mehlville and Oakville Fri-day night was a classic rivalry to the end, as the Panthers edged the Tigers 17-14, earning the bragging rights for 2015.
Mehlville now will hold the title unless the two teams meet in the playoffs.
The Panthers, now 3-5, the underdog against the Tigers, now 4-4, made a statement early in the game, scoring a touchdown on their opening drive. Mehlville's Tommie Tolliver ran in a 2-yarder for the score with just 3:36 used off the clock.
Oakville answered in the second quarter, when Antwan Banks caught a quick 6-yard pass from quarterback Bailey Vuylsteke.
A back-and-forth battle ensued, with the Panthers retaking the lead in the third quarter on a 34-yard run from Jabari Shelton.
But Vuylsteke knotted things up late in the fourth quarter. With overtime looming, Mehville marched down within field goal range, allowing kicker Langdon Eggers to drop in a 23-yarder for the victory with just 11 seconds remaining.
Mehlville head coach Kent Heinemann said his team played a great game.
"Like I said, it's a big rivalry. The guys had a good week at practice. We took the opening kickoff right down and punched it in," he said. "I thought that was a huge statement, setting the tone for the game.
"(The) defense played outstanding. They didn't get much going running the ball. They had a little more success throwing the ball. Jabari Shelton had over a hundred yards on the ground and so did Xzavier Judson. We ran the ball pretty well.
"… We had a winning field goal at the end of the game, so special teams was a big factor. The guys played great," he added.
Oakville head coach Arlee Conners of-fered a different perspective to the Call.
"I thought they came out and they ran the ball really well, and we didn't do enough to stop them pretty much," he said. "That's pretty much the gist of the game."
The Panthers, who have endured their struggles this season, hope to use the momentum they gained from two consecutive wins as they prepare to face a tough Pattonville team Friday night.
"We've got a tough Pattonville team next week, and I think it was huge to get the second (consecutive) win," Heinemann said. "It gives the kids a little more confidence. Pattonville is very athletic and I think it's motivation for another good week of practice … We will be back at our place. So the kids should be pretty pumped."
Oakville is getting set for another rivalry game as the Tigers take on Lindbergh Friday night on the road. Though the 1-7 Flyers are the underdog in this one as well, Conners said that doesn't mean a thing.
"I know their record is bad, but they've played some good teams, and when I watched them on film, they've got some good players," he said. "… They have a good scheme, so for us it will be definitely another big challenge."