Flyers tame Tigers 14-7 in opener; Lindbergh will face Jackson Friday
Team wins Norman's first game as coach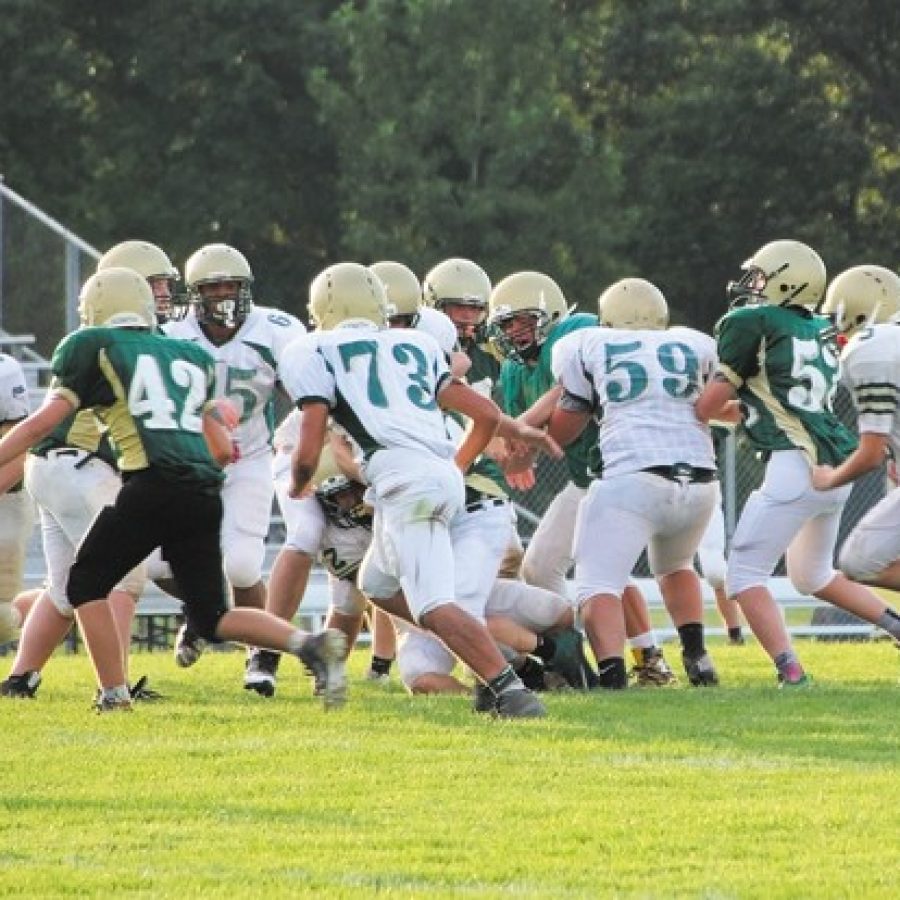 The Lindbergh High School varsity football team opened the 2016 season Friday night in dramatic fashion with a narrow 17-14 victory over rival Oakville in front of an enthusiastic home crowd.
The game, which took nearly 2.5 hours due to numerous penalties and timeouts, was a tale of special teams.
Lindbergh scored early and led 9-7 going into the locker room at halftime.
In the third quarter, Oakville High's Kobe Dozier caught a pass in the end zone with 8:05 remaining in the period to put the Tigers up 14-9.
The Flyers followed with a nearly six-minute drive, but came up empty handed.
With 6:42 left in the game after driving deep on Oakville, Lindbergh turned the ball over on downs in the red zone to force an Oakville punt.
Lindbergh's Theo Price blocked the punt and picked it up for the touchdown. The Flyers added to it with a 2-point conversion pass from Parker Powell to Jaron Heller.
The game was Nathan Norman's first as the Flyers' new head coach, and while he was glad to open with a win, it wasn't the style of game for which he was hoping.
"It's special. Obviously you want to start off with a victory," he told the Call. "I would like to have had a little better showing, but it's a start and nothing in life is easy, unfortunately … We'll go back to work this weekend with film, and this Monday we'll go to work and get better."
Norman said the Flyers learned some valuable lessons and he will use the game as a building block.
"Our kids competed, and they played hard and we did just enough to win — to find a way to win," he said. "So I'm proud of them for that, but we've got a long way to go. That's what I told the kids in the huddle. We made way too many mistakes.
"We've got to hold on to the football and that's the No. 1 thing we have to do. We had way too many turnovers, and special teams won us the game. Hats off to them for that … Every day we practice some kind of special team and it paid off. So that's a good learning lesson for them and we'll build on it."
Oakville head coach Arlee Conners told the Call his players had some first-game jitters, making too many mistakes. But he saw some positives and is optimistic he can get his players where they need to be.
"We made too many mistakes. I think we've got a lot of guys out here first time playing varsity — new guys. They just kind of like froze in the moment," he said. "We're calling out different special teams and things like that … wasting timeouts, getting penalties, a lot of bad situations because we aren't doing what we are supposed to do.
"So it's frustrating to lose when you do everything to win, but you don't give yourself the chance … We gave them too many chances, opportunities to win and we did that. I mean we stuffed them."
Conners said it's what the Tigers didn't do Friday that hurt them.
"They got a big play on jump ball, a 50-50 ball, a blocked punt for a touchdown and a safety. That's all on us," he said. "I mean nothing against them, but it's more about what we didn't do, than what they did do. It's unfortunate. But we have a good group of guys right here, and we are going to rally them up and we are going to get this thing going."
This week, the Flyers will travel to Jackson, which defeated Hickman 42-7 last week.
The Tigers will tackle Hillsboro at 7 p.m. Friday at Oakville High School, 5557 Milburn Road. Hillsboro defeated Affton 42-0 last week.