Fig, Lemon and Honey Cheesecake a real showstopper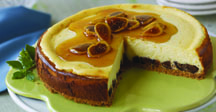 To create a cheesecake that stands above the rest, take chunks of sweet, chewy California Figs, surround them with zesty lemon cheesecake filling and top with a light, luscious, honey fig sauce. Voila — Fig, Lemon and Honey Cheesecake — a real showstopper.
The best varieties of California Dried Figs for cooking and snacking are dark purple Mission and golden Calimyrna. Missions are sweet with thin skins; Calimyrnas have a slightly firmer texture and light nutty flavor. Both are rich in fiber and flavor and have delicate edible seeds. Use them interchangeably in recipes and keep them on hand for a healthy, satisfying snack.
Fig, Lemon and Honey Cheesecake
Graham Cracker Crust
1 cup graham cracker crumbs
2 tablespoons granulated sugar
3 tablespoons butter, melted
1 cup stemmed, chopped Blue Ribbon Orchard Choice or Sun-Maid Figs
Cheesecake
11⁄2 pounds (three 8-ounce packages) cream cheese, softened
3⁄4 cup granulated sugar
1⁄4 cup sour cream
2 teaspoons grated lemon zest
11⁄2 teaspoons vanilla extract
3 large eggs
Fig, Lemon and Honey Sauce
1⁄2 cup water
1⁄2 cup honey
1⁄3 cup fresh lemon juice
11⁄2 teaspoons cornstarch mixed with 1 tablespoon water
1 cup stemmed, sliced Blue Ribbon Orchard Choice or Sun-Maid Figs
Adjust oven rack to middle position and preheat oven to 325 degrees F. For crust, mix graham cracker crumbs and sugar; stir in butter. Press into bottom of buttered 9-inch springform pan. Bake 8 to 10 minutes, until edges are golden. Remove from oven and sprinkle evenly with figs.
For cheesecake, beat cream cheese with electric mixer on medium-low speed until smooth, scraping bowl as needed. Gradually beat in sugar, then sour cream, zest and vanilla. Beat in eggs, one at a time. Scrap filling into pan over figs. Bake on middle rack for 45 to 55 minutes, until almost set in center. Cool. Chill 4 hours or overnight.
For sauce, combine water, honey and lemon juice in small saucepan. Stir over medium heat until mixture comes to a simmer. Add cornstarch solution and stir for a few seconds, until thickened. Remove from heat and stir in figs. Cool. Chill until serving time.
To serve, run thin knife around edge of cheesecake and remove side of pan. Cut into wedges and top each with sauce. Garnish with thin slices of lemon and figs, if desired. Makes 10 to 12 servings.