Field goal the difference as Panthers fall to SLUH
Mehlville to face Lindbergh Friday night at home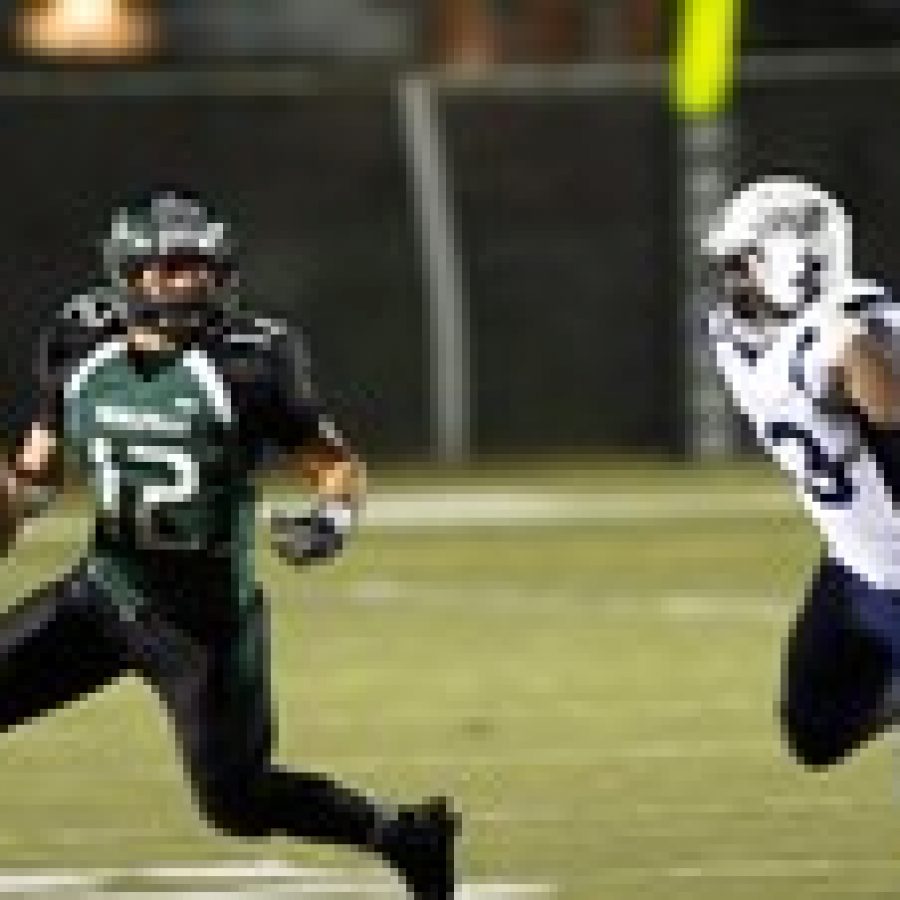 A field goal was the only thing that held back the Mehlville High Senior High School varsity football team from a .500 record heading into the last week of the season.
The 3-5 Panthers fell 30-28 to SLUH Friday night as the Billikens kicked a game-winning field goal on their final drive with a couple of minutes left to play in the contest.
SLUH scored twice before Mehlville's Kyle Bean got the Panthers on the board. The touchdown provided some momentum for the Panthers coming at 0:20 mark of the second quarter and sending the teams into the locker room separated by only one touchdown.
The momentum didn't last long as the Panthers allowed two more touchdowns before launching their comeback.
Following the two SLUH touchdowns, Mehville launched a valiant comeback effort as the the Panthers scored three straight touchdown to actually take the lead, but faltered on the last SLUH drive by giving up that field goal.
Scoring in that string of touchdowns were Bean with his second, Mike Mik and quarterback Brendan Moore.
Panthers Head Coach Kent Heinemann told the Call he was disappointed with the outcome of the game, but saw some positives.
"It was a pretty good football team, SLUH was," he said. "We got down early, clawed our back in, the kids played hard as usual. We gave them the ball back with like three minutes left. We gave up a long pass, then we played good defense there at the end, but they ran the clock down.
"They had a nice position for a field goal there at the end and they put it right through. So that's the story."
Overall, the Panthers played team played well in spots, but not consistent enough to win the game, Heinemann said.
"I felt like at times our defense played really really good. At times, our offense played really really good," he said. "I don't know about individuals, I guess the stats kind of speak for themselves.
"Something to build from this, it's like the same story every week. Our kids are playing hard. Things kind of aren't going our way, we are digging ourselves in holes and trying to get out and sometimes it's a little too late."
Moving forward, the Panthers have just one regular season game left to improve their record and their readiness level for the playoffs and they will have to do it against the Lindbergh Flyers.
The 3-5 Flyers will come to Mehlville's Jack Jordan Stadium Friday night for what will be a challenge and a bit of an emotional game for both clubs, according to Heinemann
"Tom Beauchamp is always going to have a very prepared team," Heinemann said. "They always play really good defense. They've been putting up a ton of numbers on offense. That's kind of a game that since I've been here our kids have always gotten up for.
"I think their kind of a bit of a rival for us. I like our chances. I think that we will be equally as prepared …"